Ovens & Ranges
Hack-o-Lantern Helps You Have a High-Tech Halloween
A futuristic Halloween—some assembly required.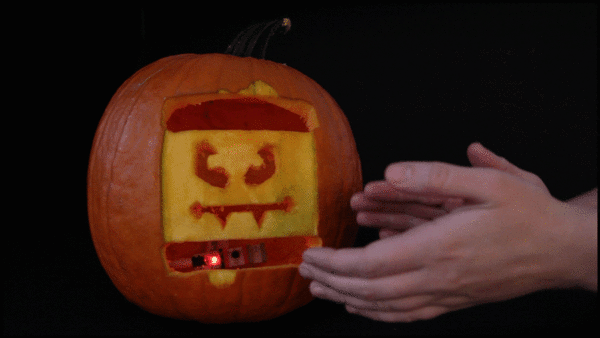 Credit:
In today's modern, innovative society, nothing is safe from the march of technology… not even jack-o'-lanterns. This year, LittleBits offers consumers the tech necessary to geek out and turn what could be a humdrum holiday into the Halloween of the future.
Well, sort of.
For those who aren't already familiar with LittleBits, it's a modular DIY platform designed to make experimentation with electronics accessible to tinkerers of all skill levels. The company's website gives examples ranging from chicken feed monitors to cyber DJs.
To get into the seasonal spirit, LittleBits is serving up three distinct Halloween kits: Hack-o-Lantern, Creepy Portrait, and… Stick Figure Costume? (Titles are clearly not their strong point.)
As with everything on the LittleBits website, the product is just the electronics modules. You'll need additional materials to realize your high-tech Halloween dreams. This is not an all-inclusive kit that comes with everything you need.
---
Hack-o-Lantern
The Hack-o-Lantern, for instance, uses a sound triggered sensor to light up when it hears a sound. This could be a fun addition to your front porch, but $29 only pays for the module; you'll have to provide your own carved pumpkin.
---
Creepy Portrait
As for the Creepy Portrait module, you'll pay $59 for the motion sensor and servo combo, which will cause the eyes of a seemingly regular portrait to turn evil (ie: red). Above the initial asking price, you'll need to actually get a portrait, frame it, mount it, cut out the eyes (and the evil alter-eyes), etc.
---
Stick Figure Costume
Lastly, the Stick Figure Costume is… well, a bunch of light wire sewn into an article of clothing, whether it's a hoody, t-shirt, or what have you. The kit comes with the wire, a power nodule, and a pulse attachment to turn you from a walking glow stick into a walking nightclub.
So, that last one's not so good (seriously, just go out and get an actual costume), but the other two seem like fun, spooky final touches for your Halloween decor.
The most important thing to keep in mind with any of the LittleBits kits? These are perfect for people who love to mess around with electronics, but not for someone looking for easy plug-and-play decoration solutions. But with some creative DIY-ing and a curious mind, these Halloween kits are fun packages to spice up your fall holiday—as long as you know what you're getting yourself into.
---
More Halloween DIY
Looking for other ideas? Consider turning your pumpkin into a Tetris arcade. For the security-minded consumer, surreptitiously track those would-be-tricksters with some high-tech surveillance pumpkins. Or, if you just want a simple twist, consider hooking up some LED lights for your pumpkin instead of candles for an eerily bright porch decoration.
We'll also have plenty of DIY Halloween ideas next week for our spooky, Halloween-themed #DIYwednesday!