Ovens & Ranges
We tried the Girl Scouts Cookie Oven—and this is what happened
Tested by our littlest expert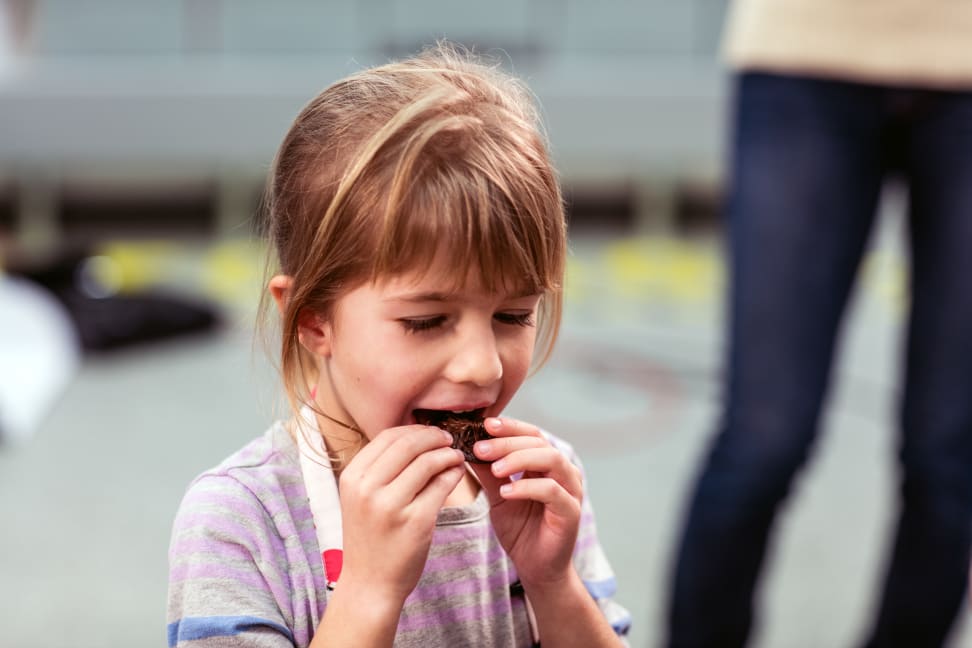 Credit:
To some, it's a real racket. To others, it's the most wonderful time of the year.
No, we're not talking about Christmas. We're talking about Girl Scouts Cookie season, that most glorious time when we gorge ourselves on as many boxes of Thin Mints and Samoas we can carry.
But the Girl Scouts of the United States of America (GSUSA) have put such a tight leash on distribution that a vibrant cottage industry of unofficial online resellers has cropped up to fill the cookie-shaped void in the off-season. Short of contributing to this nefarious black market, what's a cookie enthusiast supposed to do for the rest of the year?
Wicked Cool Toys has a solution: a toy oven that allows kids (and, yes, adults) to bake their own versions of the cookies at home. Are they anything like the boxed versions? Nah, not really. Do you still get a naughty thrill from bypassing the official GSUSA schedule? Heck yeah you do.
Much to our surprise, Wicked Cool sent us a Girl Scout Cookie oven to test. That left us in a bit of a pickle. After all, we don't test toys here at Reviewed.com, and our motto is "Tested by Experts." What to do?
We needed to find the right expert for the job, and who better than a member of the oven's target demographic? That's why we asked our littlest tester, Zoe, to come to our labs and take the oven for a spin.
Design
The tiny oven is constructed almost entirely of a sturdy plastic. It feels tough and looks like it could handle a few tumbles—a certainty for a kids' toy. It's a color that we can only describe as "Thin Mint green," with purple and white accents and a pink on/off switch.
Aside from the oven itself, the package includes a tiny cookie sheet, a spatula, and a syringe for measuring water. There's an LED light to indicate that the oven is on, but it's almost impossible to see in any kind of well-lit room—you're better off relying on the on/off switch, instead.
One notable omission is any kind of timer. With the ubiquity of smartphones and tablets, that's probably not a big deal. Still, an old-school "ding!" for done would have added some charm.
In Use
Actually making a batch of cookies in this thing is a fairly involved process, so don't think you can just put the oven in front of your kids and hope for the best.
From start to finish, it took Zoe about an hour, and the majority of that time was spent waiting. Indeed, each step involves seemingly interminable periods of waiting. Waiting for the oven to heat, waiting for the cookies to bake, waiting for the cookies to cool, waiting for the chocolate to melt, etc. We recommend finding a more interesting side activity to kill the time in between steps. Accounting lessons, perhaps?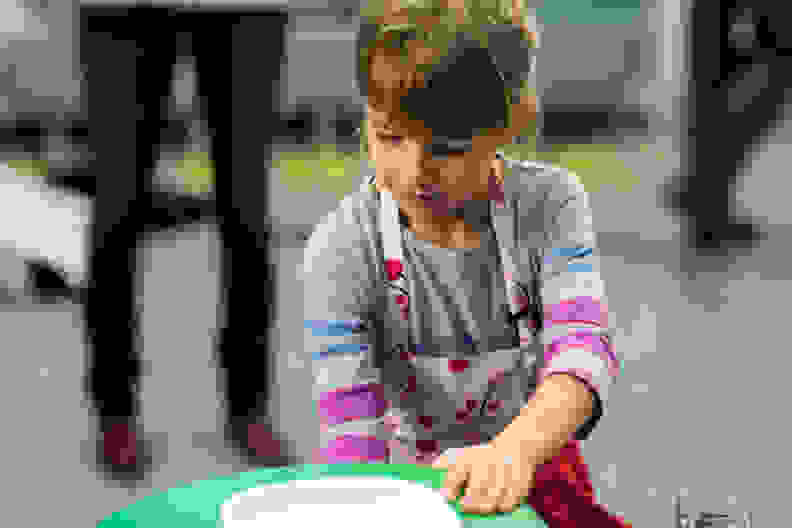 Waiting aside, the process of making and baking the cookies is quite fun. You'll need some baking spray for the pan, but other than that, everything you need is in the package. The cookie mix is pre-prepared, only requiring the addition of a small amount of water. Zoe found that she needed to add a little more water than the recipe asked for, so feel free to adjust your measurements accordingly.
After mixing, you place the batter on the greased pan and insert it into the side of the oven. A slider around front moves the pan from the opening into oven. When baking is finished, the same slider moves the tray back out, and you can grab it with the included spatula.
The top of the oven has a recessed area that can be used to melt chocolate. Zoe was making Thin Mints, so we had the perfect opportunity to put it to the test. Unfortunately, it was a total failure. Even after 15 minutes, the chocolate chips still weren't melting. We had to put the tray in the oven to finish the job, which the manufacturer does not recommend.
Probably our biggest disappointment with the Girl Scouts Cookie Oven is that, like the newly revamped EasyBake Oven, it doesn't behave much like a traditional oven. It's more like a Quiznos-style conveyor oven.
Part of what made older EasyBake ovens so fun for kids was that they got to pretend they were mom or dad, baking in a real oven. Using this thing feels less like baking and more like practicing for a career in the fast food industry (not that there's anything wrong with that).
The End Result
So how do the cookies taste? Well, the bad news is that the finished product is unlikely to replace the originals anytime soon. But that being said, they weren't bad at all. The Thin Mints Zoe baked were slightly spongy, but they tasted pretty darn good. Most importantly, Zoe was a big fan—in the end, that's all that matters.
Is the Girl Scout Cookie Oven a worthwhile purchase? Zoe's answer was an emphatic "Yes!"
Still, we do have a couple of caveats. If you're looking for a toy that can keep the kids occupied without supervision, you'll want to steer clear; while it is not a real oven, this thing does get pretty hot. And if you were hoping to cut out the middle-man—or girl scout, as it were—and just make your own cookies whenever the mood takes you... well, we have some bad news.
Each box of cookie mix costs around $7, which is $2 more than the packaged cookies themselves. It doesn't take a budding cookie salesgirl to tell you that's just bad economics.
Related Video
Up next