Ovens & Ranges
10 healthy recipes everyone at your Super Bowl party will love
Are you ready for some football... food?
From pre-season in August to the big game in February, I spend each Sunday (and sometimes Thursday and Monday nights) glued to the TV eating great food with friends and/or family. Chips, buff chick dip, wings, mozz sticks, pigs in a blanket, pizza, chili, potato skins - football has always been an excuse for me to eat unhealthy foods in excess.
As I continue to get older, my metabolism proves to hate my existence more than it did the year before, meaning I can't eat bad foods for six consecutive months every weekend. Over the past couple of years, I've dabbled in a few healthy football recipes, and to my surprise, they are just as good as the unhealthy foods - if not better. I'm serious. One time I invited people over to watch football and only served said healthy recipes - my friends didn't even know the difference!
Here are 10 healthy recipes perfect for watching football that literally all of your friends and family will love.
1. Zucchini Fries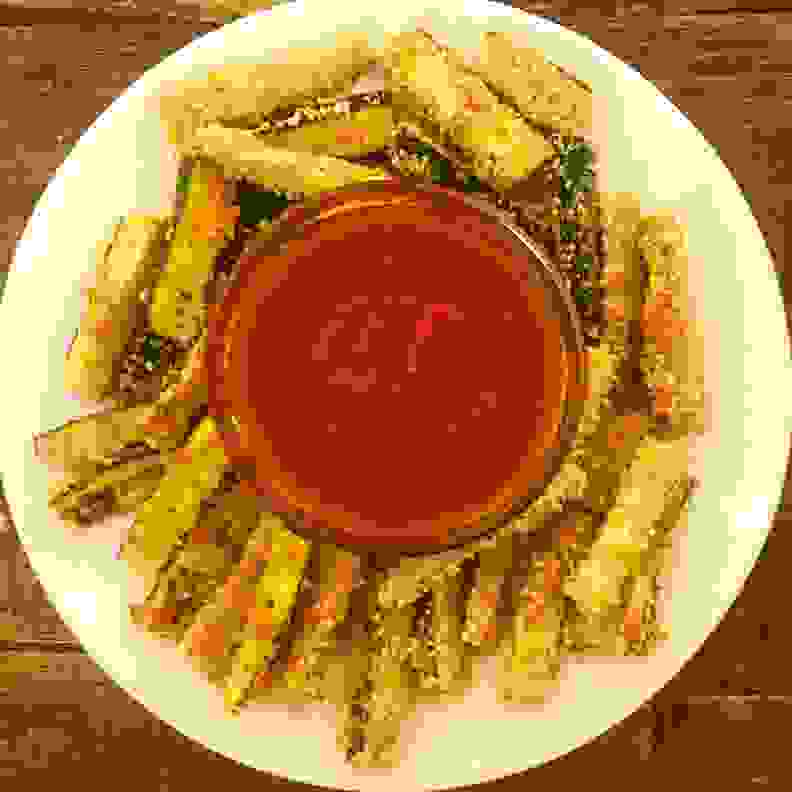 I am a full-fledged french fry addict. I realize I can't eat french fries all the time though, so baking veggies like they're french fries and pretending they are potatoes is my alternative. Zucchini is one of my favorite vegetables, and when you bake them with salt and cheese and breadcrumbs, they are 100% emoji. Get the recipe here.
2. Buffalo Cauliflower Bites
For some reason, buffalo is synonymous with football. Buffalo chicken dip, buffalo chicken wings, buffalo chicken EVERYTHING. In the spirit of replacing foods with vegetables, you can now make Buffalo Cauliflower Bites to satisfy your buffalo sweet tooth when you're trying to eat healthy and the game is on. Get the recipe here.
3. Skinny Mozzarella Sticks
What's a party without mozz sticks? Not a party at all if you ask me. These mozzarella sticks are baked instead of fried, which is perfect for me since I try not to eat fried foods. They take a bit of time for prep, since you have to freeze the cheese (I did not mean for that to rhyme), so be sure to start the process as early as possible. Get the recipe here.
4. Crock Pot Chicken Taco Chili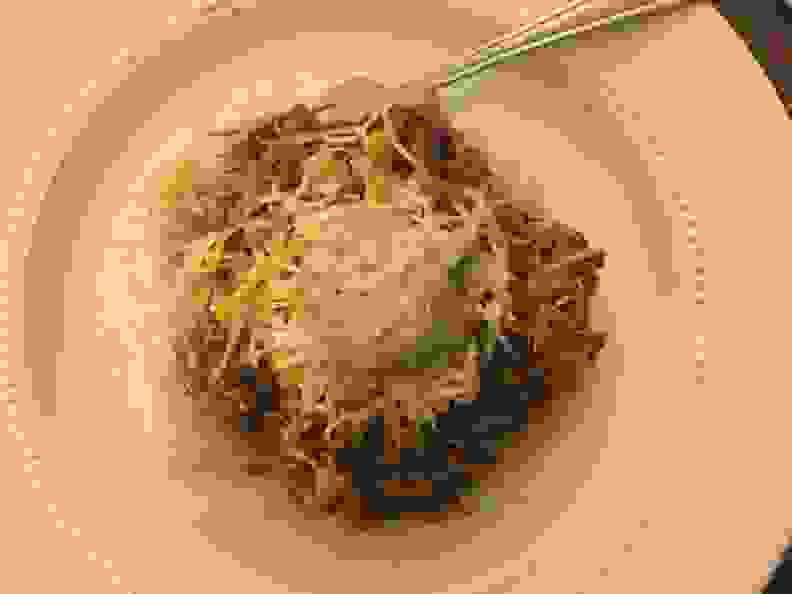 During winter, chili is great comfort food for warming up, making it perfect for football season. This popular Chicken Taco Chili is healthy, delicious, and ideal for feeding a large party of people. It's so popular, a good amount of my friends make this exact recipe on a regular basis. Get the recipe here.
5. Sweet Potato Skins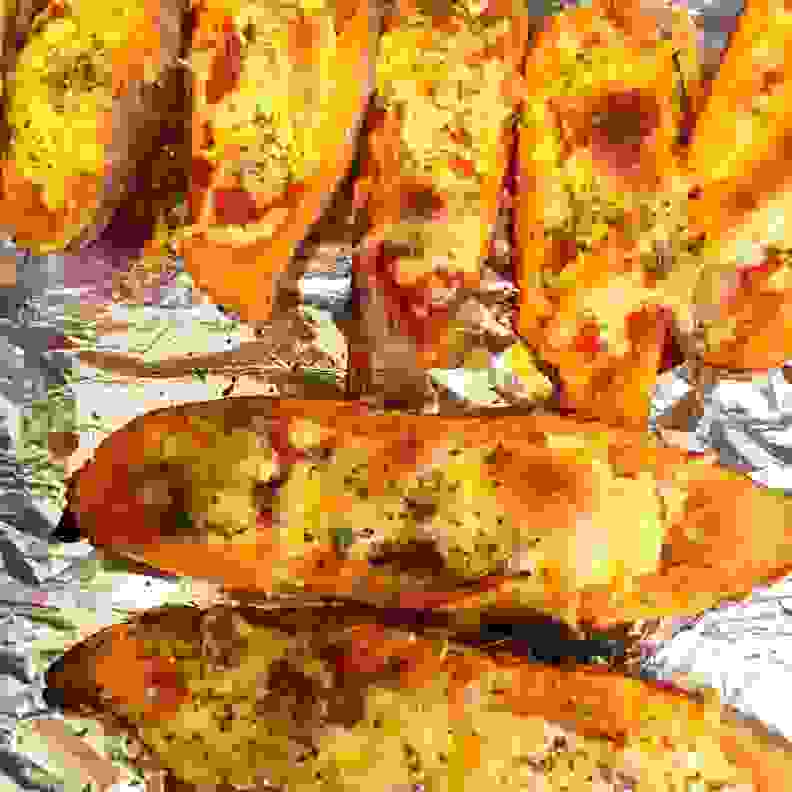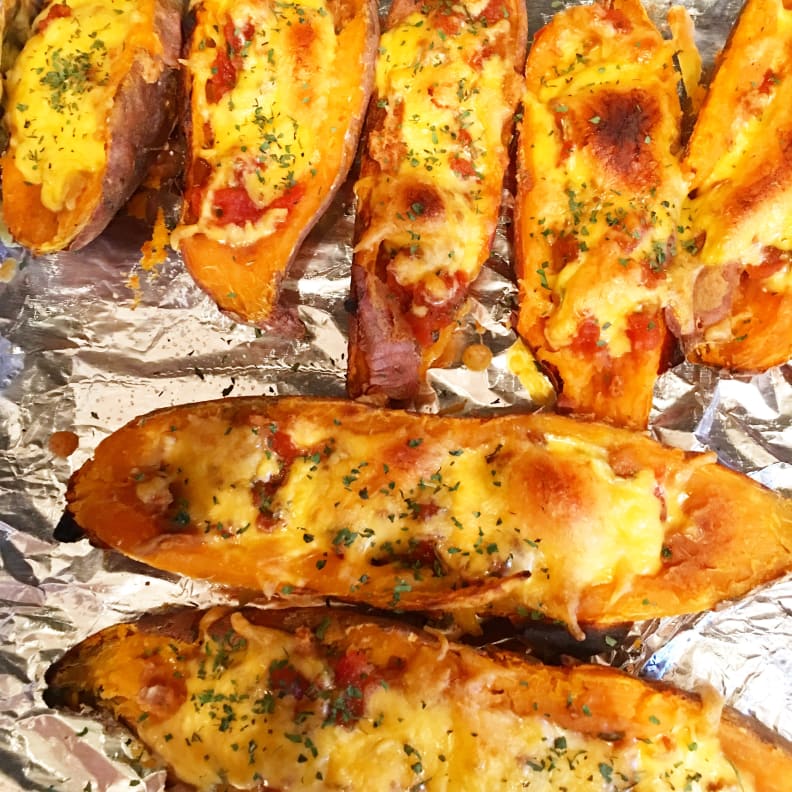 Potato skins have always been one of my favorite apps (I love all things potatoes), and this healthy alternative is just as good. With refried beans, salsa, and cheddar, you really can't go wrong. Get the recipe here.
6. Crock Pot Healthy Nachos
First of all, I didn't know you could make nachos in a slow cooker, never mind make healthy nachos in a slow cooker until I found this recipe. It's classic, easy, AND healthy. Get the recipe here.
7. Zuchinni Pizza Bites
Pizza makes the world go 'round, especially during football season. Everyone loves pizza, and even though this alternative pizza recipe is without bread, it's still got cheese and red sauce. And there's nothing better than getting your pizza fix without all the extra carbs. Get the recipe here.
8. Hot Spinach and Artichoke Dip
Buffalo chicken dip shouldn't be the ONLY dip at your football party. Spinach dip is great for chips and veggies, and this version doesn't sacrifice health or flavor. For guests who aren't watching what they eat, you can serve it in a bread bowl and have them pick at the carbs when the dip is gone. Everyone wins! Get the recipe here.
9. Zucchini Chips
Chips are necessary at any football gathering, but binge eating tortilla chips isn't exactly healthy. Well, not only can you replace meat with veggies, you can also replace chips with veggies. Try these zucchini chips as an alternative to regular chips. You won't be disappointed. Get the recipe here.
10. Buffalo Chicken Quinoa Bowls
Okay, this recipe might not be great for a large party, but if you're having a small gathering or watching the game by yourself, this healthy recipe could be a game day game-changer. I love bowls. I love quinoa. And football loves buffalo chicken. Imagine someone passing around mini buff chick quinoa bowls instead of chili at a tailgate?! This bowl might just be the future of game day eats, you guys. Or at least it might be for me. My younger brothers are reading this right now and cringing. Sorry I'm not sorry. Healthy football recipes FTW! Get the recipe here.
Up next