Ovens & Ranges
Here's how to "deep clean" your slow cooker
The part you never think of needs a scrubbing, too
There's nothing like opening your front door and inhaling the aroma of a delicious dinner–especially when you didn't have to stand over a hot stove to cook it, because your slow cooker did all the work.
That's how we get through the winter at my house. We load the crock with meat and veggies in the morning, set the cooker on low, and eight hours later, we come home to a tasty meal that's been simmering all day. After dinner, we clean it all up.
Okay, not quite all of it. We soak and scrub the crock, even run it through the dishwasher sometimes, along with the glass lid. But the metal pot, the part that heats up—well, let's just say we never thought about it much.
Until the last time I took the crock out to move it over to the sink for washing, and I was shocked by what I saw inside the metal pot: baked on crud. The pot itself is not immersible. And you can't fill it with water and float the grime away. You've got to go in there and clean it by hand.
So, I tackled it all. I didn't have to buy anything special to clean it, just used things I had around the house. It didn't take long, probably fifteen minutes, and it would have taken less time if I had been cleaning the pot regularly. (Lesson learned.)
When you're ready to clean up your slow cooker, grab your supplies and follow the steps below.
What You Need
* A grimy slow cooker
* Dish washing detergent
* Baking soda
* Ammonia (optional)
* Paper towels
* A microfiber cloth
* A sponge or non-scratch scrubbie
* Random dishtowels
Time Needed
15 minutes
Difficulty
Easy
How to wash the crock
As I've learned, you need to clean your slow cooker as soon as you can. The residual warmth is your friend in terms of removing stuck-on food. So unplug it (of course) and get started.
Take out the crock, scrape it, fill it with hot water and a squirt of detergent, and scrub away the grease and food particles. If stubborn spots persist, fill the crock with water, pop the cover on, plug it in, and run it on low for a couple of hours.


Credit: Reviewed / Cindy Bailen

If the crock is hard to clean, add water and a squirt of dish detergent, put it back in the pot, plug it in, and heat it on low for a couple of hours.

If there are still some stains, try scrubbing them off with some baking soda on a damp scrubbie. The baking soda is a mild abrasive that will help remove baked-on food.

Yes, you can clean the crock in the dishwasher, but if you do, be careful not to block the spray arm, or the rest of the dishes in there won't get clean.
How to clean the metal pot
This is the part I never used to clean, and it would have definitely been easier to do if I'd kept after it.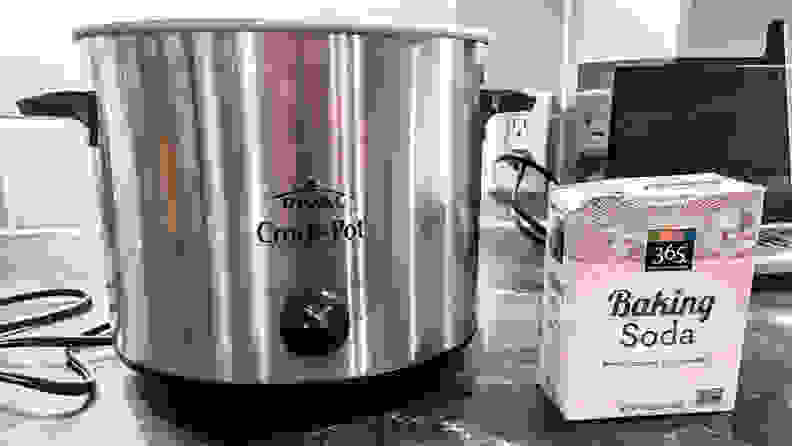 Make a paste of baking soda and as little water as possible. Put a little bit of it on a paper towel or microfiber cloth and gently scour the gunk from the metal pot.


Credit: Reviewed / Cindy Bailen

Here are the before and after pictures. I was amazed at how clean and shiny the metal pot looked after I cleaned it.

If using elbow grease is not enough to clean off the baked on food, you can pour a small amount of ammonia into a small bowl that fits inside the metal pot, put the cooker cover on, and let the fumes do their work for a few hours.

Wipe out the pot with a damp cloth or paper towel.

Dry it with a dishtowel.
Put on the finishing touches
Now that the inside is clean, move onto the exterior.
You'd be surprised how greasy the plastic handles get. Rub them with some dishwashing liquid on a cloth or paper towel, and wipe them with clean water.
Wipe the outside of the slow cooker. If you're obsessive, use a gentle polish. But it's okay to stop there.
Put it back together
You're done. Reassemble the pot, stow it away, and you're ready to cook tomorrow's dinner. Next time you prepare a meal in your slow-cooker, mist the crock (NOT the metal parts) with some vegetable oil or cooking spray first. That will make clean up easier in the future.