Ovens & Ranges
Here's exactly how you can make a cheese board that's Instagram-worthy
It's easier than you think
Walking into a party and spotting a well-stocked cheese board brings me joy like no other (except maybe if a dog was also at the party, but I digress). These days, pre-cut slices and crackers tossed on a dinner plate will impress exactly no one. It's time we all learn how to build a proper cheese board.
Luckily for me, my mother—entertainer extraordinaire—taught me a few important things in life, not the least of which is how to build a stunning, crowd-pleasing cheese board. And luckily for you, I'm here to pass on this crucial lesson. A beautiful cheese platter always nets ooh's and ahh's, but it takes almost no prep work or time—as long as you have the right components on hand.
1. Start with the right serving platter, made of slate or wood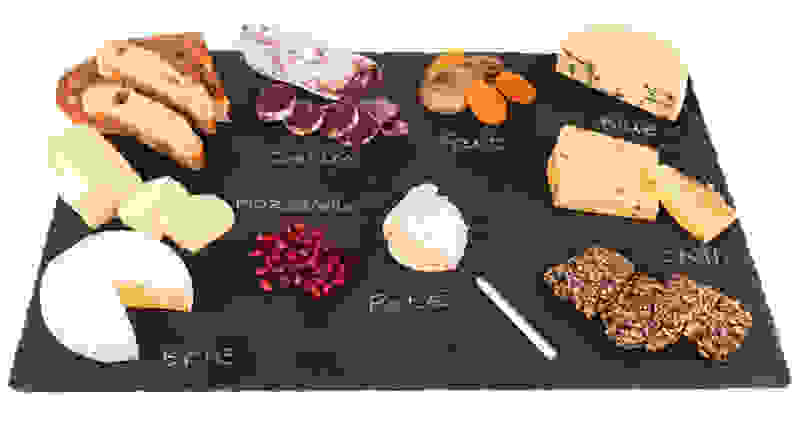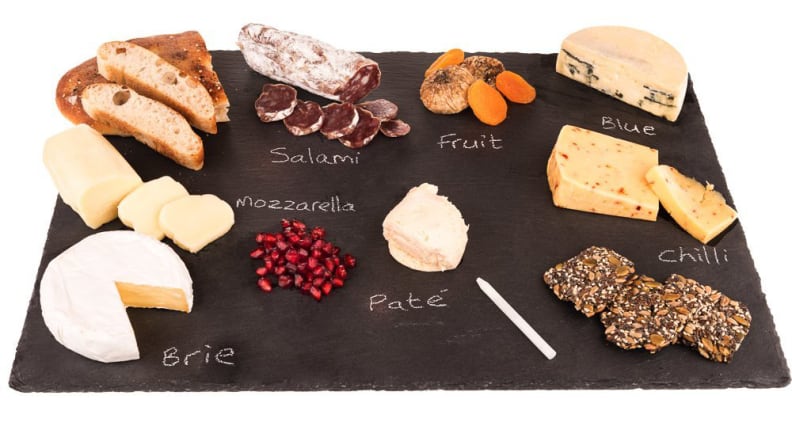 Start with your best wooden cutting board or slate platter, and make sure it's a big one. This is your canvas, after all. Err on the side of caution: It's better to get a platter or board that's a little too big and fill in spaces later than to run out of room and have to balance a bunch of smaller bowls and plates with ingredients that can't fit on the board.
Get 14"x20" slate cheese platter for $33
2. Get at least two types—and textures—of cheese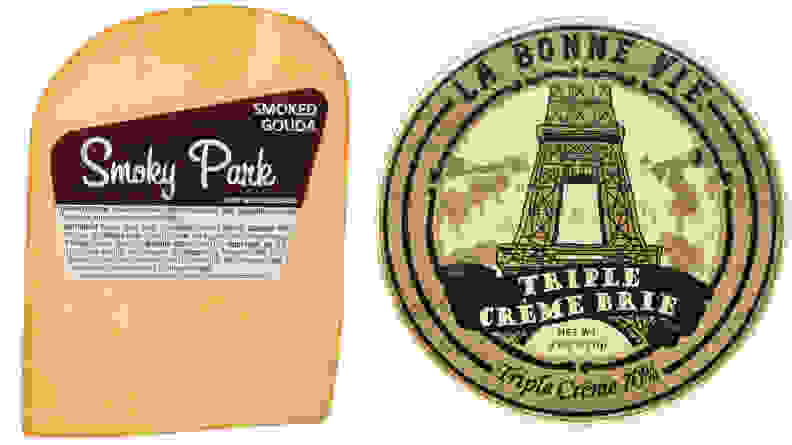 The heart and soul of good cheese board is, of course, good cheese. I always get one hard cheese (Gouda's my favorite) that slices neatly, and one soft cheese, like a triple-creme Brie or blueberry goat cheese, that spreads onto crackers like butter. Not sure what this all means? Don't worry, here are some options for you:
Hard cheeses: Cheddar, Manchego, Parmesan, Blue.
Soft cheeses: Brie, Goat, Camembert, Burrata.
There's no need to slice and dice the cheeses before serving: Unwrap them and plop them on the board. It's rustic and low maintenance, and that way, guests can choose as little or as much cheese as they'd like. Just be sure to plunge a slicer or knife directly into the blocks so guests don't feel intimidated or awkward taking the first cut out of your glorious arrangement.
Get La Bonne Vie French Style Brie for $6 on Amazon Fresh
Get Smoky Park Gouda for $6 on Amazon Fresh
3. Pick your crackers carefully
No cheese platter is complete without crackers, even if they're just a vessel to pile cheese into your mouth. If your board is big enough, you can pile your favorite crackers right on the platter. If not, put crackers in a bowl or mason jar and serve alongside the board. Pretzel twists, sliced baguette, or plain pita chips all work wonderfully—nothing too flavorful by its own right, or it'll clash with the cheese (sorry, Vidalia onion Wheat Thins—I love you, but you're wrong for the job).
Get Water Crackers for $3 on Amazon Pantry
Get Sea Salt Pita Chips for $3 on Amazon Fresh
4. Don't skimp on charcuterie and salty bites
Charcuterie is fancy speak for "salty cured meats," and if your dietary restrictions allow, never skip this step! Do you hear me? Never. I always get a combo pack of sliced salami, prosciutto, and chorizo. Anything that's pre-sliced (like salami) can be fanned out like a deck or cards or piled high in neat stacks. Super-thin meat like prosciutto can be dropped by the slice into thin piles.
Meat-free but still craving a salty bite? Put gherkins or Kalamata olives into a ramekin and place on or alongside your board (or be like me and include all of the above).
5. Get your fruit fill
The perfect complement to rich, tangy cheese is bright, crunchy fruit. It cuts the rich fattiness in cheese and also tricks you into thinking this is a healthy snack. My favorites? Thinly sliced Granny Smith apples or pears, fanned out like a pinwheel, or a fat bunch of snappy red grapes piled atop a block of cheese and spilling down onto the board. It's beautiful and super satisfying.
6. Don't forget sweet and tangy spreads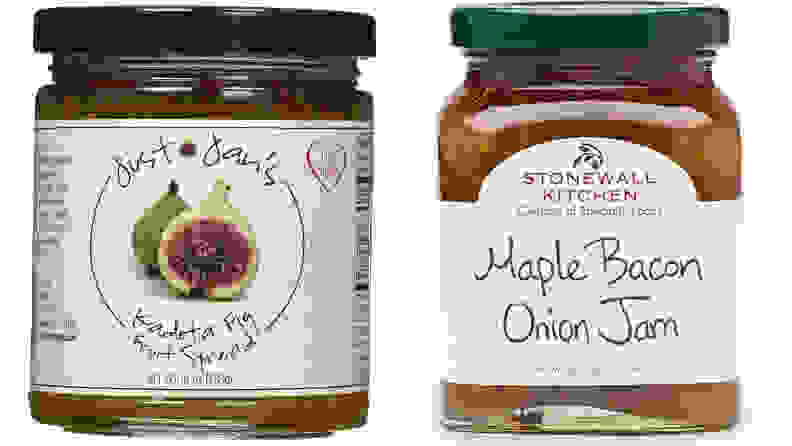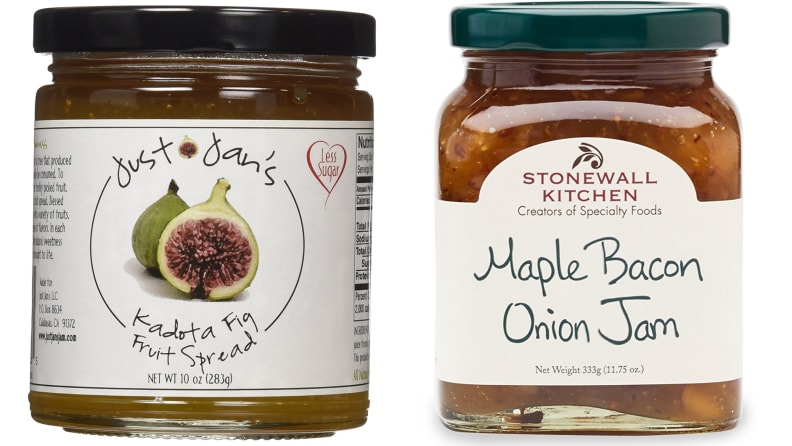 Set out both sweet and savory options to smear on your crackers or to top your cheese with. Whole grain mustard is good, as is fig spread and pretty much any fruit jam or compote—even honey works well with super tangy cheeses like goat or Camembert. This Maple Bacon Onion Jam by Stonewall Kitchen is excellent even with crackers alone.
Get Kadota Fig Spread for $10
Get Maple Bacon Onion Jam for $8
7. Nix disposable plates and toothpicks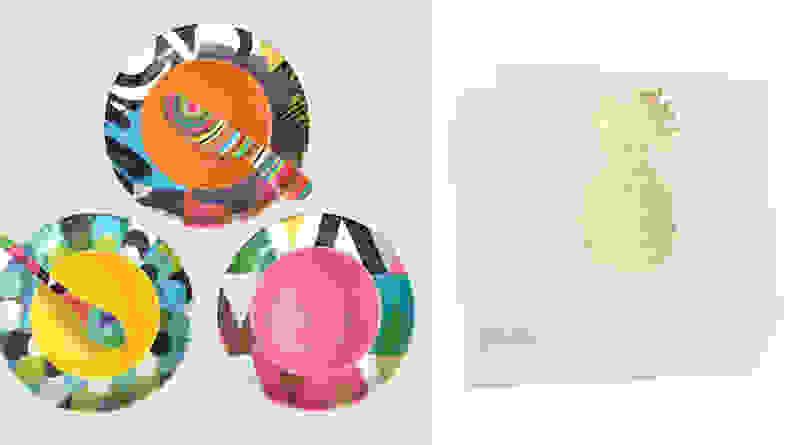 It's time to get rid of toothpicks in place of forks, and haphazard dishware. Invest in saucers, matching appetizer plates, and small cutlery. It's inexpensive and impactful: When you have the right serving utensils and dishes, your last-minute spread will look and feel put-together. Make sure each food has its own utensil to avoid grubby fingers in your pretty spread (you all know you have that one friend), and stack little plates and cocktail napkins nearby for when guests want to dig in.
Get 50 cocktail napkins for $10
Get 6 appetizer plates for $22
8. Get creative with your arrangement
Now your board is all filled in—if you feel your display is missing something, it's probably just your arrangement. Try grouping ingredients closer together or using additional fruit to fill empty space. If that fails, fill in empty spaces with trimmed flowers, handfuls of whole nuts, or fresh herb sprigs. Get creative and fill in as many blank holes as possible—a cheese board can never be too full (see above). With a robust spread and good variety, it's truly difficult to go wrong here—just add your own decorative flair and your guests will reap the cheesy, salty, sweet benefits.
Related Video: Put your leftover cheese between bread
Up next