Ovens & Ranges
Interior Design Goes Social With RoomReveal
There's a social network for everything these days—even home improvement.
Credit:
Social networking has completely changed the way businesses interact with their customers, and given them a virtually free alternative (or counterpart) to TV, radio, and print advertising.
RoomReveal aims to tap into that phenomenon in a very specific way. Presented as a hybrid of Instagram and Pinterest (but perhaps most similar to design mega-site Houzz), it's designed to be a platform for interior designers and remodelers to showcase their work. But it's also a place where those interested in sprucing up their homes can get a dose of inspiration.
RoomReveal is all about the photos. You can choose to either view the photos in an endless stream, or grouped into "projects" highlighting a single designer's efforts in a specific living space. Founder William Moynihan told us that RoomReveal sets itself apart from the competition by capturing the entire start-to-finish home improvement process, rather than just dazzling you with the end-result.
As you'd expect, the shots are endlessly gorgeous, and—we think—provide plenty of inspiration whether you're looking to spruce up your studio or design your dream home from the ground up.
Users can easily share the photos to Pinterest, Facebook, Twitter, and Google+, meaning RoomReveal can serve as a springboard to reaching a much broader audience. Profile pages also allow designers and remodelers to show off their credentials and curate a list of their projects on the site. Visitors can follow a specific designer and "like" photos, just like on Instagram and Facebook.
Moynihan says the site is currently populated by around 1,000 professionals, along with 4,000 additional registered users. He notes that the actual user base is likely much larger, since most users never bother to sign up for the free-to-browse site. Among the professionals, RoomReveal has already attracted a few minor celebrities, including HGTV Design Star contestant J. Allen.
In addition to the website, RoomReveal has a brand-new iOS app that's essentially a touch-friendly version of the site. As a bonus, it lets you upload photos directly from your iPhone or iPad. Users of other mobile OSes are out of luck for the time being, but Moynihan says an Android version will follow once the iPhone app is perfected.
Beyond self-promotion for designers and remodelers, the site is also meant to help people "stay organized, on budget, set realistic expectations, and source feedback and advice" on their home improvement projects. Tools to support those goals are scarce at the moment, but it's easy to see how the functionality might be added at a later date.
RoomReveal is still in its infancy and lacks a little polish (though it's come a long way since the initial designs). The real question is whether the interior design community is robust enough to support a social network of its own. But if HGTV's rabid fans are anything to go by, there's plenty of demand for beautiful images of beautiful homes.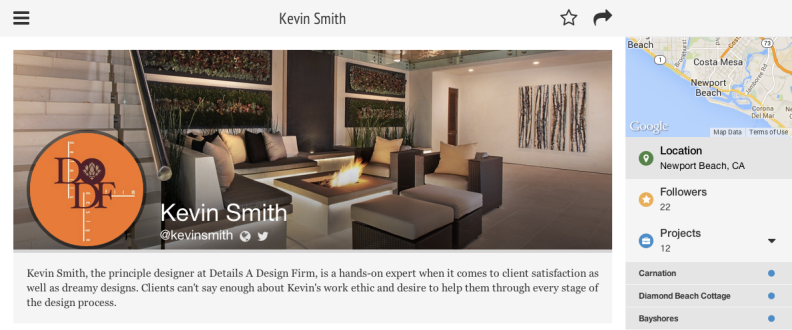 Up next