Ovens & Ranges
This Space Heater Is a Cat. For Some Reason.
It's like a warm, friendly pet that you don't have to feed.
Credit:
If you're alone on a chilly winter evening, getting ready for bed, you probably don't need to heat every empty room in an otherwise empty house. Personal heaters can be a great energy-saving alternative to central air or oil heat, but let's be honest—a lot of space heaters are downright ugly.
The Kangeri Nomadic Radiator is a mobile space heater that combines practicality and warmth with beautiful design.
It was created by renowned Indian architect and designer Satyendra Pakhalé. A quote from Pakhalé's website explains that his "curiosity led [him] to create a contemporary object for warming up the space closely surrounding the user that applies the technology of today and brings back poetic imagination to an object of utility."
In other words, it's warmer (emotionally) than other space heaters, which makes you feel warmer in turn.
There's no denying that the smooth, rounded design is oddly charming. At the end of the day, we can't help but be reminded of a cat loaf… which (full disclosure: I'm a cat lover) may be why I find it so appealing.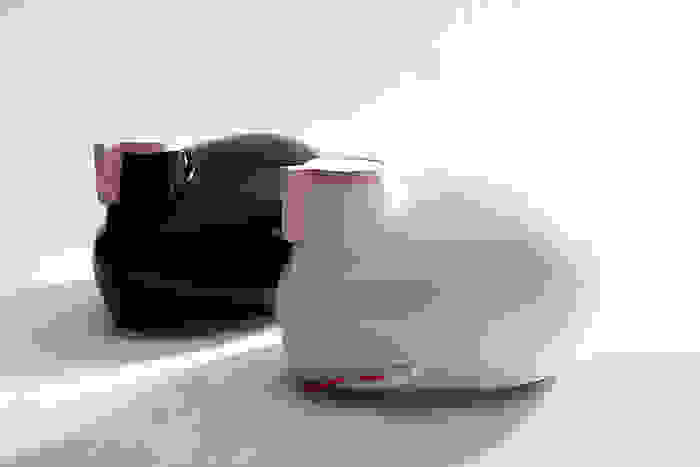 While a lot of portable space heaters are made from plastic that feels cheap and flimsy, the Kangeri seems a bit more durable. The core is made entirely of recycled aluminum, with an external aluminum shell finished in glossy white or glossy black.
It's hard to tell from photos of the product, but it actually appears to be quite large—at least in relation to the woman in the video. Fortunately, the oak handle—despite its recessed design—seems to be pretty easy to grip. Unless you're trying to wheel this heater across thick shag carpet, moving it around doesn't appear to be an issue. And the retractable cord should make it easy to use in any room.
At the moment, Pakhalé's store is still showing a "coming soon" message—there's no price point, recommended heating space, or release date yet for the Kangeri as yet. But if you're interested in learning more about this little heater, you're welcome to e-mail the designer through his site.
In the meantime, the Kangeri will continue to exist as a nebulous design dream of warmth and whimsy.