Ovens
Panasonic's Toaster Oven Creates Fast Food Actually Worth Eating
Panasonic relaunches its most beloved product: the FlashXpress toaster oven.

Credit:
Panasonic's array of small appliances continued to draw our attention, proving to be some of the more genuinely interesting features at this year's CES show. Representatives were particularly adamant about focusing on the NB-G110P FlashXpress toaster oven, the newest version of an earlier infrared toaster oven that was discontinued about four years ago. The new version was released some time last fall, and after perusing different online customer reviews, we have to admit that the Panasonic representatives were right: There really is an almost eerie cult following for this particular toaster oven.
The oven itself doesn't look particularly remarkable. It's got a somewhat glittery silver finish that looks pretty, but isn't anything mind blowing. There's an automatically protruding wire rack, as well as a baking tray, both of which are common features on toaster ovens. A crumb bin is located underneath the whole thing, with a small handle and grip just under the front of the device that makes for easy removal and replacement. All in all, it feels like a fairly solid, run-of-the-mill toaster oven. What makes this product so special, however, is what's on the inside: a unique quartz and ceramic heating system that will revolutionize how you approach quick food prep. Regular toaster ovens use heated coils that elevate the temperature of the air inside the machine, which involves lengthy preheating times and uneven cooking. The ceramic and quartz tubes—located, at the top and bottom, respectively, and which look like tiny fluorescent light tubes—turn on immediately, resulting in instantaneous heat. Need to cook something at 400°F? Set the FlashXpress, push the power button, and lo and behold, you've got 400°. It's almost impossible to believe, but the representative performed a demonstration for us right on the show floor. Within an instant after hitting the power button, we could feel the heat emanating from inside the oven. What's more, it cools off just as quickly; even though the device was putting out hundreds of degrees worth of heat, we could reach in and grab the baking tray just a few seconds after turning the device off.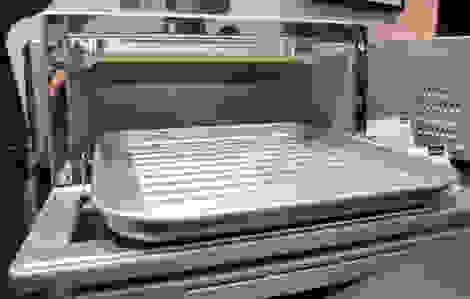 An innovation that we couldn't see involved the actual cooking process. According to the Panasonic rep, this machine uses both near and far infrared heating. The far infrared cooks food from the outside in, while near infrared does the opposite. No more having to flip your chicken wings; no more having to put up with frozen pizza that's burnt on the edge and still cold in the middle.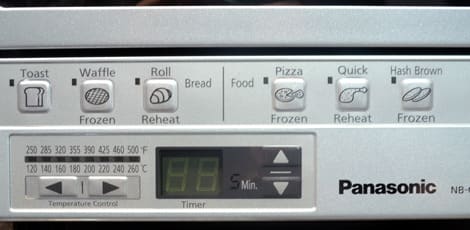 The whole point of the machine is that you get evenly cooked food in a fraction of the time compared to microwaves or conventional toaster ovens. With a bright interior light, a 200° to 500°F range of cooking temperatures, five levels of crispness for toasting bread, and the unusually uniform slew of long-term consumer support online, this really does seem to be the perfect toaster oven. At $139, it may turn some consumers away who are okay with budget products, but it certainly seems like the new Panasonic FlashXpress is worth the investment.
Up next
Get Reviewed email alerts.
Sign up for our newsletter to get real advice from real experts.