Popcorn has some serious power. How many times have you promised yourself you'd skip the concession stand, only to be drawn in by that buttery, salty snack? It's such a bland bite by itself, and yet somehow I always find myself grabbing for it when I smell the freshly popped stuff. It's novelty, nostalgia, and a surprisingly wholesome snack rolled into one airy bite.
Today is National Popcorn Day. Celebrate by bringing that intoxicating scent into your own home with Amazon's top poppers.
1. A fan-favorite air popper
With nearly 10,000 reviews and an average 4.5-star rating, this air popper is a longtime fan favorite: According to reviews, it lasts for at least a decade and, says one reviewer, up to 40 years. This popper claims to pop 18 cups of gourmet corn in under 2 minutes, leaving behind virtually no unpopped kernels—and since it's a hot air popper, there's no need for oil or butter. But where's the fun in that?
Get Presto PopLite Hot Air Popper for $23 on Amazon
2. A nostalgic carnival stand classic
Looking to sate your nostalgia for carnivals and baseball games past? This standalone antique-style piece has got you covered. Standing over four feet tall, this machine can serve as a functional snack stop or a fun, decorative conversation piece. The 16-inch wheels aren't just for show, either—they allow for easy mobility. Some reviewers complain the piece is difficult to clean, but most enjoy the novelty of the machine just the same.
Get Great Northern Popcorn Popper with Cart for $200 on Amazon
3. A well-loved hand-crank model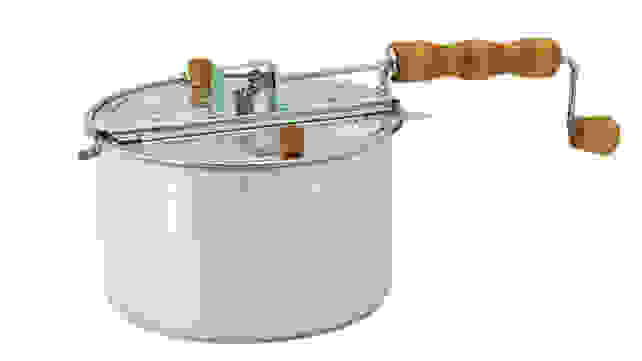 This simple stovetop popper may not look like (or cost) much, but there's a reason it's remained such a popular standby through the years: Popcorn lovers like J. Kenji López-Alt swear that it's "positively magical." The pot is made of thin aluminum that allows for quick, evenly popped corn thanks to a patented, stainless steel stirring mechanism with spindly legs that keep every kernel moving until it pops.
Get Whirley-Pop Stovetop Popcorn Popper for $26 on Amazon
4. An old-timey, kistchy countertop machine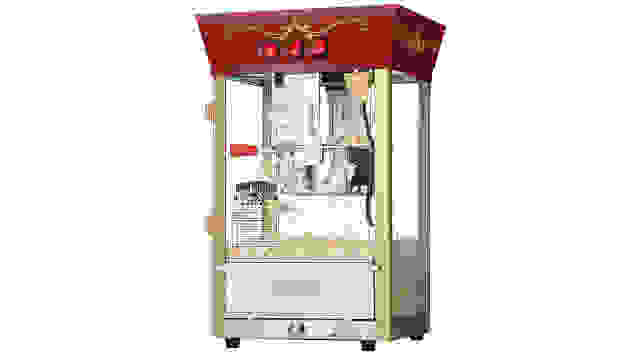 When modern technology meets old timey charm, you get this kitschy countertop machine that works as wonderfully as it looks. Though it looks like the kind of piece you may spy at a matinee, one reviewer claims, "Movie theater popcorn can't even compare to what this machine can do." At around 14 by 13 inches, this machine is a great size for countertops in residential homes. It's movie theater charm, minus the long lines, loud movie-goers, and climbing ticket prices.
Get Great Northern Popcorn Antique Machine for $110.83 on Amazon
5. An microwavable bowl that doesn't require oil or butter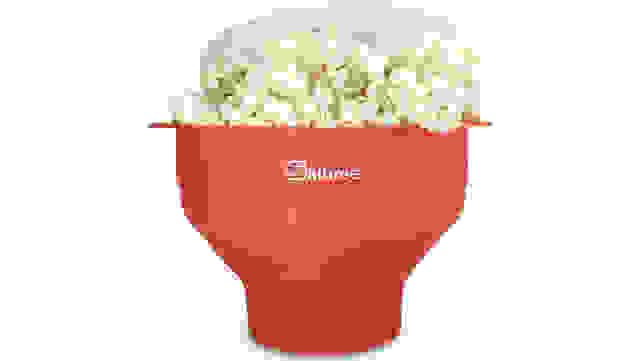 This collapsible bowl is both a space-saver and a waist-saver: Since it uses hot air from the microwave, you can skip oil and butter if you choose. And even with 1,300 reviews, it still has a perfect five-star rating. To use it, simply expand the bowl, fill with popcorn kernels to the pre-measured lines at the bottom of the bowl, and pop it in the microwave for a quick, healthy snack.
Get Salbree Collapsible Silicone Microwave Hot Air Popper for $16 on Amazon
Related Video
Our editors review and recommend products to help you buy the stuff you need. If you make a purchase by clicking one of our links, we may earn a small share of the revenue. Our picks and opinions are independent from any business incentives.