Ovens & Ranges
Here's the secret to making the best homemade nut butter
This often skipped step takes at-home nut butter to the next level
When I was a kid, my mother co-founded a nut butter company. She and her childhood best friend pioneered a business that specialized in gourmet spreads: Almond, cashew, peanut, honey, and my favorite, cinnamon, which tasted like your grandmother's best coffee cake when layered on warm toast. Our house became the (richly scented) hub from which they churned out jars to send to retailers and cases to cart to gourmet food shows.
In fact, it was at the New York Fancy Food Show that crowds flocked to their tiny booth, creating a buzz large enough to attract a well-known celebrity chef. She loved the product, but she detected a trace of rancidity in the spreads and asked my mom and her friend if they roasted the nuts in-house. They did not, but they had just learned an important lesson: The only way to guarantee fresh nut butter is to roast your own nuts.
Why? Generally speaking, roasted nuts have a shorter shelf life than their fresh counterparts. The reason why is scientific and complex, but the simple version is that roasting breaks down the oil within the nut, exposing it to more oxygen, and heightening the risk for rancidity. And if you're ordering roasted nuts from a third party, you can't really know how long they've been sitting around before they make it to your door.
The only way to guarantee fresh nut butter is to roast your own nuts
You may be wondering, why bother roasting the nuts at all? Well, I'm glad you asked. Think of the flavor difference between bread and toast. Roasted nuts are integral to a richer, fuller tasting butter, and if you blend while the nuts are still warm, a smoother product results.
My mom's business couldn't afford the exorbitant industrial roaster and eventually went under for it, which is a shame because that stuff was objectively delicious. But if you're interested in grinding your own nut butter, there are some smaller, budget-friendly roasters you can snag for the freshest and best-tasting homemade spreads. I'm sure even a Food Network star would agree.
Back to Basics Nut Roaster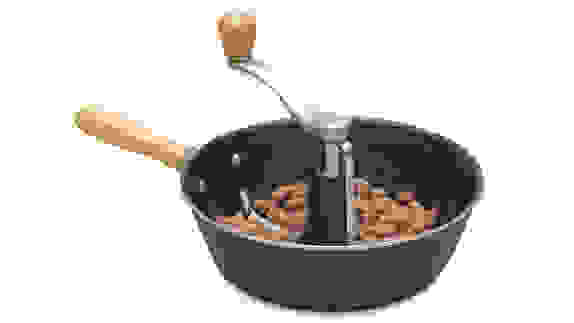 Reviewers love this product for its nonstick aluminum pan and and high-quality, "burly construction." At four stars with more than 50 reviews, this is one of Amazon's top-selling nut roasters and comes at an extremely fair price. Another bonus: This model's nonstick finish makes glazing nuts a breeze, so that if you choose, you can do so in under 10 minutes to quickly whip up a sweet, warm mix.
Get Back to Basics Nut Roaster on Amazon for $50
West Bend Kettle Krazy Popcorn Popper and Nut Roaster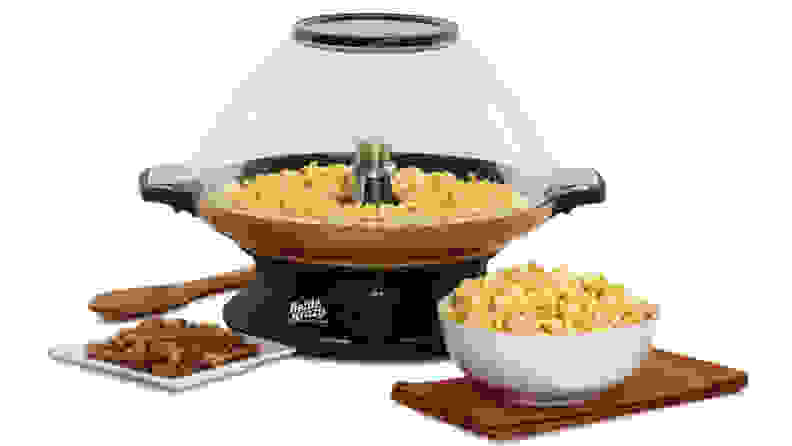 Fun fact: Many people use the same product to pop popcorn, roast coffee beans, and roast nuts. This particular model is billed as a two-in-one popper and roaster that can roast up to three cups of nuts at a time. The motorized stir rod keeps nuts in constant motion to ensure even roasting. Though it has a mix of reviews on Amazon, the manufacturer swears this model is the best for roasting due to its thick stirrers and metal heat base.
Get West Bend Kettle Krazy Popcorn Popper and Nut Roaster on Amazon for $40
Whirley-Pop Stovetop Popcorn Popper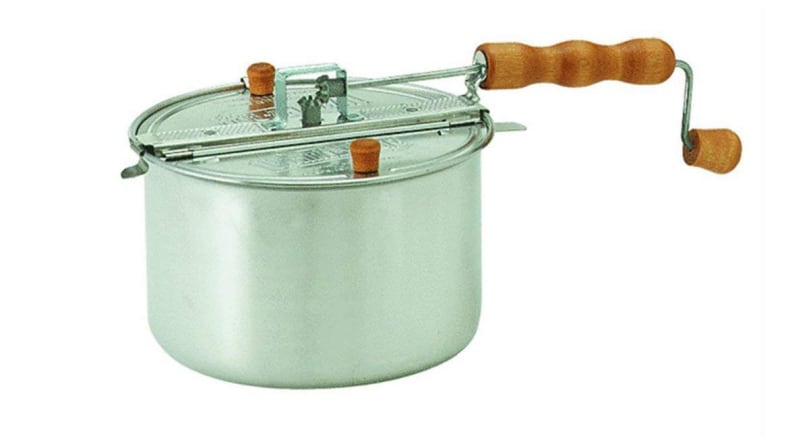 I guess it's no secret that I apparently have a thing for Whirley-Pop's classic stovetop popper. But its patented design includes a well-loved stirring mechanism and an aluminum pan that heats evenly to prevent scorching, which makes the Whirley-Pop perfect for nut roasting. The brand website even has a collection of roasted nut recipes, including this cinnamon glazed recipe that would make an excellent base for a butter—and not far off from one of my mother's original recipes, either.
Up next