Ovens & Ranges
The Tale of the Multi-Purpose Grill and Other Appliance Fables
Three accessories to give you the perfect dinner experience.

Credit:
Having you ever gotten a craving for something a little unusual and just a touch difficult to make? Sitting at home, late in the evening, suddenly slammed with a desire for waffles, french fries, or ice cream, but lacking the tools to make them quickly and without a fuss? Well, as a place where funky appliances and accessories get to shine, IFA's got you covered... in concept, anyway.
First off, let's pay a visit to Gronbach. Haven't heard of them? That's because this German company is a systems supplier for appliance distributers, not a distributer themselves. If the Einbau-Kontaktgrill (or Built-In Contact Grill) is sold, it likely won't be under the Gronbach name. In fact, the company reps were at IFA trying to find a potential partner for the product, which means there's absolutely no timeline for when or where this will hit store shelves—if ever.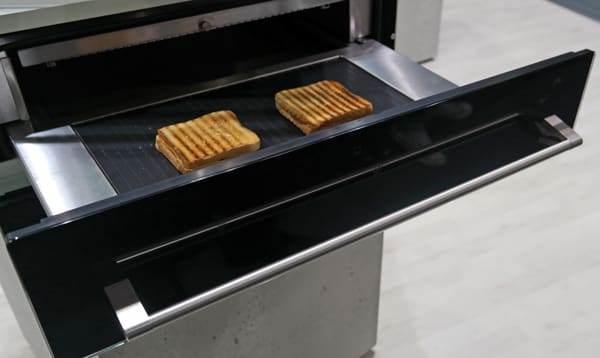 But on to the actual appliance. The Kontaktgrill serves not only as a grill, but also as a sandwich toaster, Panini press, waffle maker, and pizza oven. The product is installed into an area slightly larger than a cutlery drawer, taking up absolutely no counter space. It slides open like a drawer, too; the handles and control panel on the front were only prototype designs, though, since the final look will be partially determined by who picks up the distribution rights.
The temperature range is similarly prototypical. The model on display used an arbitrary 1-9 scale, though company reps said the grill is capable of reaching anywhere from 0-220ºC, roughly 0-430ºF. With that much power behind it, this little item could be a nifty substitute for a larger oven.


The actual cooking surface consists of an upper and lower heating plate. The device uses induction technology to get the job done, with a flat black surface that's ideal for baking a pizza. It comes with a removable grill plate that gives added versatility, not to mention those tantalizing charred stripes you get from actual grilling. That's a fact, folks: We saw the finished sandwiches.
The top and bottom can be heated independently, and there's a button on the controls that causes the upper plate to descend, pressing the food à la George Foreman. It's simple, easy to use, and takes up no counter space. With a pitch like that, we'd be surprised if Gronbach couldn't find a distributer in the US.
The perfect side dish for a freshly grilled Panini would be some homemade French fries. Turkish company Beko (which sends products to the US primarily as Blomberg) has a healthy, spatially efficient alternative for you: an oven rotisserie. One of the company's new smaller ovens featured an accessory that essentially works like an air fryer: a gear in the back of the oven causes it to rotate, while a special shelf holds it in place.
The company rep said that you could get crispy fries with tasty fast-food flavor all with a single tablespoon of oil. Chicken nuggets and other small fried foods should work here, as well, all with far less oil than a deep fryer. There's also a bread making attachment for those who enjoy a freshly baked loaf but don't have the space for a full-blown bread machine. The rotation is meant to give the bread an evenly-cooked outer crust; no lopsided cooking here.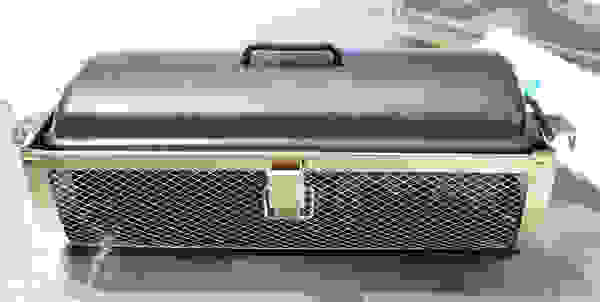 To polish off this decadent meal, Beko also featured a fridge that had an ice cream maker installed in the freezer. While we're unlikely to see this model in the US, it's still really neat—and besides, a man's got to dream.
Put the ingredients in the designated bowl, turn the machine on, and shortly thereafter you've got homemade ice cream. The Beko representative made it clear that it makes European style ice cream, but anyone who's had gelato knows that's not necessarily a bad thing.
With plenty more appliances like these hiding in every corner at IFA, we all spent the last week licking our chops. If only some of these novelties made it over to the US, the home-cooked meal could get a lot more exciting without the loss of precious counter space. For now, alas, we simply have to wait. And dream.