Ovens & Ranges
Everyone is meal prepping—here's how you can easily do it too
Meal prepping is the key to eating healthy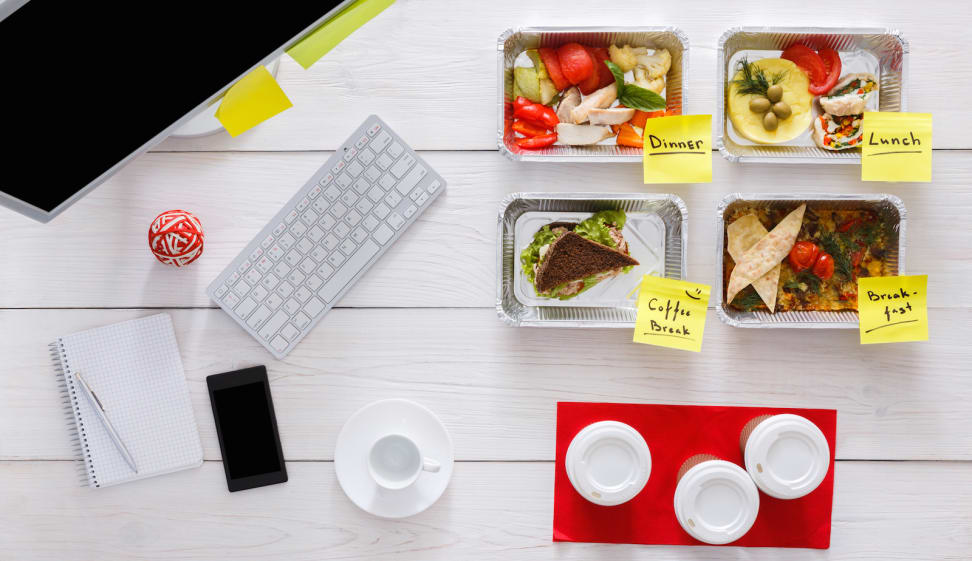 Credit: Getty Images
Meal prepping, also known as making multiple meals once a week, is having a moment. In fact, the hashtag #mealprep has been used on Instagram more than 7 million times.
The routine is popular for a reason. "It makes healthy, home-cooked food easily accessible when you're rushing around during the week and the only options for lunch or dinner are takeout. Aside from being healthy, meal prep helps save money because you're batch cooking many meals for the price of one meal at a restaurant," says Talia Korin, founder the healthy living blog Workweek Lunch. "Additionally, meal prep helps people save time during the week. Imagine coming home from work and not having to throw a quick dinner together because you've already prepped a meal in advance," says Korin.
To keep yourself from ordering pizza or pouring a bowl of cereal for dinner on weeknights when you have no energy, head to the grocery store this weekend and prepare your meals for the week in advance with these tips and tools.
Plan your meals for the week ahead in advance
Choose one day a week that will be your meal prep day and plan in advance BEFORE going grocery shopping. "Always make a plan before you start cooking. That means looking at your schedule for the week, calculating exactly how many meals you need, then looking in your pantry for what you already have and choosing recipes around that," says Korin.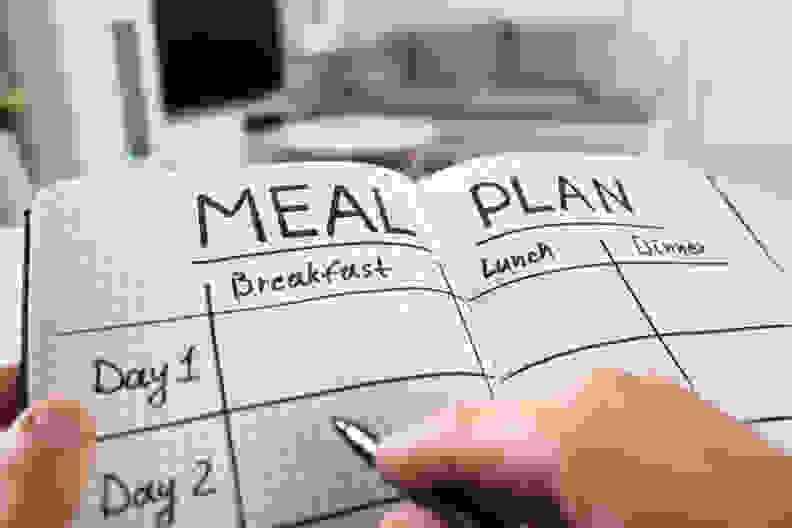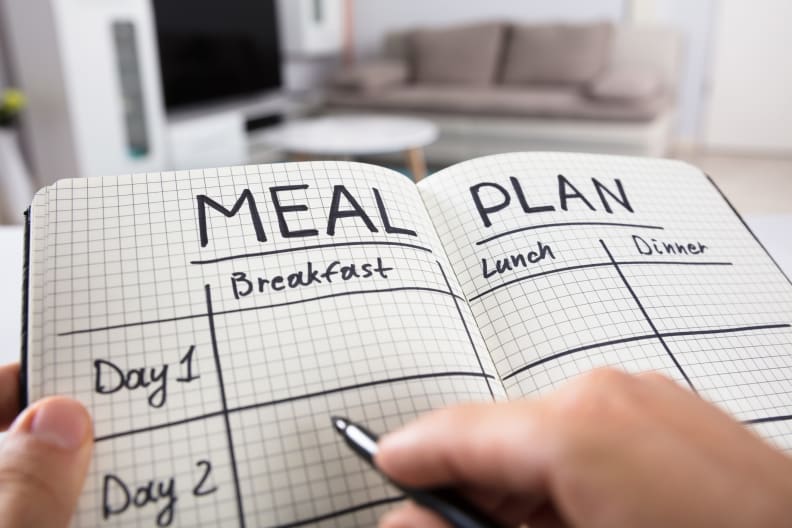 Instead of writing down lists on individual sheets of paper that can get misplaced, use a notebook. Jen Panaro, founder of the mommy blog Honestly Modern, writes everything in a Moleskine Cahier Journal. "I write the meal plan on the right page and make my grocery list, sorted by section of the store, on the left page of a page layout," says Panaro, "I can easily look back to the prior weeks meal plans for ideas and add grocery store needs throughout the week as items run out."
Need some meal planning inspiration? The founder of the popular healthy recipe website, Skinnytaste, creates meal plans each week fully equipped with shopping lists and recipes. Check out her meal plans here.
Set aside a day for cooking
It may take a hour or more to make one fancy meal, but meal prepping doesn't have to be super time-consuming. Julia Dzafic, the founder of the lifestyle blog Lemon Stripes recommends blocking off an hour or an hour and a half once a week for cooking everything you'll need. "If you spend the time preparing the basics on a Sunday night, the task of cooking dinner after an exhausting day doesn't seem so daunting after all. You can simply heat up brown rice with veggies and a protein and bam, dinner is ready in 10 minutes or less," she says. (Just note that some foods last longer in the fridge than others. You may have to freeze some or cook a few staples like chicken or ground-meat again in the middle of the week.)
Make sure you have the right kitchen gadgets and appliances
When prepping, you can save more time (and counter space) with the right tools. Dr. Robert Silverman, author of "Inside-Out Health: A Revolutionary Approach to Your Body" and founder of Westchester Integrative Health, suggests multi-use kitchen products to speed up prepping and cooking.
Jessica Cording, a registered dietitian, also recommends using different cutting boards to avoid cross-contamination, large sheet pans for roasting and baking, and a salad spinner.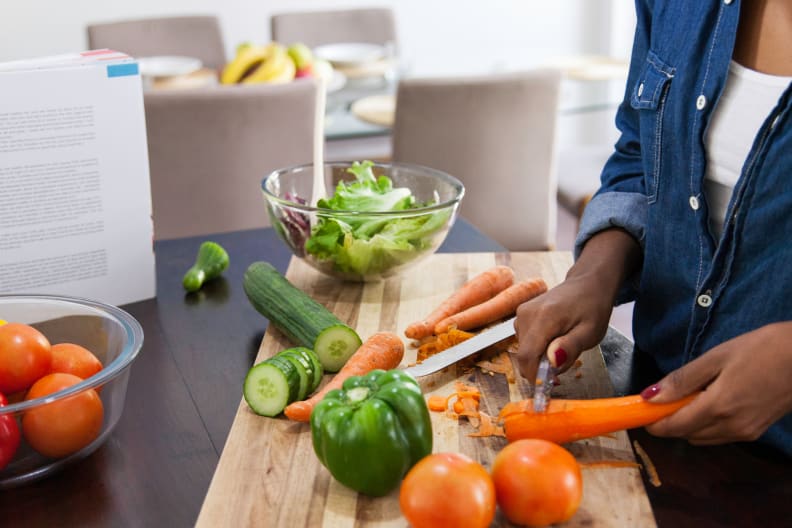 Store your food groups separately or make each individual meal.
There are two schools of thought when it comes to meal prepping: You can either prepare each meal in an individual container, or you can save the ingredients separately so you have more variety.
"No need to do a neat assembly line of identical meals. If you're someone who likes to mix it up instead of eating the same thing for days in a row, this approach lets you prep a bunch of ingredients to assemble to your liking throughout the week," says Cording. This means you could make a batch of shredded chicken and use the shredded chicken in different meals throughout the week.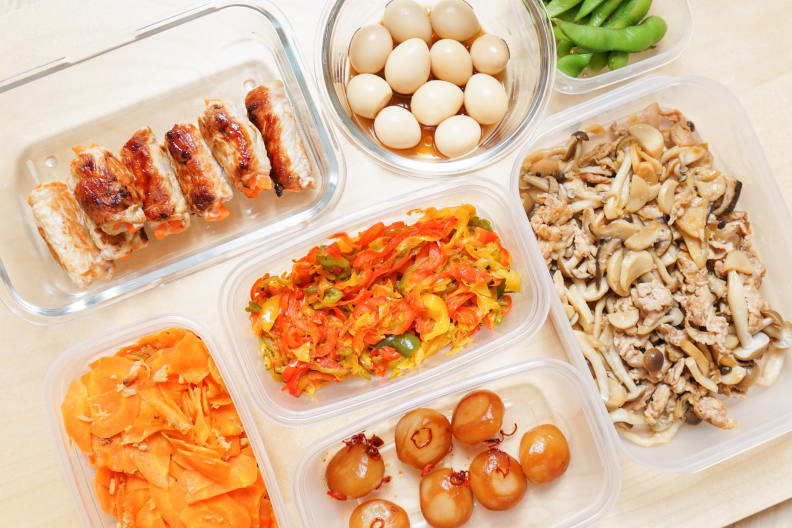 To store your meals and keep them fresh through the week, you'll need great storage containers. We tested multiple sets to find our go-to recommendation: the Glasslock Assorted Container Set. (Perks include that you can put them in the dishwasher, microwave, freezer, and the oven, and they are BPA-free.)
If you are making each individual meal in advance, try the portion-sized California Home Goods 3 Compartment Bento with a large section for protein, medium for fats, and small for carbs.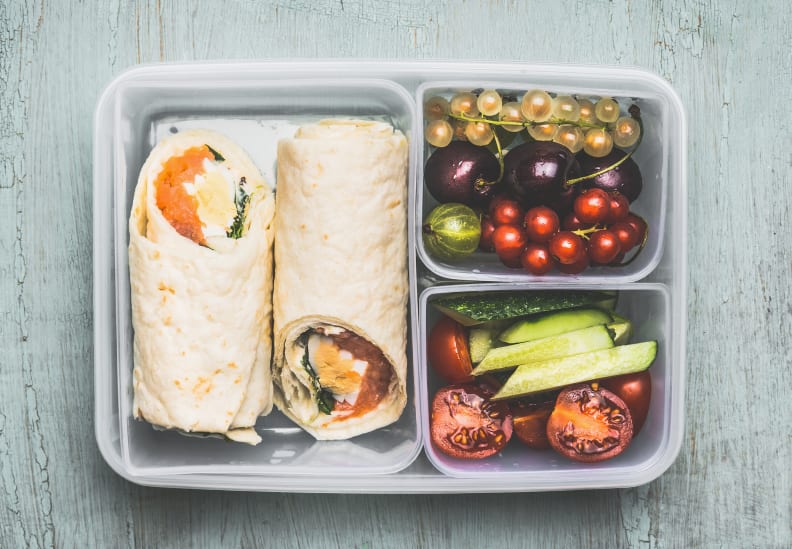 Not only will meal prepping help you save time, money, and calories, planning out your week in advance can make you more productive. Here's to better living!