Ovens & Ranges
What The Heck Is a Fulgor, and Why Is It in My Kitchen?
Falmec, Fhiaba, and Fulgor are names we might just be getting used to.
Credit:
There's a new European appliance brand in the U.S. Imported from Italy, Fulgor Milano's products are as sleek as you'd expect from a European brand, yet surprisingly inexpensive.
Fulgor's stylish European appliances are no pricier than competing products from KitchenAid, Electrolux, and Bosch.
Fulgor used Design and Construction Week to introduce its lineup, and we were excited to check out everything on display. From compact 24-inch wall ovens to full-size 36-inch induction cooktops, we'd go so far as to say that, looks-wise, Fulgor's products rival Miele or Gaggenau. Flush mounting, black and white mirrored glass, and simplified control panels provide a clean, modern alternative to the commercial-style designs favored by Viking and Wolf.
Most importantly, they're no pricier than competing products from KitchenAid, Electrolux, and Bosch.
Despite being marketed as a luxury appliance, the 24-inch wall oven is set to retail for only $899. A self-cleaning version ups that price to $1,299. A traditional 30-inch stainless wall oven starts at $1,749 and goes as high as $1,999 with added features. By comparison, a similar GE wall oven has a MSRP of $1,999.
There's also a 30-inch-wide by 24-inch-tall wall oven that's a unique size specially designed to fit beneath a separate cooktop. We were unable to get a set price for any of Fulgor's gas, radiant, or induction cooktops, but a company representative indicated that a 30-inch induction model would retail for under $2,000—just a little more than Bosch's entry-level model.
Though Fulgor's products are good looking and relatively affordable, the only unknown is performance. That's why we're very interested in putting them through our rigorous lab tests.
---
Introducing Fulgor Milano
So, just who is Fulgor? Well, the products themselves are manufactured by Meneghetti, a major Italian appliance maker that purchased the brand name about five years ago. In the U.S., it's under the portfolio of brands managed by the Vetta Group, which specializes in upmarket Italian appliances. For after-sale service, Vetta has already contracted with ADCO—a company that handles parts and repairs for other high-end, low-volume European manufacturers like Liebherr and Fagor.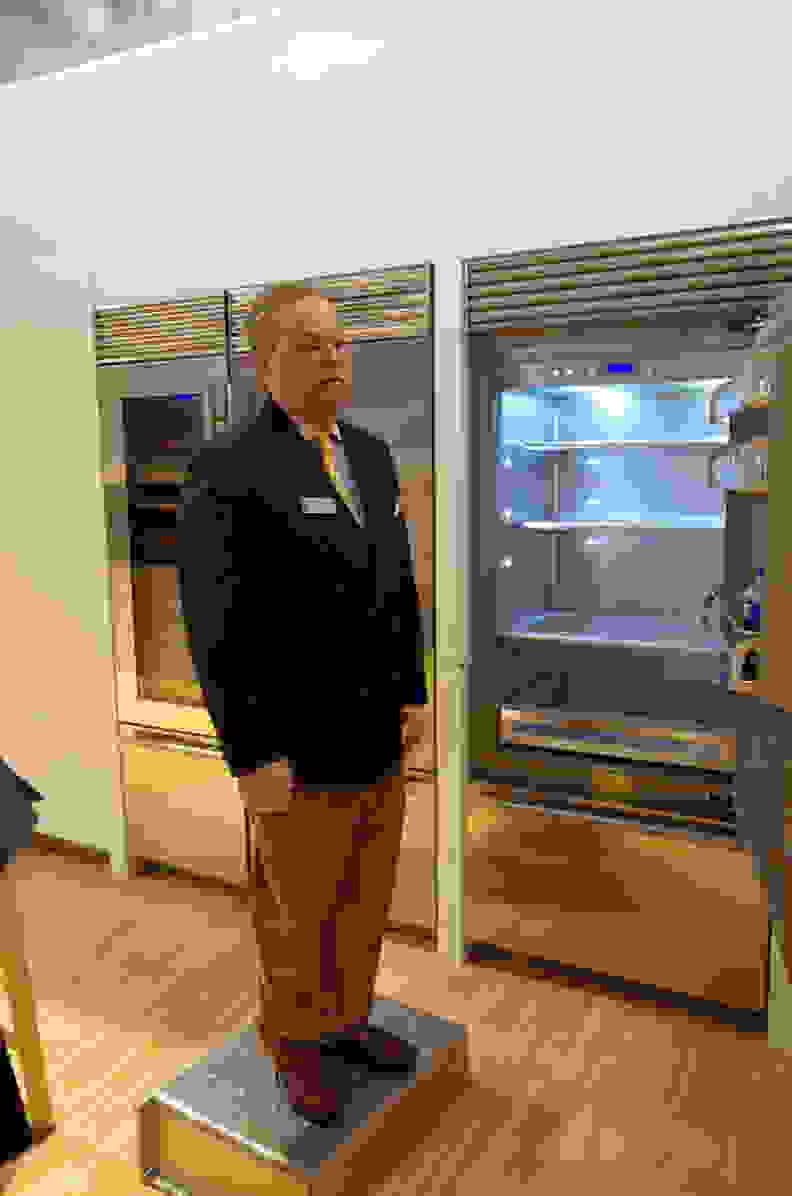 Vetta has already made inroads into the U.S. market with Fhiaba fridges and Falmec Rangehoods. Fhiaba makes what's essentially a commercial-grade refrigerator for the home, with an all-stainless interior and a price tag to match; Vetta is working on getting approval from various federal agencies to import new models to the States.
While some Falmec range hoods are already available in the United States, the company also gave us a glimpse at a conceptual ventilation-free extractor. Instead of simply removing steam and smoke through a duct that vents outdoors, the range hoods employ ionization to eliminate odors. That allows them to be mounted anywhere in a kitchen, regardless of whether there's a duct or not.
An illuminated leaf on the hood changes color depending on the quality of the kitchen air. When the kitchen fills up with cooking odors, the leaf turns brown, indicating that users should engage the hood. As the air is cleared, the leaf slowly turns green. It's definitely cool, but not cheap: The hoods will retail for around $4,000 when they go on sale in April.
Fulgor Milano is going up against established players in a low-volume segment full of brands that most Americans have never heard of. That might seem like a business plan full of pitfalls, but everyone at the Fulgor/Fhiaba/Falmec booth at Design and Construction Week seemed optimistic. Ultimately, whether their products gain a foothold in the U.S. market will likely depend on how well they perform.