Kitchen & Cooking
Do you need an oven with a built-in air fryer?
Here's what we know about these new ovens.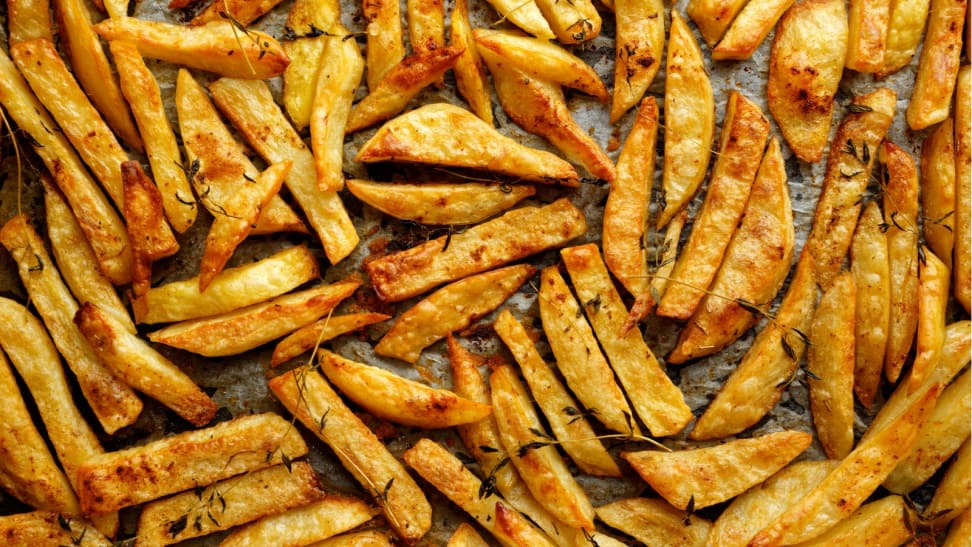 Credit: Getty / zi3000
2019 might be coming to a close, but the year's trendiest kitchen gadget isn't going anywhere. Love them or hate them, air fryers have changed how many Americans think about cooking, and you can find them just about everywhere—even in ovens.
This summer, Frigidaire launched the first line of ranges to include an air fry function. These 30-inch Frigidaire Gallery ranges are now available in gas (FGGH3047VF), electric (FGEH3047VF) and induction (FGIH3047VF) models. For those who are intrigued in the health benefits of air fryers but don't want to clutter their countertop with another big gadget, these ovens offer a convenient compromise.
But what does it mean for an oven to also be an air fryer? And do these new functions actually work? We got our hands on Frigidaire's new gas and electric models, the Frigidaire Gallery FGGH3047VF and Frigidaire Gallery FGEH3047VF, to find out.
How do air fry functions in ovens work?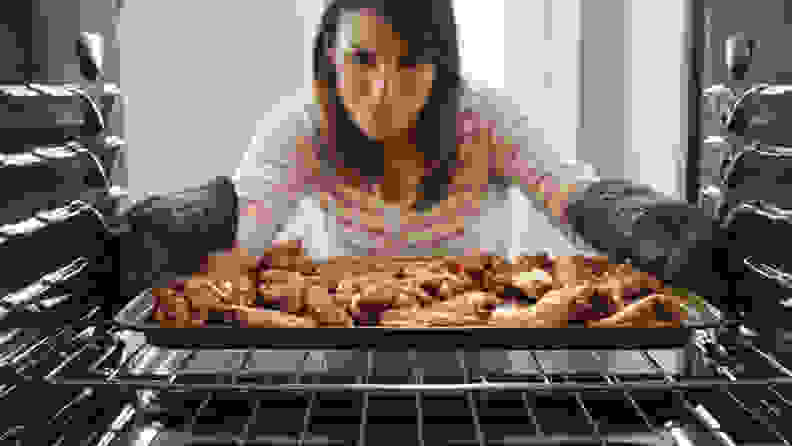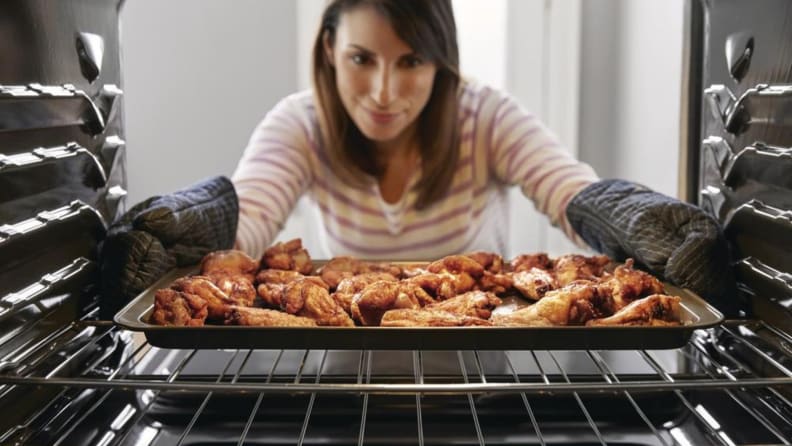 All countertop air fryers, whether they look like mysterious black plastic containers or regular toaster ovens, use the same basic technology: electric heating elements, convection fans, and frying trays or baskets. The convection fans quickly and evenly circulate hot air throughout the interior of the fryer to make your favorite foods crispy without being submerged in oil. (If you're interested in learning even more, we have more detailed explanations of how air fryers work and how they compare to baking.
Because of their convection technology, air fryers are often described as "miniature convection ovens." If we follow that logically, an air fryer the size of an oven would be just that—a convection oven. So when we talk about the air fry function on the latest Frigidaire Gallery ranges, we're really talking about a specialized convection setting designed to maximize heat circulation and crisp up your food.
The size of these ranges is important to consider. While countertop air fryers are small and can heat quickly, full ranges require longer heat times and may take longer to crisp up foods than small air fryers. So if speed is top of mind, an oven with an air fryer setting might not be as appealing as a regular countertop appliance.
How do the air fry ranges perform?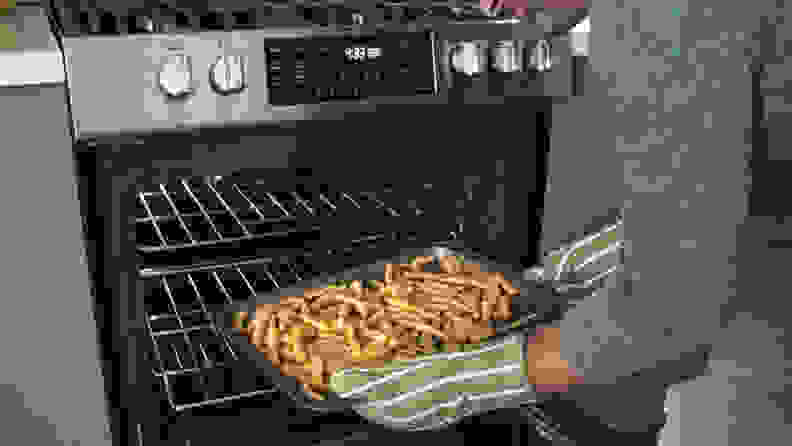 To test the Air Fry function in both the gas and electric models from Frigidaire, we air fried and baked a lot of frozen French fries and compared the results.
We began by testing for our full review of the Frigidaire Gallery FGGH3047VF gas range. We followed the oven manual's cooking instruction for 43 ounces of frozen French fries (Ore-Ida, in this case) on a baking sheet for 30 minutes in Air Fry mode. Then we cooked the same load of fries for the same amount of time in Standard mode.
It's worth noting that Ore-Ida gives conflicting instructions and recommends only cooking one-half to three-quarters of the bag. We opted to follow Frigidaire's instructions, however, which may have created the less-than-ideal fries.
Unsurprisingly, the 43 ounces of French fries that were cooked on Standard mode were mostly still frozen. The fries that were touching the bottom of the baking sheet (the baking sheet couldn't fit all of the fries in a single layer and were piled on top of one another in some places) were crispy on one side, but were otherwise mushy, slightly oily, and uncooked.
But when we used the Frigidaire ReadyCook Air Fry Tray and the Air Fry mode, our results were much better. Not only did all 43 ounces of frozen French fries fit onto the tray, but after 30 minutes, all of the fries that were not on the outer edge of the tray had been cooked evenly all the way through, and there was no oily residue. While the fries on the outer edge of the tray were burnt, that's a good indication that heat is flowing efficiently through your fried foods, even if it's moving a little too efficiently at the tray's edges.
After running the same tests on the electric Frigidaire Gallery FGEH3047VF, we achieved even slightly better results. The electric heat produced a more even crisp on the air fried fries, particularly when prepared with the air fry tray. We also removed the tray after just 25 minutes to prevent the outside fries from burning and found the inner fries still perfectly cooked.
Ultimately, we found that the Air Fry mode works. These ranges are too big to cook as quickly as countertop air fryers, requiring almost 30 minutes to cook fries as opposed to 15. However, their size allows them to cook a lot at once, and their air fry trays reduce crowding and uneven cooking. According to the manual, the Air Fry mode works on everything from frozen tater tots to fresh chicken wings.
Should I buy an air fry oven?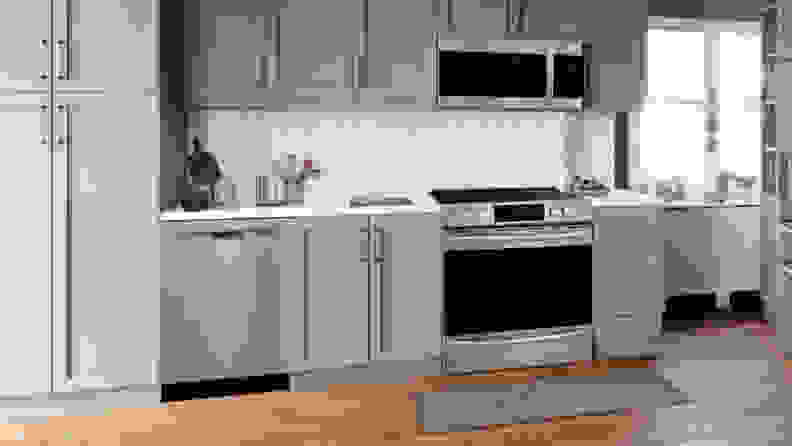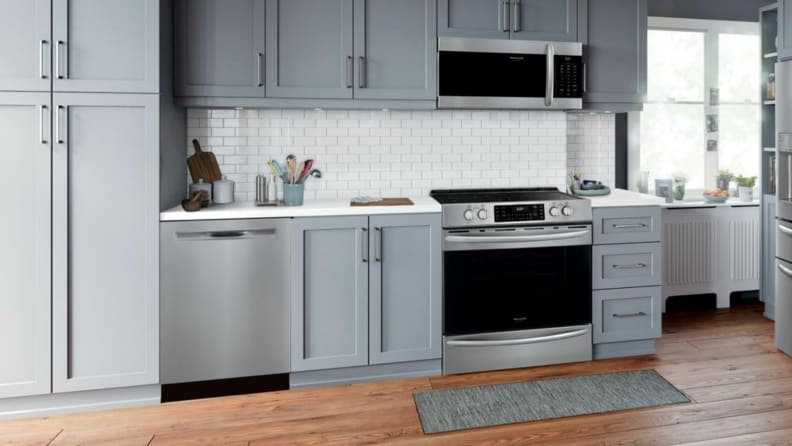 If you're in the market for a new range and air fried foods appeal to you, the Frigidaire Gallery with Air Fry line is worth your consideration. We were impressed by the overall performance of the gas FGGH3047VF, and the air fry results of the electric FGEH3047VF point toward a well-designed oven.
If speed is your ultimate concern, we still recommend choosing a countertop air fryer or convection toaster oven. But if you're looking to simplify your kitchen and get crispy foods right from your oven, a single appliance that can do both may be the way to go.
The product experts at Reviewed have all your shopping needs covered. Follow Reviewed on Facebook, Twitter, and Instagram for the latest deals, product reviews, and more.
Prices were accurate at the time this article was published but may change over time.