The Best Cookie and Baking Sheets of 2019
By Bethany Kwoka, September 29, 2017, Updated January 18, 2019
Whether you're a practiced home cook or an utter beginner, you need a dependable baking sheet like our favorite Nordic Ware Baker's Half Sheet (available at Amazon). It's a vital tool for baking cookies, roasting vegetables, and cooking that frozen pizza you bought out of sheer hunger and laziness.
But no matter how frequently you use your baking sheet, you'll want something that can stand up to high heat and won't stick to your oven fries. But which baking sheets are up for the task, and which are just not worth the money?
To find out, we enlisted an avid baker and frequent easy-meals home cook (that's me!) to put seven of the top rated baking sheets through their paces. I made endless cookies, roasted oodles of vegetables, and baked enough frozen pizzas to scare me back to Seamless. I also washed everything, taking note of what was an easy clean and what required some elbow grease. By the end, I knew which baking sheet I wanted in my own kitchen.
Updated January 18, 2019
Advertisement - Continue Reading Below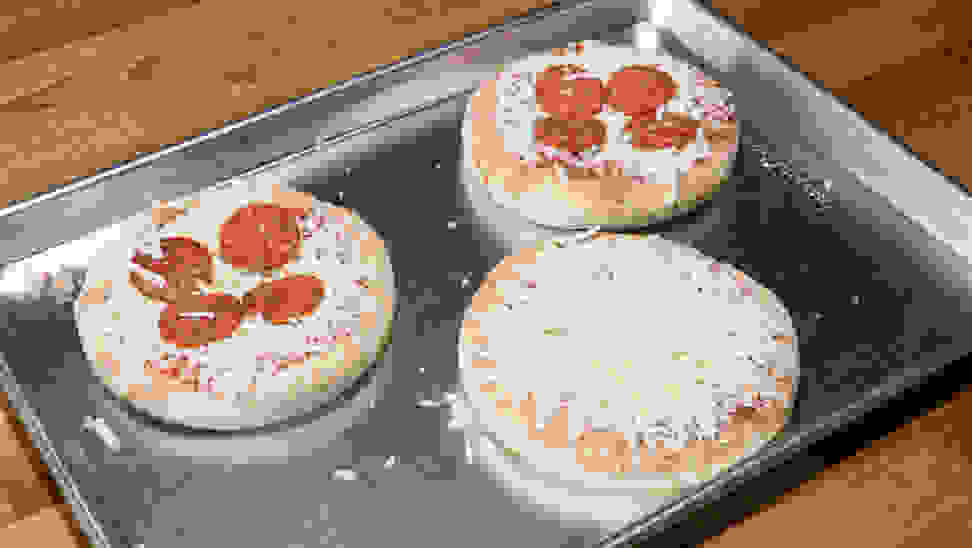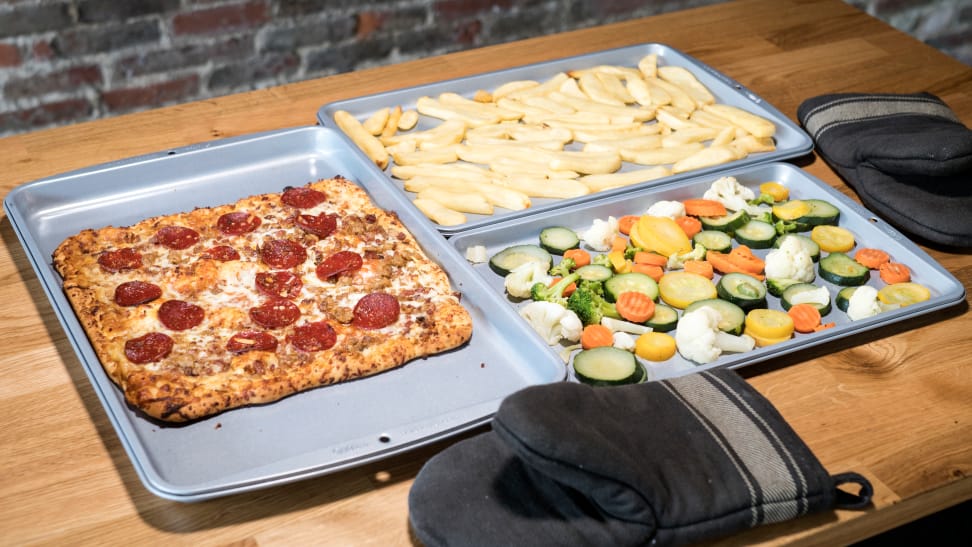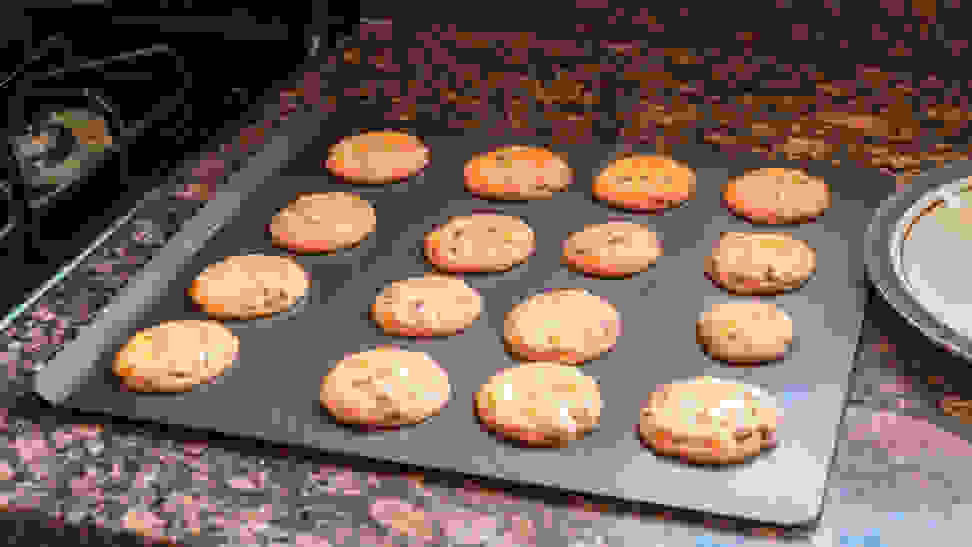 How We Tested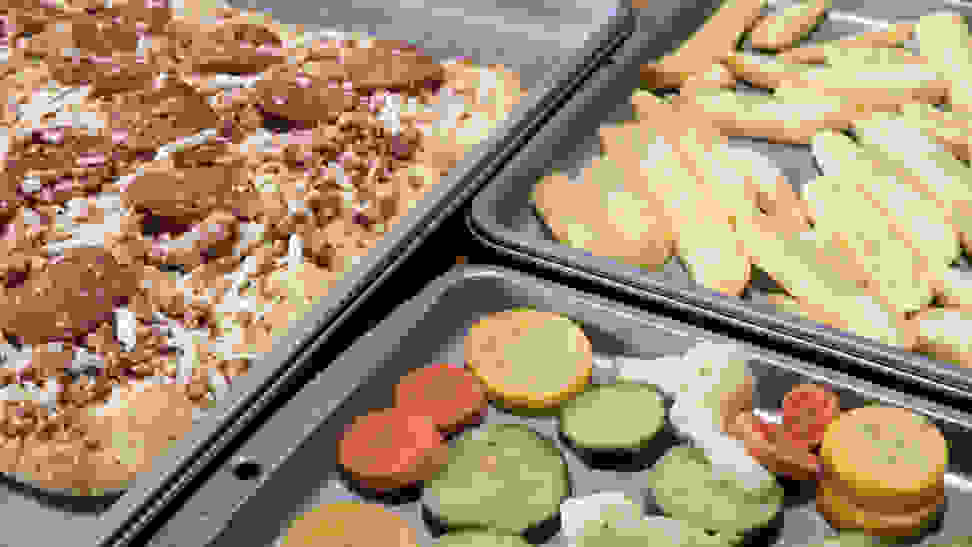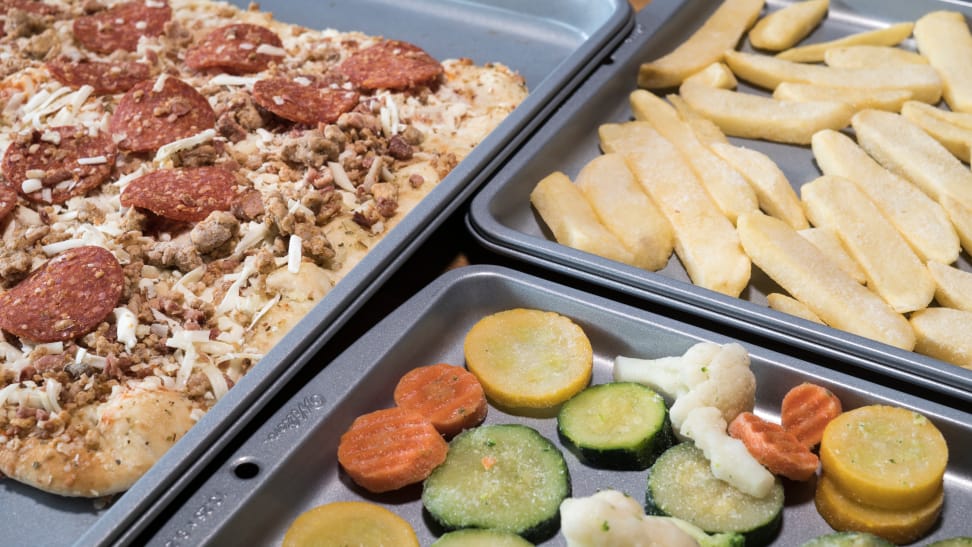 The Tester:
Hello! My name is Bethany, and I've been terrorizing my mother in the kitchen since I was too small to hold a baking sheet straight. Now an adult, I regularly bake too many cookies, and weekly roast vegetables and other delights for dinner.
I've been baking for years, adventures that run the gamut from elaborate wedding cakes to tasty flatbreads. I've become a harsh judge of baking equipment in particular, as nothing scares someone away from the kitchen more than burned cookies or messy baking trays. I want everyone to love baking as much as I do, so I've learned a lot about what makes a great baking sheet that will serve at-home bakers and cooks like myself.
The Tests:
To find our winner, we tested seven baking sheets of various styles (rimmed, rimless, AirBake, nonstick), materials (aluminum, aluminized steel, carbon steel, steel), and sizes. We used each pan to cook frozen pizzas, sugar cookies, and mixed veggies and scored each based on size, weight, warp resistance, ease of food removal, how much effort it took to clean, and the overall experience of using the pan.
Size is an important factor in a baking sheet, particularly if you're only planning to own one. So we judged the baking sheets on how many cookies comfortably fit, whether or not a frozen pizza would squeeze in, and of course whether or not they would fit in a standard oven.
While I don't mind a baking sheet with a bit of weight—solid construction means it's less likely to warp—a heavy sheet is tough to hold on to. We tested how easy it was to handle each tray with one hand, and whether you could hold the sheet while also removing your food.
We also judged the nonstick factors after cooking. Specifically, how easy was it to remove things from the tray? And how easy was it to clean?
Through it all, we paid close attention to the overall experience of using each pan. Was it easy to grab? Did it hold food securely? Was baking even? The worst thing you can do for your kitchen is stock it with equipment that you don't like, so I asked the above questions with an eye towards which pan I would be happy to use every day.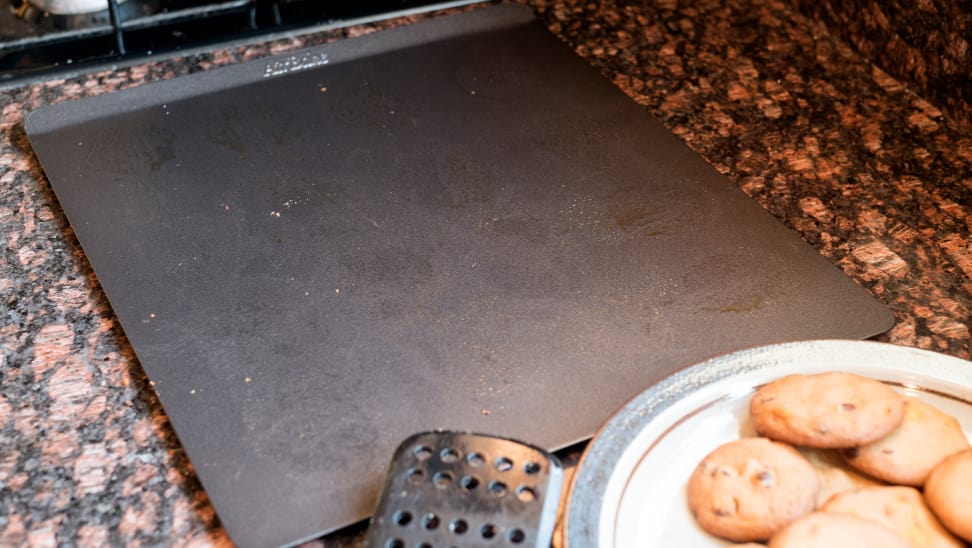 Other Baking Sheets We Tested
Advertisement - Continue Reading Below