The Best Loaf Pans of 2019
By Sharon Franke, Updated May 10, 2019
Wonder why your banana bread doesn't come out so great? Maybe the problem is your pan. In a good loaf pan, your quick breads will bake within the time called for in your recipe. They'll come out rounded on top with crispy (but not thick or tough) crusts, with moist and tender interiors. In other words, they'll bake perfectly.
So, we spent several weeks making lots of white bread, banana bread, and meatloaf to find the best loaf pan for your baking needs. Our winner, the Rachael Ray Yum-o! Oven Lovin' Loaf Pan (available at Amazon for $8.99) is reasonably priced and super easy to use in addition to giving great baking results. However, if you prefer a pan for tender cakes with a light-colored crust, you might like the USA Pan Loaf Pan—they also make one of the best pie pans we tested—(available at Amazon). And, if you're trying to avoid a pan with a nonstick finish, our top choice is the Pyrex Easy Grab Loaf Dish (available at Amazon).
To help you spend wisely, we tested eight popular loaf pans, each roughly 9-by-5-by-3 inches, and compared their grip, ease of use, and how well they baked our recipes.
These are the best loaf pans we tested, ranked in order:
Rachael Ray Yum-o! Oven Lovin' Loaf Pan
USA Pan Loaf Pan
Pyrex Easy Grab Loaf Dish
Wilton Perfect Results Loaf Pan
AmazonBasics Nonstick Carbon Steel Bread Pan
Nordic Ware Naturals Loaf Pan
Emile Henry Ruffled Loaf Pan
Chicago Metallic Textured Loaf Pan.
Advertisement - Continue Reading Below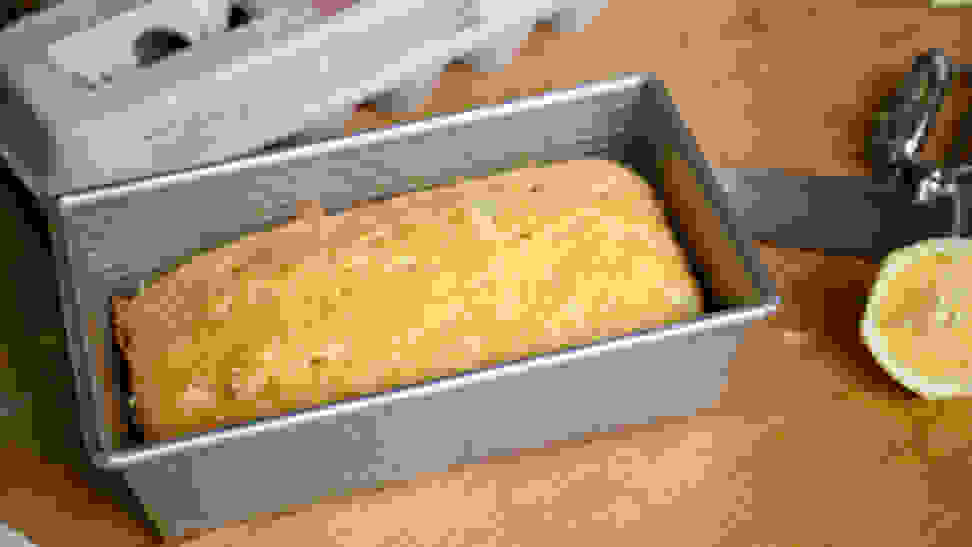 How We Tested
The Tester
Hi, I'm Sharon Franke, and I've been reviewing kitchen equipment for more than three decades. Before that, I cooked and baked professionally in New York City restaurants for seven years. I know that as simple as quick breads and pound cakes sound, they're not that easy to get right. A good loaf pan can help you get Instagram-worthy and delicious results.
The Tests
We tested eight loaf pans. In each, we baked two banana breads from two different recipes, two white breads using store-bought dough, and a classic meatloaf. As we worked, we noted if we could get a good grip on the pans, how well-baked items released from the pans, how easy the pans would be to transport, whether or not they were dishwasher safe, and how much effort needed to be put into cleaning them by hand. We noted if the pans could withstand a high temperature if you wanted to brown off a crumb topping on a coffee cake or a glaze on a meatloaf.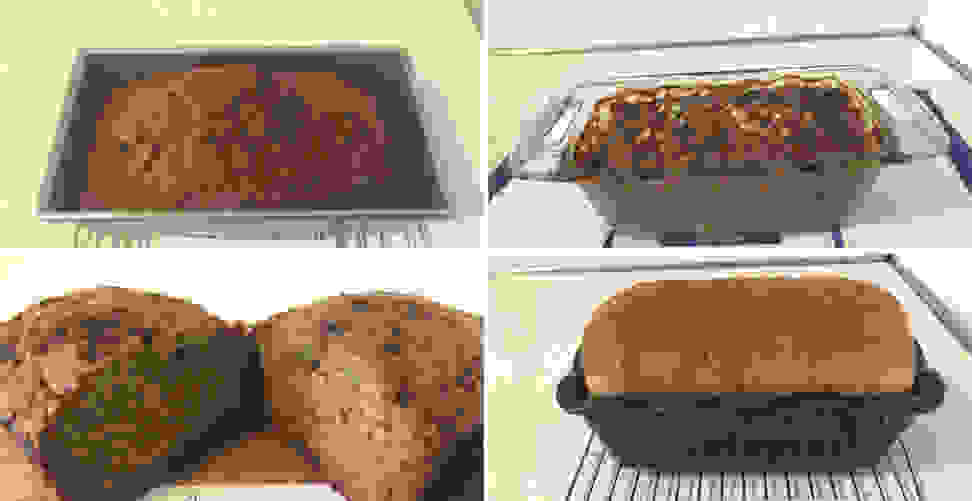 How to Choose the Best Loaf Pan
Loaf pans come in a variety of sizes, colors, and materials. For best results, it's important to use the size called for in your recipes. If you use a different size, your baked goods may not come out with the texture and/or height that you expected and may also take more or less time to bake than specified in the recipe.
Dark-colored pans hold in more heat and consequently give a darker, thicker crust, which makes them excellent for breads. However, you may also want to have a lighter colored pan in your collection for those times when you're baking cakes and prefer a lighter, more tender crust.
For ease of use, you can't beat metal pans. They're lightweight and easy to handle and of course, pretty much unbreakable. If you plan to serve right from the pan, ceramic or glass pans are more attractive. However, they may not brown as deeply or evenly as metal pans.
Our tests proved that nonstick pans really help when it comes to releasing baked goods and cleaning up. But even when you use a pan with nonstick finish, it's best to grease the pan as extra insurance against sticking.
---
Other Loaf Pans We Tested
More Articles You Might Enjoy
Advertisement - Continue Reading Below