The Best Serrated Bread Knives of 2019
By Lindsay D. Mattison, June 21, 2018, Updated January 18, 2019
Most of us really only need three knives: A good chef's knife, essential for general chopping tasks; a paring knife to handle precision work; and a serrated blade. While many call it a bread knife, it's actually capable of doing much more than just slicing bread. Those jagged blades bite into hard and squishy foods alike, making quick work of tough-skinned fruits like pineapple, sawing through hearty vegetables like butternut squash, and creating perfectly thin slices of juicy tomatoes. If you've ever used a dull serrated knife, you'll appreciate the joy that accompanies using a well-honed knife, like our top pick the Shun DM0705 Classic 9-Inch Bread Knife (available at Amazon for $119.95), which blasted the competition by scoring perfect marks on all our tests.
For a long time, I held steadfast to the belief that all serrated knives are the same when it came to performance. After all, a serrated blade is a serrated blade, right? Not only that, but since these knives can't be sharpened at home, I figured you should probably buy a cheap one. I'm happy to report that, after testing these ten 8- to 10-inch serrated knives, my mind is completely changed. I was shocked to find that every blade was unique, each one with a number of pros and perhaps a few cons. And, while some of the knives I'd rather avoid are on the less expensive range of the spectrum, I never would have guessed that an expensive knife would actually win.
Here are the best serrated bread knives we tested, in order:
Shun DM0705 Classic 9-Inch Bread Knife
Mercer Culinary Millennia 10-Inch Wide Bread Knife
Tojiro Bread Slicer 235mm F-737
Victorinox 47549 Serrated Bread Knife w/ Fibrox Handle
Miyabi Kaizen 9.5-inch Bread Knife
J.A. Henckels International Forged Premio 8-Inch Bread Knife
Victorinox Swiss Army 10-1/4-inch Serrated Bread Knife with Fibrox Handle
Wusthof Classic 10-Inch Bread Knife
OXO Good Grips 8-Inch Bread Knife
ORBLUE Stainless Steel Serrated Bread Slicer Knife
Updated January 18, 2019
Advertisement - Continue Reading Below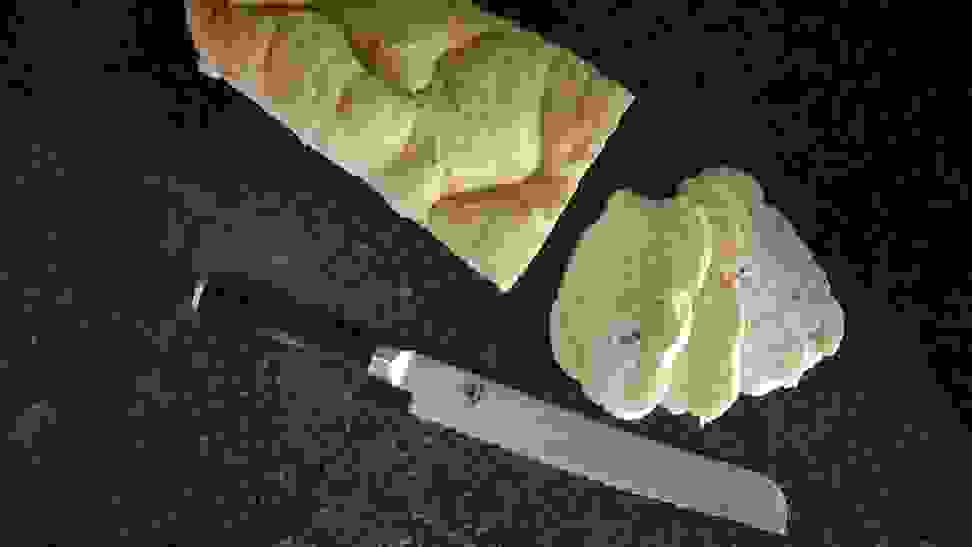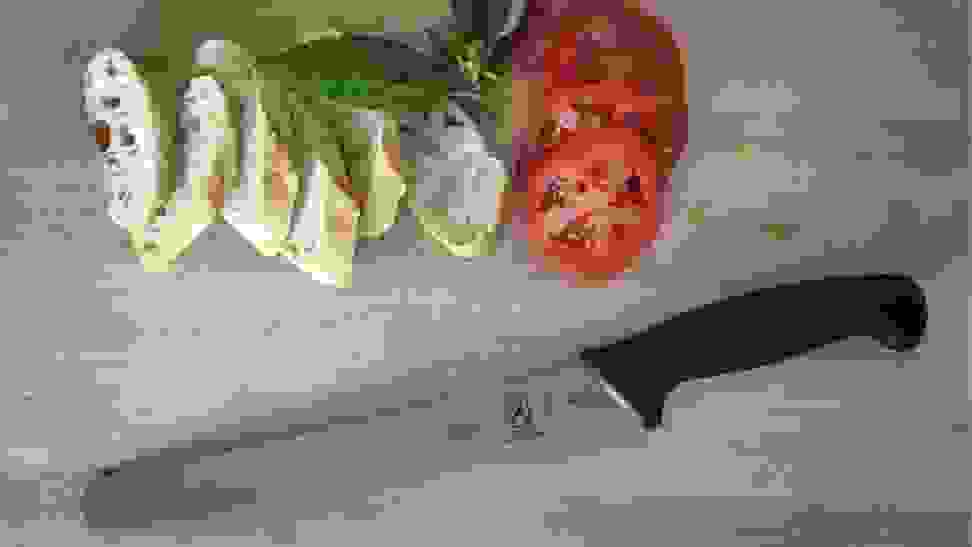 How We Tested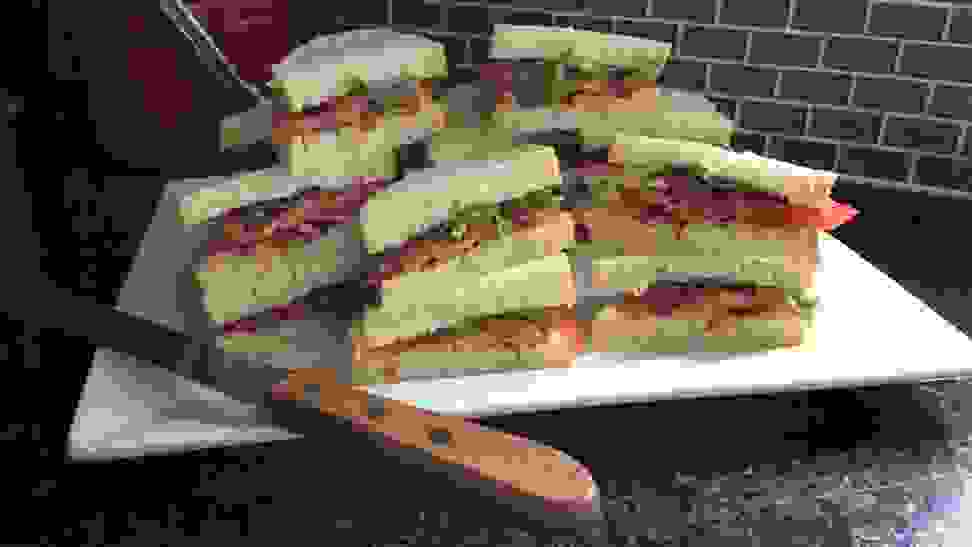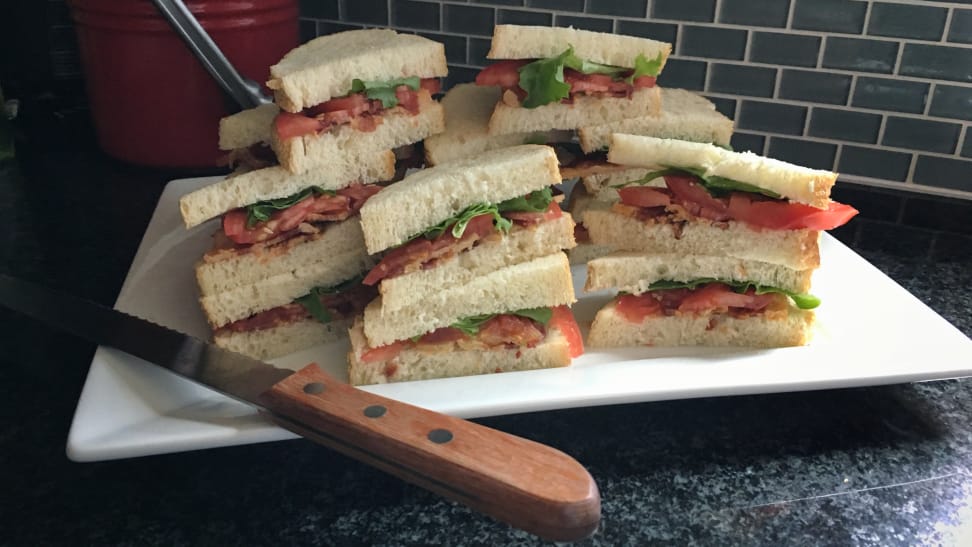 The Tester
Hi, I'm Lindsay Mattison, a trained professional chef, and a total bread nerd. I even named my sourdough starter (it's Klaus, in case you were wondering). There's almost nothing I love more than a freshly-baked loaf of bread, but a dull knife will ruin my excitement faster than you can blink! If you've ever been tasked with cutting crostini from a baguette with a less-than-stellar knife, then you know exactly what I mean. I'd like to help you avoid that particular brand of torture by aligning you with the best (and sharpest) serrated bread knife to add to your kitchen.
The Tests
We selected 10 serrated bread knives between 8- and 10-inches in length–the perfect size to cut through large loaves of bread while still being in control when slicing smaller items like tomatoes. We designed our tests to evaluate sharpness, length and width, and comfort–three critical components of a well-designed serrated knife.
If a serrated knife isn't sharp enough, you're in trouble. It can bounce right off hard-skinned food or create jagged tears instead of smooth slices. Even worse: You might push downward with excessive force to pierce the skin, creating a dangerous situation. To test the blade's sharp edge, we cut crostini from crusty baguettes to see if it could get through the hard exterior without crushing the soft crumb inside. Then, we sliced soft sandwich loaves and thinly sliced tomatoes to see if it could pierce tender skin without tearing it. Finally, we made a ton of BLT sandwiches to test the blade on various textures–soft bread, tender tomatoes, and tough bacon–and awarded bonus points if it sliced without ripping or tearing.
While we tested the blade, we also assessed the length and width of the knife. We wanted to know if the knife was long enough to handle large loaves of bread without being too unwieldy to tackle smaller vegetables like tomatoes. The blade's width was also an important factor, as a thick blade generally can't create the thinnest slices.
Finally, comfort is essential for all knives and the serrated blade is no exception. We were looking for a knife that felt comfortable in our hands, with a nice grippy handle that didn't slip and slide as we sliced away. In addition, it had to be heavy enough to use without requiring excessive force but light enough that it didn't tire your hands as you used it.
---
Other Serrated Bread Knives We Tested
Advertisement - Continue Reading Below