Ovens & Ranges
Whirlpool Designs The Kitchen of The Future
Whirlpool has dreamed up a new kitchen with familiar and unfamiliar touches.
Credit:
Whirlpool's CES booth featured a look far into the future of appliances, where the oven and refrigerator are pared down to their most basic components in order to add new relevance and functionality. The result: A completely deconstructed system for cooking and storing food that we hope will get all appliance manufacturers completely reconsidering kitchen design.
The Fireplace: Re-combining the Kitchen and Living Room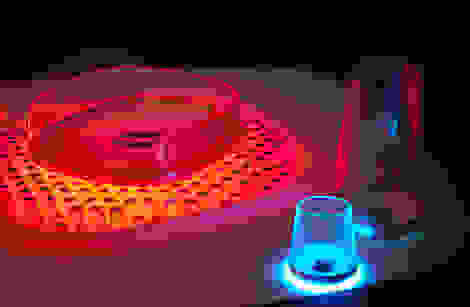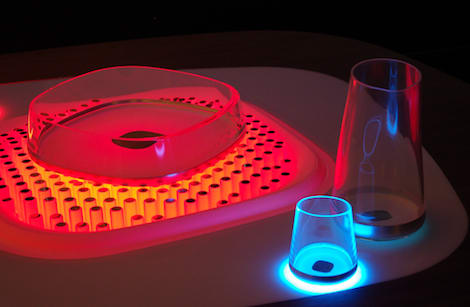 Whirlpool's fireplace concept replaces the modern rangetop with an idea almost as old as the human race: cooking around a central fire. Advances in heating and cooking may have decentralized the hearth from the home, but Whirlpool's Fireplace concept brings things back to basics using a new cooking technology to build a complete food heating and cooling system around a central heating element that radiates infrared heat.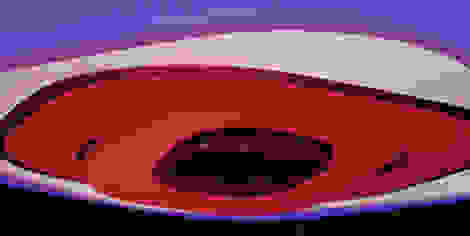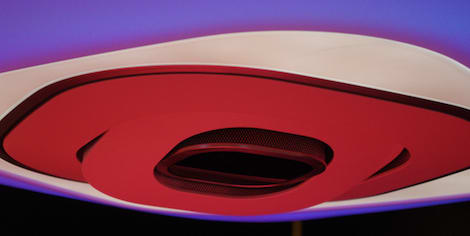 A New Way to Cook: With Light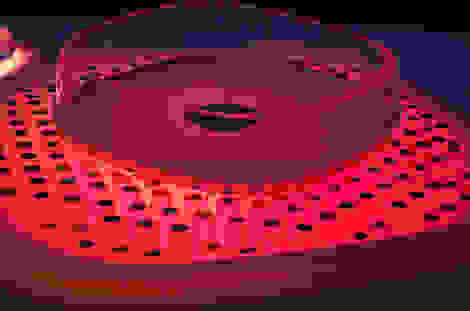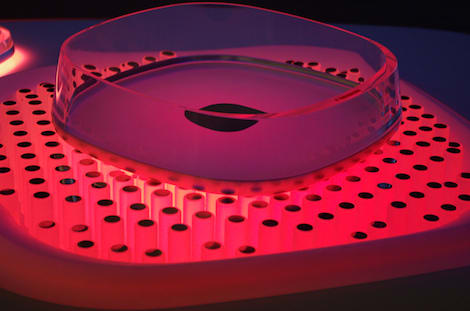 By placing certain glass dishes on the "fire," the system shines infrared light to cook the food. In this way it acts like an induction cooktop: the "fire" is never hot to the touch and the system can detect cookware on its surface. But whirlpool take it one step further: the cookware doesn't even get hot—only the food. In the future, users will be able to put bacon, eggs, and toast in the same dish and a camera will detect the type of food and cook it according to the users specifications. It's only a concept, so we didn't get to see it in action, but elements of the design and technology are sure to make it into production cooktops in the near future.
Some Like It Hot
While the fireplace dominates the center of the table, the whole setup is multifunctional. By placing a special glass on the table, the bottom and the tabletop communicate to refrigerate its contents. Naturally, mood lighting shines blue on cool items and a red-orange when the heat is on, and it's possible to chill and heat items at the same time. Imagine grilling meat while keeping a beer ice cold, and you'll see the allure of the design.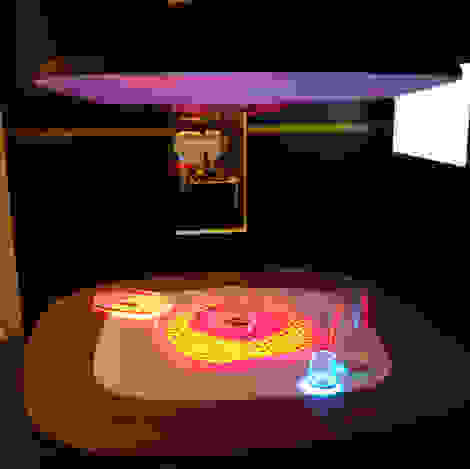 Anyone who visited Disney's Tomorrowland knows that there's always a danger in predicting (or dictating) design years in advance: If the prediction fails, the design clearly looks like a dated miscalculation of the future. That's why this futuristic fireplace will never see production. It's purely a technology showcase of what's possible. Still, elements of the design and cooking surface may make it into future ranges.
Refrigerating Out of the Box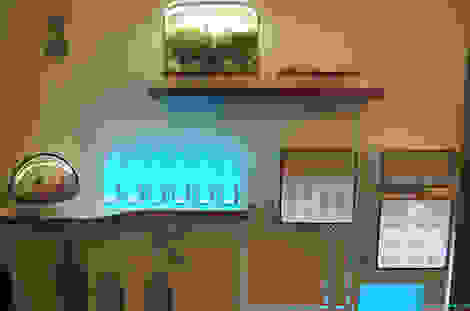 Whirlpool's FreshConnect system eschews the classic "cold food closet" idea and aims for small refrigerating units tailored to preserving the actual foods they contain. This way, the temperatures and humidities of the various products don't have to be compromised in a one-size-fits-all fridge. With individual spaces for bread, fruit (with an antibacterial light), meat, dairy, growing herbs, chilling bottles, and general food storage, it's the continuation of the Preserva system that debuted in 2012.
Design-wise, Whirlpool has also elected to hide food in certain compartments by making them translucent rather than clear. The drink spaces can be preset for various wine temperatures. The presets are tweakable—although with vague "cooler" and "warmer" inputs rather than degrees.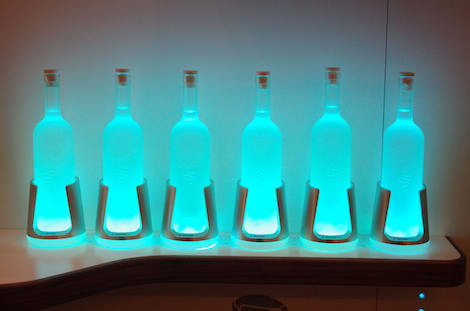 While we like the idea of tailoring settings for individual types of food, the prototype we saw may not make a lot of sense unless your want your kitchen to look like a first class airline lounge. The compartments took up much of a wall—you could put them close together, but it would still take up more space than a traditional fridge—and are each pretty small, which means the food would have to be replenished every few days.
The FreshConnect Delivery System
In an attempt to prevent this inconvenience, the FreshConnect has another side—a food delivery system. Whirlpool plans to partner with various grocery stores and other food delivery services to provide an efficient method to keep the fridge full. Ideally, delivery services deliver the food in bags based upon smaller battery-powered versions of the individual units and leave the bags on a docking station. A Whirlpool representative said that an apartment building's concierge would keep an eye on such grocery bags, which should tell you everything you need to know about the target consumer for such a system.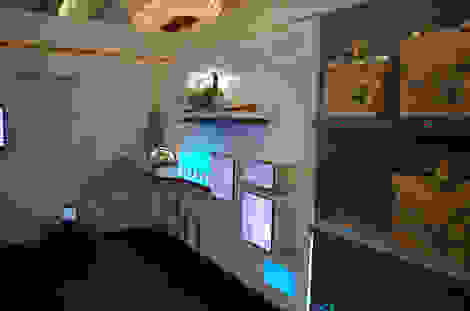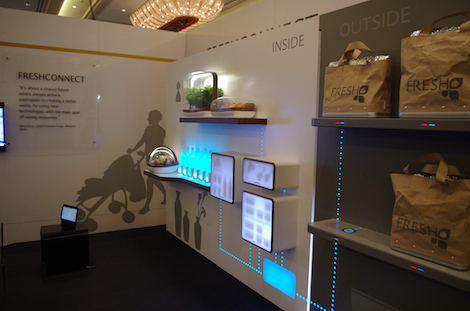 While Whirlpool's concepts are certainly interesting and innovative, there's no way they'll make it to the marketplace in their current states. But design is easy to change—it's the ideas that are the important thing here. It's not at all far-fetched to assume that an oven may someday use light to cook food, or that a fridge may eventually contain compartments dedicated to preserving specific kinds of food.
At a show dominated by incremental updates to existing appliances, we were impressed that Whirlpool had taken such a bold leap.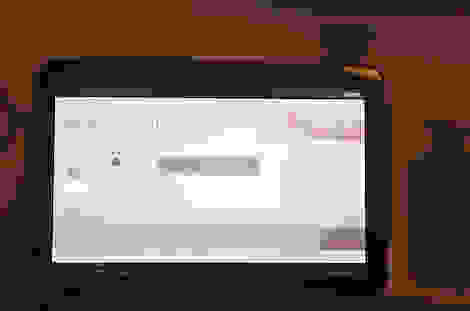 {:{PhotoGallery article.attachments}:}