Ovens & Ranges
Whirlpool's Cooktop Concept is a Giant Tablet
Captain to the bridge. Set phasers to sear.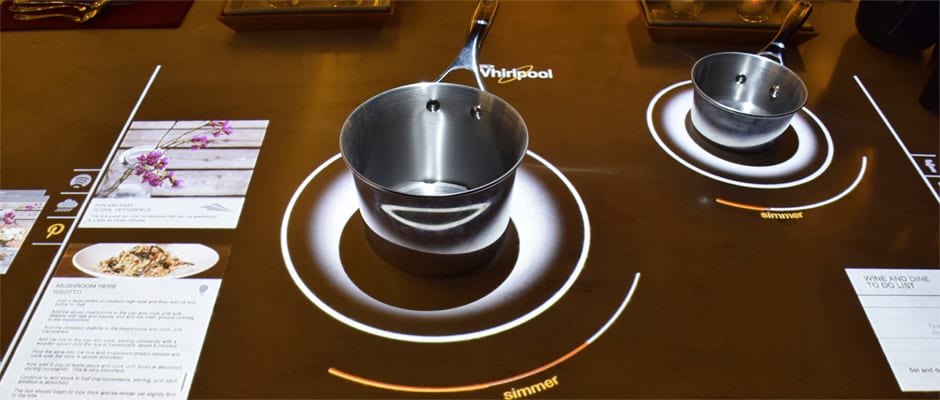 Credit:
Whirlpool showed off a kitchen cooktop concept at CES 2014 that's got our heads spinning. Like something out of a sci-fi setting, the Whirlpool Interactive Cooktop is mock-up, touch- and voice-sensitive induction cooktop that also lets you manage your social media and control other appliances.
Whirlpool describes it as a "multi-purpose digital cooking surface," but we like to think of it as the captain's console on a starship. Picture an induction range where the entire surface acts like a giant tablet. To start cooking, just place a pot on the cooktop and draw a circle around it—options will pop up for adjusting temperature and cook time. To start cooking a second dish, place another pot anywhere else on the surface, draw another circle, and you're good to go.
Notifications will appear to alert you of incoming phone calls or texts. Gesture controls allow you to navigate the interface intuitively, dismissing or answering calls, and opening windows and menus at your whim. With other appliances connected, the Interactive Cooktop will get pop-ups when your dishwasher's done, or when your laundry is dry. You'll even be able to check to see what ingredients are in your fridge directly from the Cooktop.
The goal with the Interactive Cooktop is to make the kitchen the true hub of the house. You would no longer need a separate mobile device for accessing the internet to check out a recipe or receive a phone call when your guests are going to be late. Being able to handle the same tasks that a tablet can do from the range means more of your attention can be focused on cooking.
This all might sound too good to be true, or too expensive to be practical, but that doesn't stop Whirlpool from dreaming. As this is just a concept (no water was boiled during the writing of this article) there is no talk yet of a release date or price. The point is to show that the technology for a futuristic kitchen is already here. As smart home becomes simpler and more affordable, something like the Interactive Cooktop could make sense as a terminal to control your connected home.