Ovens & Ranges
Why Don't We Just Burn the Money: Electrolux Offers $100,000 Range
The new Grand Cuisine Molteni range is an example of decadence at its finest.

Credit:
Every once in a while, we hear something that just slams everything into context: the age of the universe, birth of the seven-billionth human, and now, the $100,000 kitchen range.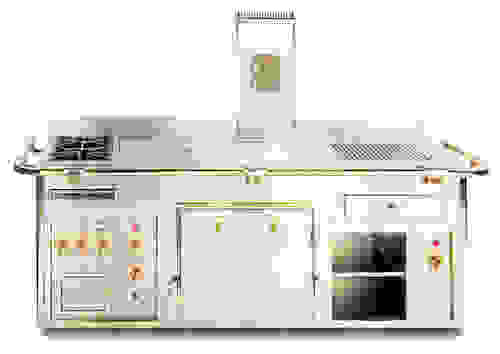 The new Electrolux Grand Cuisine Molteni costs as much as some Aston Martin cars, except these ranges don't come with a roof or wheels (they do include an 88-pound oven door, if that's any consolation).
Is it a rip off? Well, we assume anybody who drops $100,000 on an oven knows that what they're doing is ridiculous. With clients including the Eiffel Tower Restaurant, Le Fouquet's on Le Champs-Élysées, and the headquarters of BMW, Molteni ranges are clearly a luxury good for organizations that know a thing or two about conspicuous spending. But apparently no two Molteni stoves are quite alike, so at least you're buying a unique kitchen sculpture.
Even though the best professional cooks should feel free to guild their ovens if they want to, most Michelin Stars and James Beard awards have been won with more utilitarian machines. We asked Chef Max MacKinnon of James Beard semi-finalist restaurant Pistou in Burlington, VT what he thought.
"I do know [the Molteni] is not entirely necessary to make high quality food for your household," MacKinnon said. "Some of the world's top kitchens are run using much more practical and less elaborate equipment. [The Molteni] would at least make for a great display and could be an excellent conversation point. But the quality of food being made in a kitchen is more a product of the person making it than the equipment they use. So one's time and money might be better spent developing their own skill set." Just like it's better to buy an 8 year old guitar lessons than a $3,000 Les Paul Custom.
We recognize the right to spend frivolously, and we wish the best of luck to the folks who want to play with this much fire in the comfort of their own mansions.