Ovens
$85,000 is the Going Price on a Microwave Stephen Colbert Stole from Bill O'Reilly
And the bids are rising fast.
Here's the proper way to spend $85,000: on a stolen microwave. Not just any microwave. A microwave that was stolen from Fox News pundit Bill O'Reilly by none other than Stephen Colbert.
Back in 2007, when Colbert was rapidly becoming a household name, the character comedian appeared on O'Reilly's show, the O'Reilly Factor. Soon after the appearance it was revealed that Colbert had stolen a microwave from the green room at the show's studio. The 1.85 KW GE JES16565SJ01 countertop microwave has been collecting dust on the set of the Colbert Report ever since.
Recently, however—perhaps aware of his fans' diehard devotion—Colbert put the microwave up for auction on eBay. Within the past 24 hours, the bids have skyrocketed from $43 to $85,000… and counting. There are still nine days left in the auction (it ends February 22).
Here's Colbert himself:
"Nation, don't miss your chance to bid on what one day historians will say I said was history; the microwave I stole from Bill O'Reilly when I appeared on his show in 2007. Not only has it been an iconic piece of my set for seven years, but it is the last known remaining spin zone from the O'Reilly Factor, and it can microwave the heck out of a frozen burrito. It is also signed by yours truly, and one hopes by Papa Bear himself. Bid now, bid often, and bid big, because who knows what other celebrities will sign it, or not. One of a kind."
So what will the proud winner receive for a microwave that is likely to sell for well north of $100,000? Well, according to the eBay description, this little nuke machine has tons of features, including "button controls" and an "interior light."
Likely, the auction winner will take more satisfaction in the proceeds, all of which will be donated to The Yellow Ribbon Fund, which helps injured service members and their families.
Oh, and there's free shipping.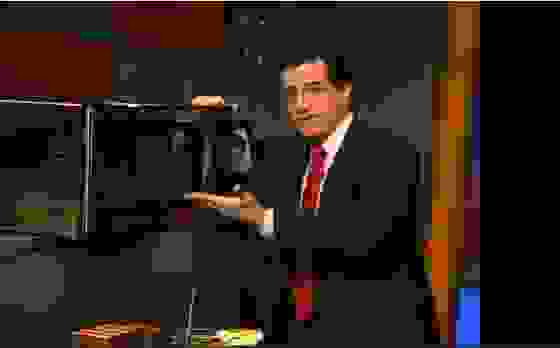 [Via: The Atlantic Wire]
Up next
Get Reviewed email alerts.
Sign up for our newsletter to get real advice from real experts.