Ovens
SciFi-Inspired Kitchen Lets You Cook With Light
A tiny projector could be the key to virtual touch control in your kitchen.

Credit:
While we've seen all kinds of science fiction–inspired controls of late for computers, mobile devices, and gaming consoles, relatively little attention has been paid to improving the way we control our appliances. We still use dumb knobs, push-buttons, and—if we're really lucky—a touch panel.
European appliance brand Beko wants to change all that. At the EuroCucina 2014 kitchen show in Milan, it showed off the InnoWise design concept: a virtual control panel that looks like something straight out of TRON.
The concept is pretty simple. Like some currently available projection keyboards, the InnoWise concept uses a tiny pico projector to beam controls directly onto your countertop. To tap a "button" or drag a slider, you just treat the counter like a touchscreen. The projector can tell when your finger blocks the beam, and activates functions accordingly. In the booth demo, at least, it was quick and responsive.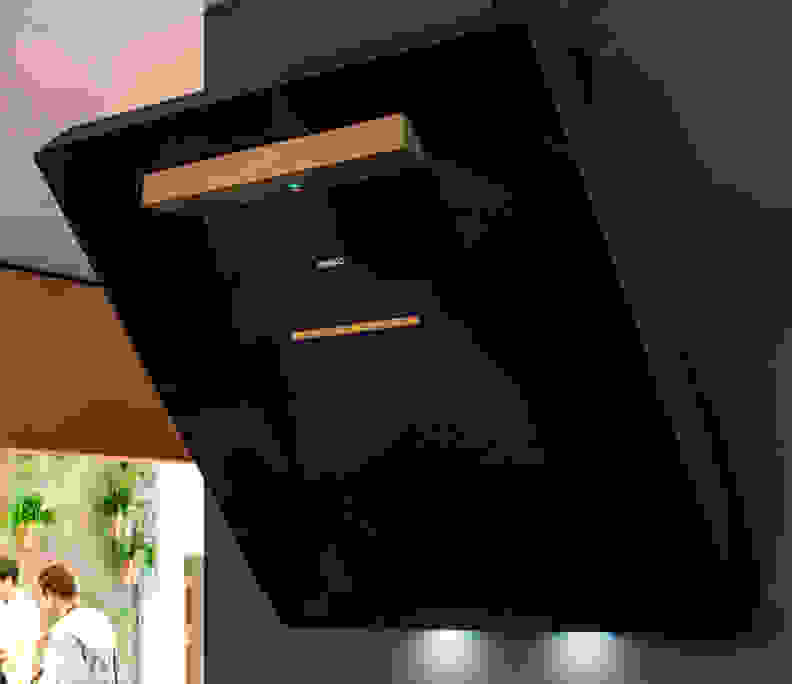 The projector is mounted in a special range hood and paired with an induction cooktop and connected Beko dishwasher. Aside from beaming down the control panel, the projection also circles the locations of the cooktop burners and provides indicators showing which ones are powered on.
Even in its rough concept state, the InnoWise system offers some other neat tricks. For one thing, it can tell when you've placed something other than a pot or pan on an active burner, and will immediately turn it off. For another, it can tell when a pan is off-center, and will highlight it with a red projected circle. Once you move it back to its proper place, the red disappears.
When you switch the cooktop off, the whole interface simply melts away, leaving you with a perfect tabula rasa.
When you switch the cooktop off, the whole interface simply melts away, leaving you with a perfect tabula rasa. Since the cooktop is controlled entirely via virtual touch, there's no physical control panel to distract from the minimalist look.
Company reps are optimistic that the technology could eventually find its way into the home, but there are no concrete plans at this time. If that changes, however, we might even be so lucky as to see InnoWise in the American market: Beko's parent company, Arçelik also distributes the Blomberg brand in the U.S.
Up next
Get Reviewed email alerts.
Sign up for our newsletter to get real advice from real experts.