Ovens & Ranges
Bluetooth Connected Pressure Cooker to Debut at CES 2014
This pressure cooker tells your smartphone when dinner is ready
Credit:
Among the smart kitchen gadgets and small appliances set to debut at next month's International CES is the world's first Bluetooth-enabled pressure cooker.
The NutriCook Connect smart pressure cooker comes from Groupe SEB, a French small appliance and kitchenware manufacturer who owns the T-Fal, Krups, and Rowenta brands, among others.
Based on the existing T-Fal NutriCook series of pressure cookers, which customize cooking programs for different kinds of food, the NutriCook Connect adds web-based recipes and smartphone control.
With the MonAutocuiseur (which would be "MyAutocook" in English—the press release was in French) function enabled, the user can choose from up to 200 recipes that include specific directions including which ingredients to add and what cooking method to use—including steam.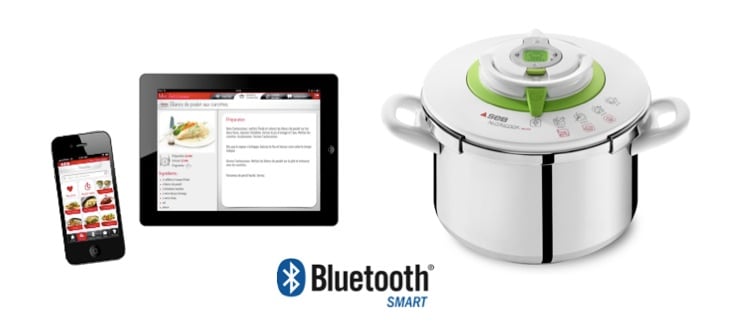 Once the food is in the pressure cooker, it will send alerts to the user's smartphone to let him or her know when the pressure is increasing, how long is left for a recipe to complete, and when the meal is ready.
The NutriCook Connect isn't just the world's first smartphone pressure cooker. It's also a showcase for Texas Instruments' System on Chip (SoC) Bluetooth setup, a low-cost way for manufacturers to more easily integrate Bluetooth connectivity into their products.
According to SEB, the NutriCook Connect is the "first step" in developing a whole suite of connected cooking appliances, under the Open Food System (OFS) banner. We're looking forward to what they might release next.
Photos: Groupe SEB
Up next