Ovens
Budget Appliance Roundup
Appliances that provide the biggest bang for your buck.


Credit:
Whether you're in the midst of a remodeling project or need to furnish your new home, it can be tough to find appliances to fit a tight budget. So below, we've compiled a list of products that offer the best combination of performance and savings. Keep in mind that these aren't top-of-the-line; they're appliances that offer a strong user experience and deliver solid performance without giving you a swift kick in the wallet.
Budget Refrigerator: Haier RRTW18VABW
Ladies and gentlemen, meet the new fridge on the block. The Haier RRTW18VABW is one of the best low-cost fridges that we've tested, and it's made right here in the USA. It retails for about $705, but we've found it on sale for as much as 30 percent off.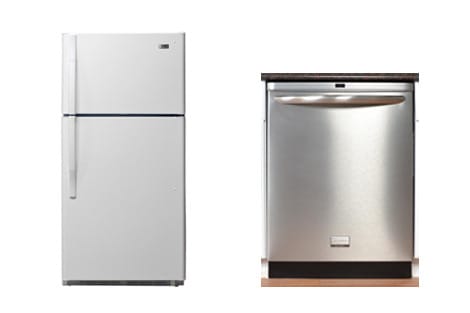 It reminds us of our days in college dorms and one-room apartments, but it's actually a quality product. This Haier is very energy efficient, has more fridge space than your average entry-level top-freezer, and does a great job of keeping vegetables from drying out in the crisper. It's not perfect, though: some temperature discrepancies in the freezer may mean your pints of Ben & Jerry's could develop a small coat of freezer burn, and the wire shelves will make cleaning any spills a nightmare. For what it costs, though, the Haier RRTW18VABW is quite a steal.
Budget Dishwasher: Frigidaire Gallery FGHD2433KF
Combining an attractive stainless exterior with high-quality washing performance, the Frigidaire Gallery FGHS2433KF is a fantastic investment with an MSRP of just $649. It has plenty of storage capacity, making it suitable for even larger families. It also has a plethora of cycle options including a sanitize feature and a delayed start for folks who want to take advantage of late-night electricity rates.
As far as actual performance, the Quick Wash was the only cycle that didn't live up to expectations; as long as you give the toughest stains the attention they need, this Frigidaire will take good care of your dishes. The only catch is that this Frigidaire doesn't let you customize its wash cycles, and the cycles it does have are longer than most dishwashers', which could result in slightly higher rates of water and electricity consumption. But for a dishwasher that performs as well and costs as little as this Frigidaire, those issues seem pretty small.
Budget Washer: GE GFWN1100LWW
The GE GFWN1100LWW is one of the best low-cost ($699) washers we've tested. We measured some excellent performance, and it removed our toughest stains without any problems. It's gentle, too: even the Heavy Duty cycle had a light touch when it came to protecting fabrics. It's water- and energy-efficient as well.
The Delicate cycle was the only really disappointing part, as it left clothes soapy and more worn than any washer should. There aren't many customizable settings, so as long as you don't mind a lack of bells and whistles, this washer is a great purchase (just bring your delicates to the dry cleaner).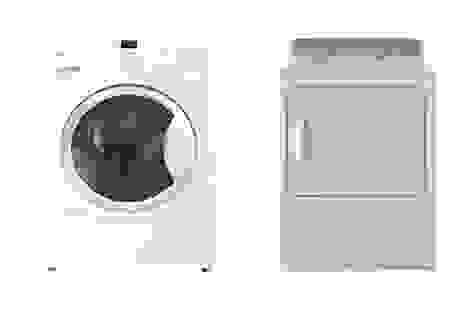 Budget Dryer: GE GTDP400EMWS
The GTDP400EMWS looks like something you'd see in the laundry room at your grandparents' house and has the customization level of a shoebox, but it does a fantastic job at drying clothes. If you don't have a lot of heat-sensitive garments (temperatures got higher than usual for almost every cycle) give this one a look. It has an MSRP of just $549.
Budget Oven: GE JGB600SETSS
Another quality budget product in the GE lineup is the JGB600SETSS, a 30-inch, freestanding gas-range oven. Ovens tend to be some of the more expensive appliances available, so it's fitting that this is the priciest budget item on our list with a standard retail price of $1,099 (though you can easily find it online for a few hundred less).
The stainless finish will make almost any kitchen look better, and it has all the basics: five burners, a warming tray, and the usual features such as self-cleaning, bake and broil options, and a cooking timer. It lacks the extra features found on higher-end machines, and heat consistency wasn't perfectly spot on; also, we found that it took a bit longer for water to boil than on other models that we've tested. As far as actual cooking performance goes, however, it did quite well. It may not be the fanciest oven available, but for that price tag, it should suit the thrifty remodeler.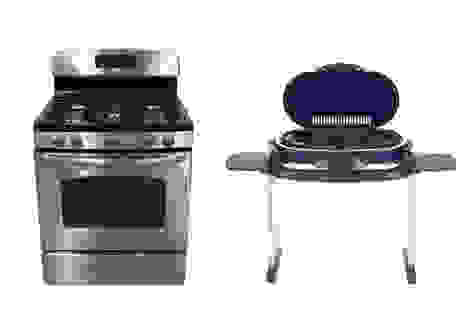 Budget Grill: Coleman Roadtrip Grill LX
Whether you have a full backyard or a small balcony, cookouts are a summer staple, and there's no better budget grill that we've tested than the Coleman Roadtrip Grill LX. Costing just $220, you'll have plenty of money left over to buy the best beef available. This little gas grill heats up very quickly, with simple controls and a reliable lighter. It has a standard grilling area, as well as a griddle tray and a stove grate that cooks things just like the burners on your stove.
The drawbacks are few, but some are quite important: the grill handle stays nice and cool, but the grill itself can get incredibly hot; you'll want to keep a close eye on things if you're grilling with children around. Also, it's not the biggest one out there, so if you're cooking at a big family reunion, people may end up eating in shifts. If you're looking for a grill that can feed a small family comfortably, then go for this one: it's compact, cooks quickly, and will save you a bundle.
Up next
Get Reviewed email alerts.
Sign up for our newsletter to get real advice from real experts.