Ovens
Elmar's "Magical Hood-Organ" Is Just as Weird as It Sounds
A range hood that uses exhaust fumes to compose music is just one feature of the intriguing @home concept.


Credit:
The best thing about traditions is that they can be reinterpreted for every generation.
At Milan's EuroCucina, Elmar and C+S Architects combined hundreds of years of classic Italian kitchens into a totally modern—if slightly bizarre—concept.
Called @home, it looks like any other sleek, modern kitchen at first glance. But individual elements recall classic Italian homes.
For instance, there's a slab of natural wood extending from the island, a family gathering place that's also a modern interpretation of the classic kitchen table.
Shelves are designed to hold cookbooks, reminders of recipes passed down through generations, and patterned glass backsplashes are reminiscent of the wallpaper your Nonna might have had in her kitchens.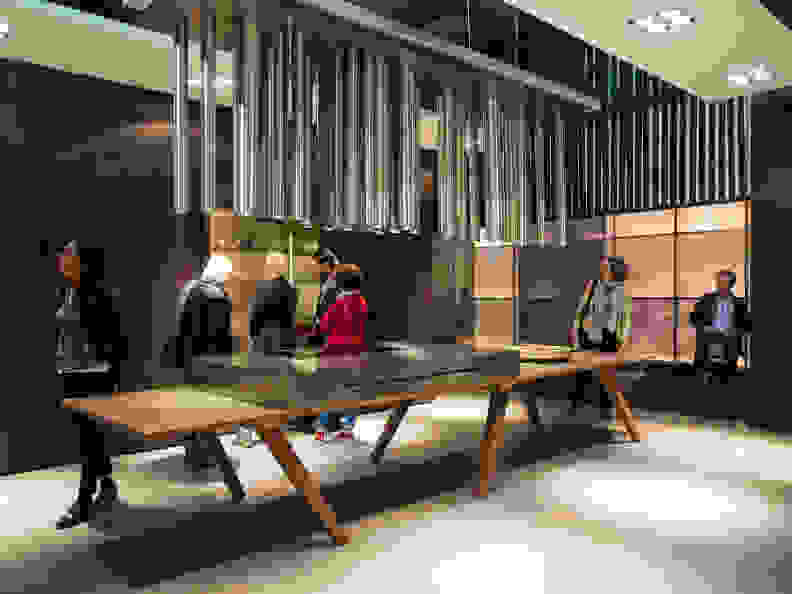 Most interesting is the range hood that doubles as organ pipes. As the hood vents out cooking fumes and condensation, that air passes through the pipes and makes music. According to Elmar, it "magically turns the food scents into music." Let's just hope you can turn it off when you're boiling tripe.
The "hood-organ" is still in the prototype phase and currently can't make any music, but we can't wait to see what it actually does.
Up next
Get Reviewed email alerts.
Sign up for our newsletter to get real advice from real experts.