If you're an appliance manufacturer looking for fresh ideas, how do you find them? Probably not by letting strangers hack up your finished products, right? Actually, that's exactly what GE did earlier this month.
The designs all involved hacking conventional GE appliances to give them their newfound abilities.
GE held its FirstBuild Mega Hackathon at the FirstBuild Microfactory in Louisville, Kentucky. The hackathon lasted 33 hours and involved over 200 designers, engineers, and makers. The event yielded more than 30 design concepts and awarded in excess of $60,000 to the winners.
The winning designs included an oven fine-tuned to roast coffee beans, a voice-controlled water dispenser, and a smart slow cooker with a built-in webcam. All of the designs were created by hacking conventional, commercially available GE appliances.
"The House Roast," as The Roasters team called its hacked oven, uses an Arduino controller to automatically adjust oven temperature and roast coffee beans the same way a traditional coffee roaster would. As for the water dispenser, the Fix of Water team made a mobile app for smartphones and tablets that can interpret voice commands.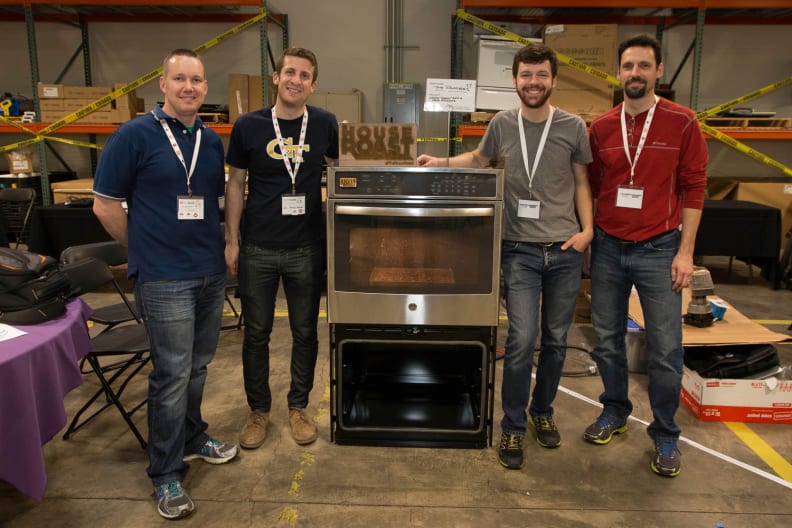 Voice control might not be a terribly useful feature on a water dispenser, but the design was intended more as a proof-of-concept for how we might one day control appliances with our voices.
And while Crock-Pot and Belkin have already teamed up to offer a smart slow cooker, the Crock Watch concept goes a step further by placing a webcam inside the cooker. The Crock Watch can be controlled through a mobile app, and the live video feed completely eliminates any guesswork about when to turn off the cooker.
You can browse all of the Hackathon designs and vote for your favorites at the FirstBuild site.
FirstBuild is all about creating the appliances of the future, but hopefully some of these ideas will become a reality sooner rather than later. You can browse all of the Hackathon designs and vote for your favorites at the FirstBuild site, including everything from a safer tea kettle to a smarter laundry sensor.
Related Video
Up next
Get Reviewed email alerts.
Sign up for our newsletter to get real advice from real experts.