Ovens
Meet the Ingredient Dispenser of Our Dystopian Nightmares
Don't throw away your measuring cups.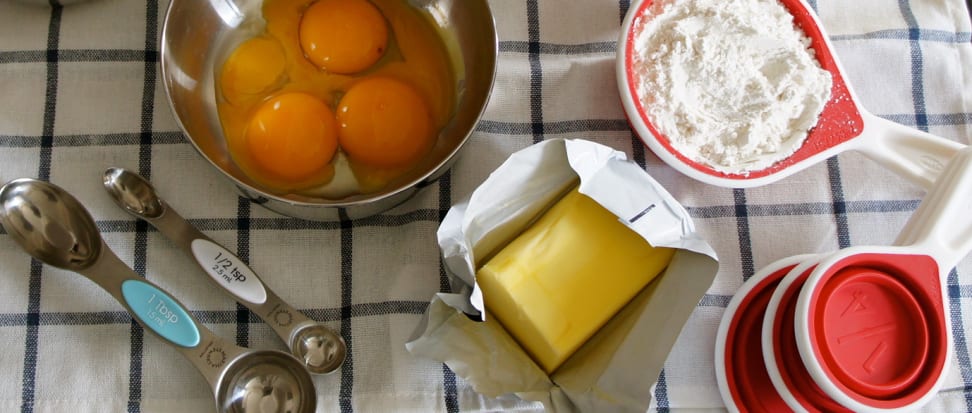 Credit:
Every once in a while, some shrewd mind comes along with a gadget that makes us want to pull our hair out. The latest of this kind? The PantryChic Store & Dispense System, an ingredient dispenser marketed as "the secret to hassle-free baking," but which is really just an overpriced measuring cup.
To use the device, you fill containers with different ingredients. When you want, say, three cups of flour, you place the container of flour onto the PantryChic base, set the desired quantity to three cups, and let PantryChic do the rest of the work.
The dispenser is pre-programmed with volume-to-weight conversions for over 50 ingredients, which allows it to use an integrated digital scale to measure out the correct quantity of an ingredient, then dispense it directly into a bowl.
In some ways it's a clever idea, but we're not exactly moved by it. In fact, we dare you to watch the video from PantryChic's Kickstarter page without rolling your eyes.
You have to ask yourself: Are current ingredient-measuring techniques really so difficult? Is scooping sugar into a cup so strenuous that you'd rather shell out $249 for a PantryChic (plus the cost of a bunch of specialized containers and shipping) than do it by hand?
A world full of PantryChic users is like some dystopian infomercial nightmare.
We're also not convinced the dispenser is easier to use than a measuring cup. You still have to fill the specialized containers, then lift them onto the PantryChic base whenever you want to use them. Wet ingredients will be incompatible with the device, so you'll likely be culling ingredients from both the PantryChic and the refrigerator during the baking process. Sounds like a lot of work to us.
-->
But if you're obsessed with The Container Store, this might be your dream baking tool. For the rest of us, a world full of PantryChic users is like some dystopian infomercial nightmare, where cast-aside measuring cups line the streets, and children know not the struggle of pouring too many chocolate chips into their cookie batter.
It's a dark vision of the future we hope will never come to pass, because everyone should know the joy of having measured a pinch of salt with their bare hands. Super precise measurements are overrated anyway. Trust us: This is a solution in search of a problem.
Hero Image: Flickr user "thebokeeffect" (CC BY 2.0)
Up next
Get Reviewed email alerts.
Sign up for our newsletter to get real advice from real experts.