Ovens
Toy Kitchens Are Getting a High-End Renovation
Your little ones want to be foodies, just like you.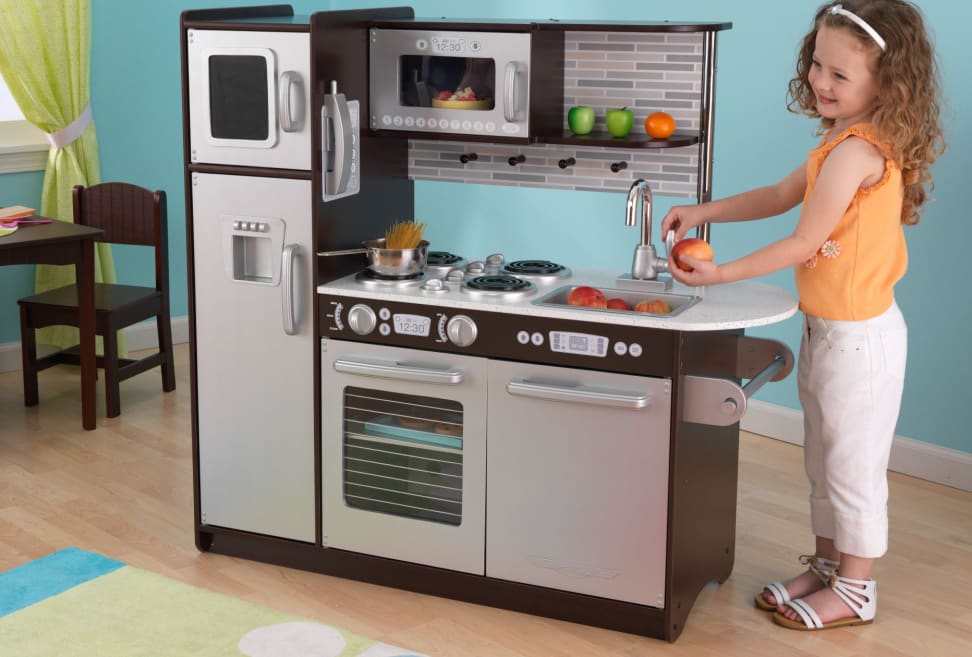 Credit: KidKraft
I'm not ashamed to admit it: When I was a kid, I didn't play with G.I. Joes—I played with toy hamburgers and pizza. But today's food play toys are in a whole other league. In the 21st century, kids can play with toy crepes and fake chocolate fondue, among other gourmet fake foods.
The Wall Street Journal reports that this trumped up kind of food play is here to stay, noting that multiple toy makers are now offering fake foods like "veggie burgers and stir fry." It's no wonder why: With more and more American adults becoming invested in "foodie culture," their kids are eager to follow suit.
The Journal even makes mention of a mother in Waltham, Massachusetts, who gave her son a Le Creuset–style baking dish and All-Clad measuring cups. It's a little depressing: The kid has better gear than what I'm using at home in my real kitchen.
Hape, a toy manufacturer that makes a line of high-end food toys (including the crepes and chocolate fondue I mentioned above), also offers a gourmet grill set and even a faux Keurig-style coffee machine.
Other players include KidKraft and Sears Holdings, both of which make toy kitchen sets that eschew chunky plastics in favor of make-believe stainless-steel and tile backsplashes.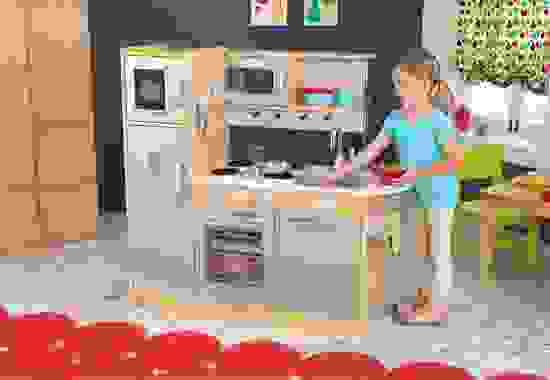 For example, KidKraft's Uptown Natural Kitchen features all stainless-steel appliances, complete with a four-burner electric stove and a dishwasher. The company also offers a Chillin' and Grillin' Kitchen with a fake built-in grill, microwave, refrigerator, burners, and brick paneling.
And if that's not enough, Sears Holdings' My First Kenmore line offers toy washer/dryer units and vacuum cleaners. Gotta hook 'em young, I guess.
Is all of this overkill for playtime? Maybe, but if you want to encourage your kids to have healthy eating habits and an active interest in home cooking, there could be worse ways to spend your toy budget. Just be aware that your budget may need to be a little larger than normal—Le Creuset doesn't come cheap, even in toy form.
Related Video
Up next
Get Reviewed email alerts.
Sign up for our newsletter to get real advice from real experts.