Ovens
Samsung's Appliance Lineup Adds Innovation and Gadgets
Samsung debuts new refrigerator technology and a huge washer.

Credit:
After winning our innovation award with the Flex Duo range, Samsung seems to be the shark of the appliance world, staying in motion instead of relying on its older innovations. At the Samsung press conference this afternoon, Samsung not only brought out some new products, but also showed some developments in existing technology.
Piggybacking on the Flex Duo freestanding range, Samsung has branched out into the higher-end slide-in market with another convertible split-oven range like the Flex Duo, the NE58F9710SR. Users can use the full 5.8 cubic foot capacity, or the 2.4 cubic foot and 3.3 cubic foot top and bottom cavities with the divider in. This new Flex Duo range will be available in June 2013 and have an MSRP of $2400.
Besides the slide-in Flex Duo, Samsung is rolling out a new induction range; the type of appliance we affectionately call "Hasselhoff" ranges—because they're only big in Europe, so far. This range definitely shows how an old appliance can be innovated in an interesting way. When boiling water, the "FlexCook Zone" can sense the vibrations of the steam bubbles; alert the user the pot is boiling, and automatically turn down the heat to prevent a boil-over. This zone can also be used as a bridge element. While the benefits of a gas range at its best often outweigh an electric range at its best, a simmer preset is something that might equalize the balance between high-end gas and high-end electric. Samsung's "SteamQuick" technology cleans all this up. This induction range hits the market in June and has an MSRP of $1,999.
Also new in Samsung's cooking lineup is the ME179KFETSR OTR Speed Oven that combines a toaster, broiler, microwave, and a ventilation system. This may sound like a jack-of-all-trades, master of none sort of thing, and we hope to get a closer look at it at the Samsung booth.
In fridges, Samsung's T9000 LCD four-door refrigerator has a convertible cavity that can be used as a freezer or fridge at the push of a button. It looks like a combination of a French door and a side-by-side and has 32 cu. ft. of storage. We saw a similar fridge at IFA last year, and it's already on sale in Asia, but this one has been updated. It sports an LCD screen complete with apps like Evernote, recipes, and more. You can use it to spy on your kids as a baby monitor by leaving your smartphone with the kids. And instead of the funky, textured exterior we saw at IFA, this one is sleek and stainless.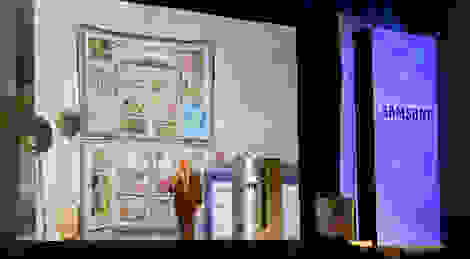 Samsung also brought out a new high-capacity, 5.0 cu. ft. top loader that ties GE for the largest capacity top loader. While larger often means a slightly compromised wash, Samsung says there's a new cleaning method that'll work just as well as a smaller machine.
It looks like Samsung is moving in the same direction of the rest of the industry, adding apps and touch screens, but that doesn't mean the company isn't innovating the appliances themselves. We're looking forward to checking all of these out in greater detail on the show floor later this week.
Up next
Get Reviewed email alerts.
Sign up for our newsletter to get real advice from real experts.