Ovens
You've Got Kitchen Cabinets—Why Not Chicken Cabinets?
A Dutch designer's unusual coop really brings the chickens home to roost.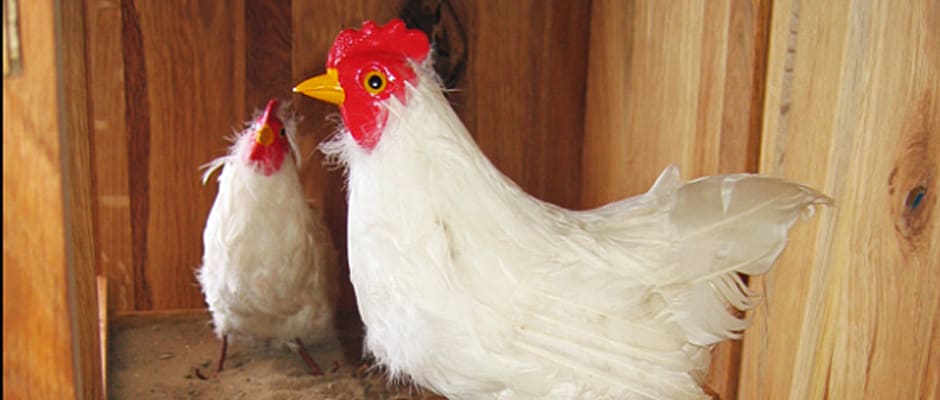 Credit:
All signs indicate that urban farming is going to be a huge trend in coming decades, and that's doubly true in Europe, where space is at a premium. In the case of Dutch designer Ton Matton, all it took to become a gentleman farmer was some old furniture and a small stretch of yard.
Matton's Chicken Cabinet revamps a basic storage unit to provide up to three chickens with all the comforts of, well... a chicken coop. It sports designated zones for soil, straw, corn feed, and—most importantly—egg storage. It even comes with small curtain rods for private egg-laying. Chickens do like to roam, though, so you'll need at least a small stretch of yard—unless you don't mind seeding your living room.
-->
Animal rights activists will likely be happy with this coop, as well. Matton's website states that the cabinet has deliberately been designed to fit EU-approved free range specs. DIY-ers might want to brush up on local regulations before making their own attempts on grandma's chifforobe.
Matton is more than just a refurbisher of old furniture, however. He studied city planning at Delft Technical University, after which he founded Schie 2.0, a Rotterdam-based office for urban and environmental design. With his current workload encompassing object design, society shaping, ecological urban planning, and artistic actionism, it's clear that Matton isn't putting all his eggs in just one basket.
His approach to sustainable living serves as both a great counterpoint and a complement to modern technology. A recent push towards vegetable-based synthetic eggs is a high-tech solution that uses a different path to reach a similar goal of ethical, cost-effective egg production. Either way, locavores have lots to look forward to as far as available alternatives to the increasingly maligned practices of Big Agriculture.
The poultry cabinet is just one component of Werkstatt Wendorf, a sustainable complex Matton established in an abandoned school in the German countryside. You can read more about his fascinating experiment in combining urban and rural lifestyles here.
Matton also maintains another website that lists his entire range of "Free Range Furniture," including a sink that uses reeds to recycle water, a worm-based Kentucky coffee bar, and the exotic-sounding Jungle Shower.
Via: Bettery Magazine
Images: Ton Matton via Matton Office
Up next
Get Reviewed email alerts.
Sign up for our newsletter to get real advice from real experts.