Ovens
Bosch HES5053U Electric Freestanding Range Review
Credit:
Introduction
Besides being beautiful, the is an excellent performer. Exhibiting 's sleek, ruthlessly efficient Euro look, this single electric convection oven impressed us by maintaining very consistent temperatures on all temperature settings, as well as the ability to boil water quickly on its big twelve inch element, the 0-60mph test for range tops.
However, the oven's other high-powered burner wasn't particularly impressive, with its "powerboil" setting losing the race to the boil to its the non-"powerboil" brother. While the is a solid performer, it may lack some of the features expected from an oven in this price range ($1199 MSRP, $1079 on sale). This oven is manufactured by Frigidaire, who makes their own less expensive version for around $400 less. So if your kitchen doesn't need to look completely German-engineered, there are other options for most likely similar performance. When you buy this oven, you buy the name and the look.
Design Overview
The is a 30" freestanding range with a radiant cooking surface. It's a traditional range that follows Bosch's usual design language: evenly spaced buttons, easy-to-read fonts bracketed in-between thin white lines, and a Bosch logo front-and-center. The range features a stainless door and trim, though the flat cooktop itself is entirely black. Small, black knobs are on the rear of the unit, which means the user must reach over boiling water to turn down the temperature on the range top.
Front
Range-top
Upper Oven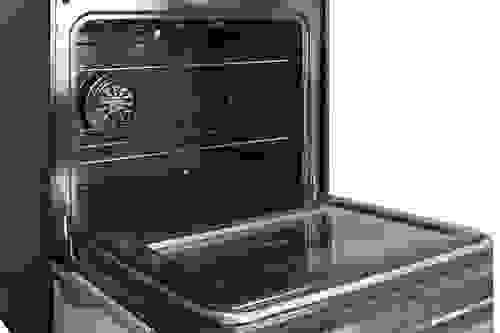 Broiler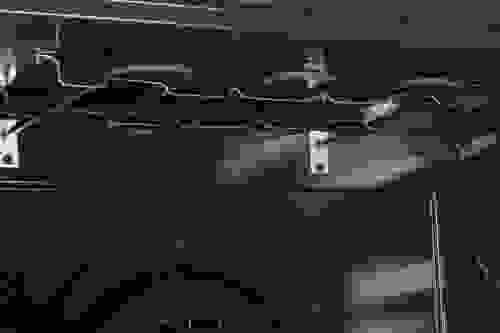 Warming Drawer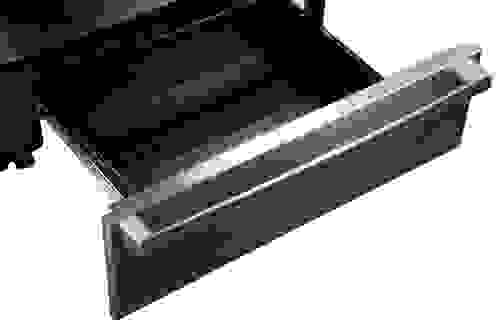 Cooking Performance
The performed well across the board in our tests. The burners boiled water quickly and the oven maintained consistent temperatures throughout its entire range. However, the front right burner that boiled water quickly is far and away the best element on the range, with the rest being less than impressive, especially with that "PowerBoil" burner not living up to its name. The broiler heated up faster than John McEnroe at Australian Open, and we found the HI/LO settings to be a potentially useful option.
Click through the charts below to see how well the oven performed on various tests.
Range Performance Overall
The produced strong boiling results and a decent temperature range, mastering simmer temperatures as well as clocking boiling times of just over one minute per fluid ounce. However, clearly put all their focus into the front right burner, as its the front right twelve inch element is superior to the others.
Water Boiling
The averages about nine minutes to boil six cups of water, with the front large right burner clocking in at just over three minutes per six cups. The other front element performed decently too, just under nine minutes per six cups. But we expected more from anything that has the audacity to call itself "powerboil." Oddly, the phrase "powerboil" is not found in the "Use and Care Manual" provided by Bosch, which is curious because one would think they would want to trumpet this feature (although having tested it, we do not). We imagine that they are referring to the dual element setting and its ability to reach extremely high temperatures--even ones that are dangerously hot. On the other side of the average boiling time, the smaller rear burners took over twelve minutes to boil six cups. Clearly, the faster boiling times can be especially important when trying to get an enormous pasta pot to the boil.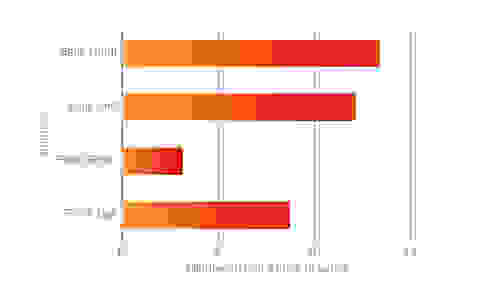 Low Temperature Cooking
Three of the four burners could maintain a sub-120°F temperatures, one of which could maintain 110°F. The 's straggler ran at a hotter (but still acceptable) 126°F. Maintaining a low temperatures for satisfactory simmering is important for making sure that starchy pasta foam doesn't overflow. Additionally, the advantages of these low temperature settings include melting chocolate without a double boiler, keeping things warm, and simmering small quantities of liquids that would boil on the big burners.
Range-top Temperature Range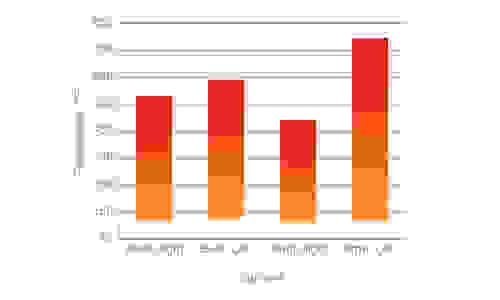 High Temperature Cooking
The front left burner ran a topped out at a fierce 793°F. In fact, it proved to be a bit too fierce, at 400 watts higher than the what the manufacturer had stated. As it's a fire hazard to run a burner over 650°F, we recommend only running the burner on "HI" to heat up a cold element, if at all. Temperatures that hot are above the flashpoints for oils, and no one wants a flare up. It might even be a good idea to place a piece of heat tape on the knob locking out the upper end of this burner or putting up a warning sign for irregular users, even though that might spoil that efficient Euro look. Cooking wise, all of this means that even on a medium setting, this burner should be plenty hot enough to sear and brown. On the plus side however, the high maximum temperature means that the burner is strong enough to be operating far from the edge of its capabilities in normal use, just like those BMW and Mercedes sports cars. So while a Porsche may be able to go twice the speed limit, and a Bosch can reach temperatures above the flashpoints of most oils (when they vaporize), it doesn't mean it's safe to do so. The stove looks cool. Keep it cool.
The rear burners came in at 581°F and 640°F, and surprisingly, the high performance twelve inch front right element failed to crack 500°F. However, the vast surface area of that element does transfer heat extremely quickly, as the water boiling test demonstrates.
Overall Oven Performance
The maintained impressive temperature consistency and exhibited an acceptable range of temperatures. Just like an episode of Springer, the oven heated up quickly, taking just ten minutes to hit 350°F and twice that to get to 515°F.
Target Temperature Accuracy
We measured the oven's "keep warm" setting and found it averaged 210°F, a bit higher than the typical "keep warm" setting of about 170°F. On high, the oven didn't quite average the 550°F at which it was set, but did manage to average 536°F. Fortunately, this temperature is certainly hot enough to know that the oven will not be operating on the edge of its capabilities during a 425° pizza bake.
Temperature Fluctuation
The did a solid job of maintaining the proper temperature across the board. Ovens maintain temperature by alternating above and below the target temperature, and we like to see ovens stay close to that target. Ovens that deviate too far from that target end up with food that is overcooked on the outside and undercooked on the inside.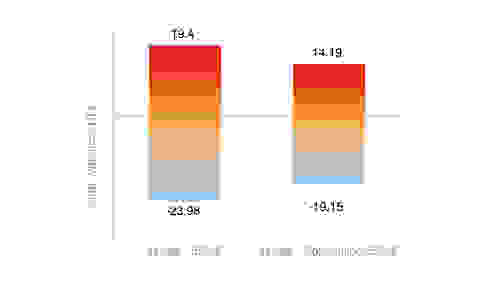 Broiler Performance
Broiling in the oven offers a healthier and less labor-intensive cooking option to sautéing as it requires little oil. Upon startup, the 's broiler wasted no time, sprinting to 600°F in just four minutes and 21 seconds. To put this number in context, it would have still scored decently if it had taken twice as long. This is especially convenient considering how long other methods of broiling take, such as char-broiling (grilling). Broiling makes it so you can still provide radiant heat without waiting on coals and keeping it in the kitchen.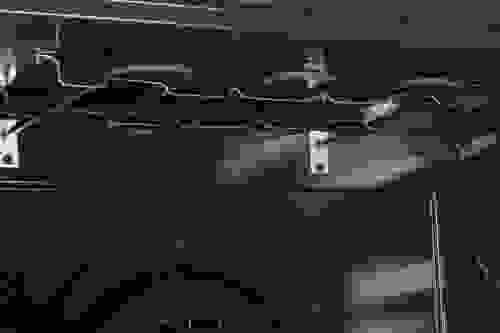 Broiler Features
The controls allow for broiling at both "HI" and "LO" temperatures, which allow for additional adjustment besides simply lowering the tray, but there are no real, quantitative temperature settings.
Overall Efficiency
If one were to cook an epic feast requiring the use of every burner in addition to the oven, the would draw just over 11.6kW of power. Because it's impossible to get something hot without using energy—heat itself being a form of energy, these numbers will never be that low. It is always a trade off of performance and energy, as if it takes less time to heat up, most likely the oven spends more energy getting there.
For the score, we look at the relationship between the performance and the power usage, and thus we can say it looks like a good use of power.
Our tests also found the power usage estimates provided by to be accurate for the most part, except for that front left "powerboil" burner, which was way too high. And remember, for those of you searching for an Energy Star oven, they do not exist.
Range Efficiency
The total wattage drawn from the range added up to over 8.1kW, against an advertised 7.6kW. The front left burner on its "powerboil" setting draws 400 more watts than it is supposed to, which can cause the left burner to reach impressive but potentially dangerous temperatures. So since it should not be operated at full, it probably would draw less power in everyday use.
Oven Efficiency
The main oven element drew 3.5kW. Because the can be used as a convection oven, it can offer improved efficiency. Convection ovens use fans to distribute the heat through the hot air to the food. This improved heat transfer makes it possible to cook something more quickly, or at lower temperatures for similar heat transfer results. This means fewer kilowatt hours on the electric bill.
Features
The 's two high-powered burners feature dual elements under a ceramic top. As the cookware should be as close to the size of the burner as possible, this can accommodate large pans, while still maintaing the smaller size setting for small pots. One of these dual element burners is the "powerboil" burner, which can almost get up to a very dangerous 800°F. Besides being extremely dangerous to operate a burner that hot, the comparatively cooler front right burner can beat this specialty burner to the boil. This renders the usefulness of this feature pretty much null and void, as you can't even safely use this feature anyway, even if it were especially effective.
This is a Bruce Willis oven, having a fifth element of the warming variety between the two weaker back burners. It could have had a bridge burner or an oval burner to accommodate a griddle, but instead it just has this 100W warmer that offers similar power to a household incandescent light bulb.
The has a 5.4 cubic foot oven cavity, divided by two racks, which can be placed in seven positions. But this oven's main feature is its convection setting, which activates a heated fan when turned on. The fan's moving hot air results in a higher heat transfer to the food, which results in similar food temperatures at lower oven temperatures in comparison with conventional ovens. This means that food can cook faster, and the lower oven temperatures mean lower energy consumption.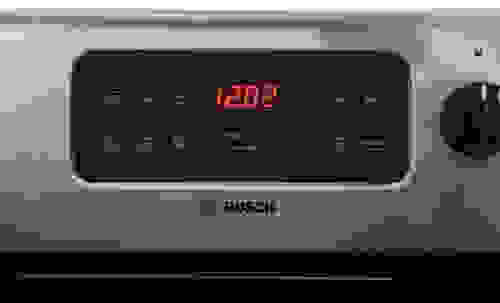 Set the timer by pressing the "Timer" button and scrolling to the desired minute using the plus and minus buttons. A counterintuitive point: Unlike the need to hit the "Bake" button after selecting the temperature, there's no need to hit the "Timer" button again to start the timer.
There's also a timer that automatically sets how long the oven heats, and a time bake option.
Controls
Our first complaint: Controls for the radiant electric range top are located on the top control panel, behind the burners themselves. That means you'll have to reach over boiling bisques, frying fish and simmering soup just to turn the temperature up or down. It's a common design on less-expensive models, but Bosch should know better -- this range sells for more than $1000!
Aside from that issue, we were also disappointed in how the knobs themselves moved. Rather than clicking into position with a satisfying "thunk," they wobbled around a bit.


The oven is also controlled from the top of the unit, but relies on a flat black touchpad instead of knobs. Select the type of cooking you want -- standard baking or convection -- and set the temperature with plus and minus buttons. To start the program, press the Bake or Convection button again. If you want to cancel a program, you must press a separate "Clear/Off" button.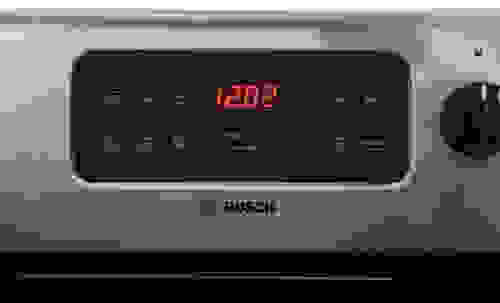 The broiler is controlled in much the same way: Press the button, and choose either "Hi" or "Lo" using the plus or minus buttons.
Cleaning
The radiant rangetop is a bit of a blessing and a curse. Unlike a coil burner range, it doesn't have all the nooks and crannies where splatters and splashes can hide. However, once there's a stain on the cooktop, it's readily noticeable.
As for cleaning the oven, the features a traditional pyrolitic self cleaning option.
Conclusion
The proves to be a high performance machine, but doesn't have all the features one might expect for the price (MSRP $1199, on sale $1079). But if you're interested in getting an oven to match the European look in your kitchen, this one is certainly more than eye candy.
Performance wise, we were impressed more by the oven, which exhibited a quick heat up with excellent temperature consistency, acceptable temperature range, and featured a convection setting as well as an adjustable broiler. Serious bakers will be certainly pleased at this oven's performance if they don't require a second oven. The range was a decent performer quickly boiling water and maintaining a good simmer, but it lacked some features, such as a bridge burner and we only liked one of the front, high-powered burners. As for the features it does have, the dangerously-hot-but-the-unimpressive 'powerboil' burner setting and the 100W warming element seem to function like a German car's cup holders--they exist so they can be listed on the fact sheet, but are not particularly useful.
For the 100W warming element, one might as well leave food on the right rear burner, leaving it being warmed at a 117°F that won't burn your food. Similarly, while one could use the front left "powerboil" feature to boil water quickly, one might as well use the impressive front right burner that can boil water twice as fast.
In conclusion, the would be a solid choice someone looking to complete a suite of Euro-styled appliances, offering excellent performance for the features it does have. But if you aren't dying to have that efficient and cultured Euro look, a very similar oven is made by Frigidaire, who incidentally makes this one as well for .
Up next
Get Reviewed email alerts.
Sign up for our newsletter to get real advice from real experts.