Ovens
Bosch HGI8054UC Slide-In Gas Range Review
A boon for bakers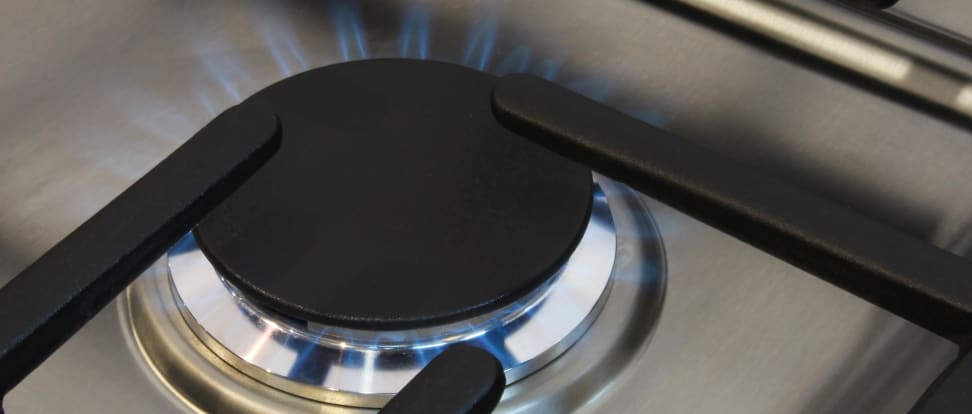 Credit:
From the Lab
We subjected the Bosch HGI8054UC gas range to our usual barrage of tests. While the burners were nothing special, baking evenness (particularly when using the convection setting) was impressive.
The Bosch HGI8054UC (MSRP $2,099) slide-in range is the gas offering in Bosch's impressive 800 Series. Its designed to have the look of a slide-in, but fit into a traditional freestanding range cutout. That means your kitchen overhaul won't require costly countertop or cabinetry renovations.
Considering the pedigree, we had high hopes for this European-inspired appliance. While the results of our tests weren't perfect, they were far from unsatisfying.
Along with some positively snappy water boiling and oven preheat speeds, the HGI8054UC features an excellent convection baking mode that resulted in food so evenly cooked that your guests will think you had dinner catered. Neat features and attractive design round out our praise for this Bosch.
While it lacks true convection, we found the HGI8054UC's standard convection setting to work just fine. And though an $1,885 sale price may seem a bit steep, it's quite competitive compared to other mass-premium ranges.
Put simply, if you're serious about baking and want an attractive gas range from an upscale brand, this Bosch may be the one.
Oven & Broiler Performance
In order to test oven evenness, we bake batches of cookies and cakes. Once the food's finished cooking, we measure their exterior color using a photospectrometer, and then compare how evenly each item is baked.
The Bosch HGI8054UC standard bake setting was fairly even. The tops of our cookies were remarkably even, however we noticed several differences when comparing the bottoms of the cookies with one another. This result was mirrored in our standard bake setting cake tests.
The convection setting was another matter entirely. From top to bottom our test cookies were the very picture of evenness. Make no mistake, this is impressive convection. The cakes had a few inconsistent spots, but nothing that left us troubled.
The HGI8054UC was also very quick to preheat. The standard setting took 10 minutes and to reach 350°F, and the convection setting shaved a minute off that. The broiler took 10 minutes to reach 606°F.
Design & Usability
How to dress European
-->
Considering Bosch is a major European appliance brand, it's no surprise the HGI8054UC features a minimalist aesthetic inspired by designs from across the pond. But there's plenty for Americans to like as well, such as sturdy dials and all-stainless trim.
In contrast with the physical burner dials, oven settings are accessed through a touch screen control panel. Available cooking options include Bake, Roast, Broil, Warm, Proof, Convection Bake, Convection Roast, Pizza, and Warm.
In case you're a little intimidated by fan-based cooking—although you really shouldn't be—the Bosch HGI8054UC also features built-in convection recipe conversion. The warming drawer pulls out with a handle (rather than the push-to-open mechanic that's become so popular) and features three available heat levels.
Rangetop
High heat isn't a problem, but low temps may be
The Bosch HGI8054UC's front right burner proved the strongest in terms of temperature versatility. It had the widest range of temperatures on offer, running the gamut between 435°F and 148°F.
However, the remaining burners all fell short. Unlike other ranges we've tested, this Bosch has no burner that could get to truly low temperatures for melting chocolate or butter. Needless to say, searing steaks on this rangetop shouldn't prove difficult, but maintaining a steady simmer will require constant attention.
When it came to water boiling, you may want to stick to the front right burner. It took only five minutes to boil six cups of water—which we consider an impressive result. The 18,000 BTU center burner may be uniquely placed—most five-burner ranges put a fish burner here, and put the most powerful burner toward the front—but it also boiled water in only five minutes.
Rangetop Performance
Put simply, gas burners cannot reach the the high temperatures of their electric or induction counterparts. But even by that standard, the HGI8054UC offers a frustratingly narrow range of temperatures.
We measured a maximum temperature of 435°F from the the front right burner and a maximum temperature of 415°f from the center burner. Minimum temperatures weren't much better, averaging 153°F—too hot for simmering or gently melting.
On the plus side, the HGI8054UC offers two burners that boil quickly. The front right and center burners each boiled six cups of water in only 5 minutes. The remaining ones were sluggish by comparison: We recorded boiling times between 12 and a whopping 57 minutes.
Oven, Broiler, & Convection
Come for the speed, stay for the cake
While it lacks true convection—usually standard in this price range—the HGI8054UC's fan-based convection mode still offered some of the best baking evenness we've seen on a gas range. Both the cookies and the cakes we baked using the convection setting were remarkably even.
The standard bake setting was less impressive, but by no means terrible. The bottoms of our test cakes and cookies showed some inconsistencies, but that's fairly common for any range.
As if the overall evenness wasn't enough, the oven also reached temperature quickly. The standard setting heated up 350°F in only ten minutes, while the convection setting took nine.
Warranty
The Bosch HGI8054UC is covered by a limited warranty for one year, which covers parts and labor costs. This is standard in the appliance industry.
Why We Like It
Better for baking than boiling
-->
The HGI8054UC's capabilities make the $2,099 asking price more than fair, yet it can be found for as little as $1,885 online. We're fans of the minimalist design, and the slide-in look that will still fit in a standard, freestanding cutout.
While it doesn't feature true convection, and didn't perform as well at low temperatures as its pricier Samsung Chef Collection competitor, we're pretty comfortable recommending the HGI8054UC to all but the fussiest of gas range shoppers. Fast and even convection easily make up for a few middling burners.
If you're still not convinced, both the pro-style NXR DRGB3001 and Frigidaire FGGS3065PF offer similar performance at a similar price, although neither feature convection.
Up next
Get Reviewed email alerts.
Sign up for our newsletter to get real advice from real experts.