Ovens & Ranges
Bosch NGM8055UC 30-Inch Gas Cooktop Review
Looks the part, but doesn't always play it.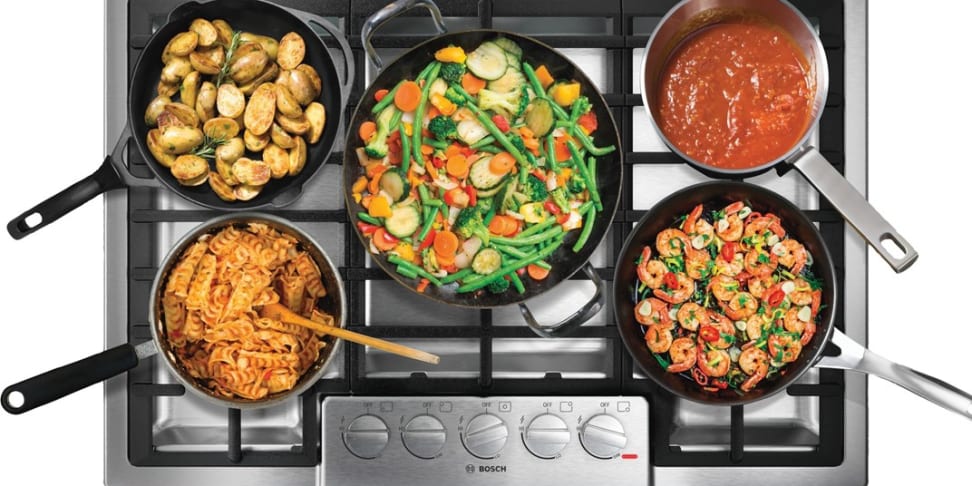 Credit: Bosch
The Bosch 800 Series Cooktops
Editor's Note
This is a review of the 30-inch Bosch NGM8055UC gas cooktop, part of the Bosch 800 Series. We conducted testing on the 36-inch Bosch NGM8655UC. The two cooktops have slightly different layouts, but you can expect similar performance. Read our review of the Bosch NGM8655UC here.
Cooktops in the Bosch 800 Series all share a clean, utilitarian appearance. This aesthetic, plus a central burner topping out at a whopping 18,000 BTU, make the five-burner, 30-inch NGM8055UC look like a powerhouse.
While 800 Series cooktops can simmer gently, when it comes to high heat searing it's all about that central burner. It can boil 6 cups of water in under 15 minutes, but it maxes out at less than 400°—that's cooler than the left-front burner.
This 30-inch NGM8055UC sells for around $899 in stores. That's not bad for a gas cooktop with a stainless exterior, although you could step up to Bosch's Benchmark series for better performance.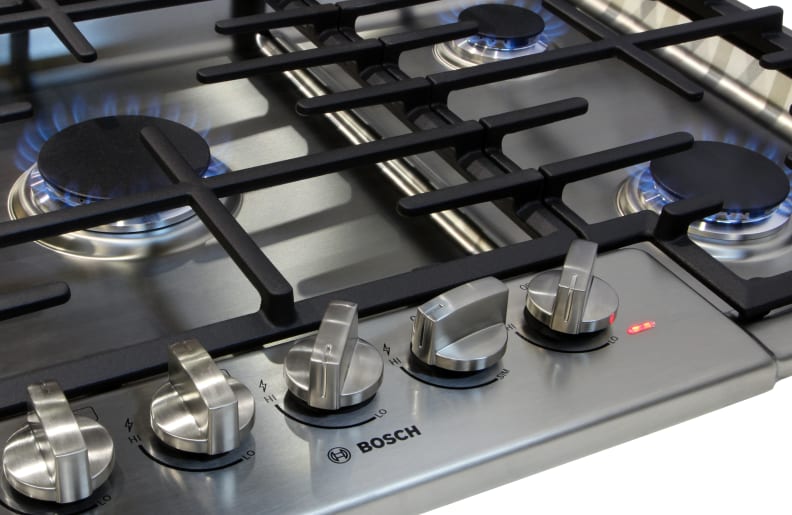 ×
New Gallery
What's Unique?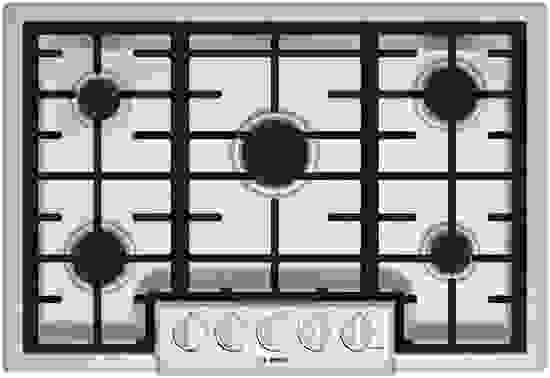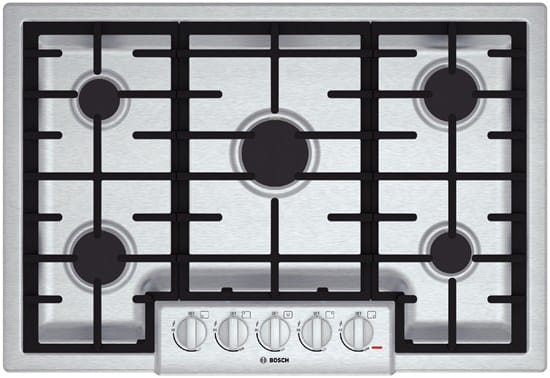 The NGM8055UC has the same stainless steel and continuous cast iron grating as the 36-inch model, but all burners and grates have been squeezed in to fit the 30-inch form factor. You still get the 18,000 BTU central burner, still get cast iron grates that can be removed in three pieces, and still get one silver control knob per burner.
Unlike the 36-inch model, which features three 12,000 BTU burners and one 5,500 BTU burner, the 30-inch model only has two 5,500 BTU burners and two 10,000 BTU burners. That means we expect even less high-heat performance out of the NGM8055UC.
With all the burners closer together, things are going to be a little more cramped than the 36-inch, but it's not worth redesigning your kitchen over. The bigger issue here is the overall performance of the cooktop, which will have a hard time living up to the high-end aesthetics.
For more information, refer to our full review of the similar Bosch NGM8655UC.