Ovens
Electrolux EI30EF55GS Review
This Electrolux straddles the line between mid-end and high-end, but reminds us that price and performance don't always correlate.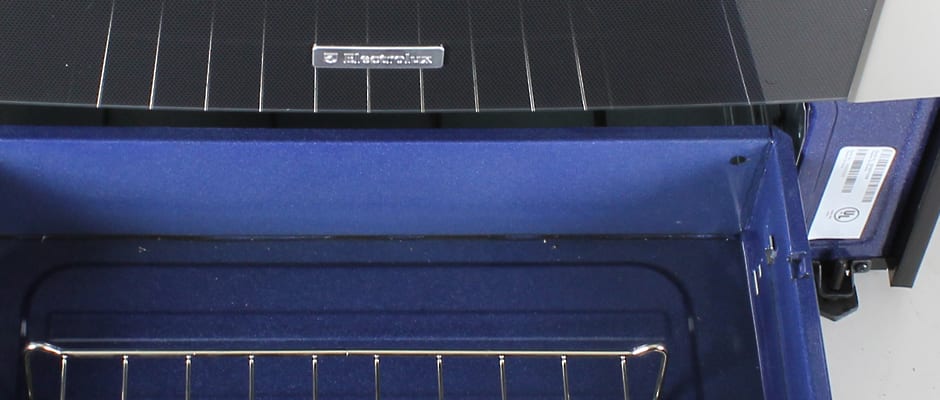 Credit:
Introduction
Running over $2,000 on sale (MSRP $2,243), the straddles the line between mid-end and high-end. Unfortunately, this range reminds us that price and performance don't always correlated. While this was certainly a decent range, two grand seems excessive.
While its rangetop did exhibit a great span of temperatures and had no weak burners, there weren't any effective power burners either. However, the most puzzling results were in the oven. The conventional mode definitely had some issues averaging the target temperatures, but the oven's broiler and convection mode had some of the best results we've ever seen.
For over two grand, we expect perfection. This Electrolux doesn't deliver.
Design & Usability
Black enamel and a load of new features separate this range from the stainless tradition.
We're surprised to see an electric range in this price range, and it's not so clear where all that money went.
The 's design certainly straddles the mid and high ends. Eschewing the typical design language of $2,000+ machines—stainless-steel everything, no drawers, industrial style— shoots for a post-stainless, high-end look with more black enamel than magpie bait. Truth be told, we're a bit surprised to see an electric range in this price range, and from the design, it's not so clear where all that money went.
The five-burner setup has a keep-warm element and three dual-ring elements that permit the use of different-sized stove-ware, because the pot should generally match the element in size. The 5.7-cubic-foot, self-cleaning oven's main (and best) feature is the convection fan. It salvages an otherwise mediocre oven, turning it into one of the finest we've seen. The fan expertly circulates air, providing more efficient heat transfer and shorter cook times. Additionally, the has sliding and oversized racks in addition to the regular rack.
Besides the typical bake and broil settings, and the array of convection combinations with the various oven elements, there are some more advanced, less-common use cases. For instance, the dehydrate setting blows the convection fan at around 120°F, drying out whatever's inside the oven—perfect for beef jerky or trail mix fruits. The slow-cook setting essentially turns the oven into a giant crock-pot, using a low temperature over a long period of time. A bread-proofing feature is also available, providing the right environment for yeast to do its work. Below the oven, a keep-warm drawer keeps your dinner at serving temp if the guests are late. Of course, it can also be used for storage.
Rangetop
No quick-boiling elements, but good simmering and searing capabilities
The takes full advantage of what electric can offer, exhibiting a superb range of simmering and searing temperatures that gas can't match. Unfortunately, the tradeoff is in control: Electric ranges lag a bit after each adjustment, whereas gas burners can increase or decrease heat almost instantaneously.
This range exhibits a superb range of simmering and searing temperatures.
Boiling performance was interesting, because depending on what you need, it could either be good or bad. The burners had a great average boiling time, but weren't that quick individually. If you just want one burner that can boil quickly, that's bad news; if you need to boil a bunch of pots at once, this range probably fits your needs.
Oven Broiler & Convection
Make sure you use the convection fan.
In our tests, we recorded extremely poor results when the oven was used without the convection fan. For whatever reason, the oven struggled to hit the proper temperatures and stay close to them. For example, at the 350°F setting, the oven managed to deliver even heat, but there was just one problem... the oven's definition of 350°F was 19°F higher than ours. Go figure.
But set the oven to convection and suddenly you have one of the smoothest, most accurate, and most trustworthy machines we've ever tested. Similarly, the variable broiler showed exceptional power, heating up to a full 600°F in just under five minutes.
Conclusion
Perhaps the most bemusing range we've seen.
Clearly, this is an odd oven. From a borderline luxury brand that touts its European roots, this Electrolux brought with it expectations as high as its $2,000+ price tag.
The performance results were downright bizarre. For half the criteria, we saw a work of engineering genius worthy of our highest praise: the broiler, the convection oven, the precision at 350°F, and the wide span of rangetop temperatures. But for the other half, we saw ineptitude: the oven had trouble hitting the right temperature and staying there at most settings, and the boiling results were less than impressive.
Unfortunately, this level of inconsistency is unacceptable, regardless of what budget the prospective buyer has assigned for a kitchen. If this range were half the price, we would give it a sitting golf clap at best. At over two grand... well, we're not impressed.
Science Introduction
Here we dump our data so you can examine it yourself. We've compiled our charts and more detailed analysis so the still undecided can better weigh the options.
Oven Performance
Can you own an oven without using its conventional setting?
Set to the keep-warm temperature of 170°F and 350°F, the oven consistently stayed far above the designated temperature. The average temperatures we saw for those two were 200°F and 369°F, 20 and 30 degrees above the proper temperature. This is a bit troubling. The maximum setting was better, though still hot, at 562°F against the desired 550°F. We advise prospective buyers to invest in a thermometer if they go with this range. Fahrenheit and Celsius degrees are preferable to Electrolux degrees.
The convection fan provides more even cooking and defuses hot spots.
The fluctuation of these inaccurate temperatures wasn't good at 170°F, but it was excellent at 350°F. Though it was based around a temperature almost 20°F above the target, the temperature went only 10°F below and 17°F above the average. A silver lining, indeed. The maximum temperature setting had the oven into the 580s as well as falling to 533°F. Not great, but when you're over 500°F, very hot vs. very, very hot may not make much difference.
However, all this changed when the convection fan was activated. Set to 350°F, the oven hit an average temperature of 350.5°F, almost perfectly spot-on. The convection fan also circulated the air, providing more even cooking and defusing hot spots; the deficiencies of the conventional oven may not be so grave, given this alternative. The fan also limited temperature fluctuation, keeping the oven within an incredibly tiny window of 12°F—just eight degrees above and six below 350°F. This is a fantastic result, and one that home chefs can use with confidence to cook delicate food.
Rangetop Performance
We found good average boiling times but no fast burners.
Water boiling was a bit of a disappointment. While there aren't any particularly weak burners (providing a good average boiling time), there aren't any very speedy ones either. The front two burners can boil six cups in about eight minutes—hardly a record. The rear elements can boil six cups in 11.5 minutes—awesome for the b-team—but most folks would appreciate a single, faster boiler over a moderately impressive aggregate.
In simmering, we found excellent results. Every element provided gentle heat beneath the exceptional temperature of 90°F—a superb range of temperatures that gas simply can't provide due to its higher minimum temperatures. This characteristic marks the EI30EF55GS out as good for simmering small quantities of liquids, melting chocolate without a double boiler, and other delicate maneuvers. Its searing capability is just as impressive, making it possible to handle whatever high-temperature job you need done. Our sensors recorded temperatures no lower than 527°F: completely satisfactory for putting a killer crust on that steak.
Up next
Get Reviewed email alerts.
Sign up for our newsletter to get real advice from real experts.