Ovens
Electrolux EI30IF40LS Induction Range Review
Upscale induction that won't break the bank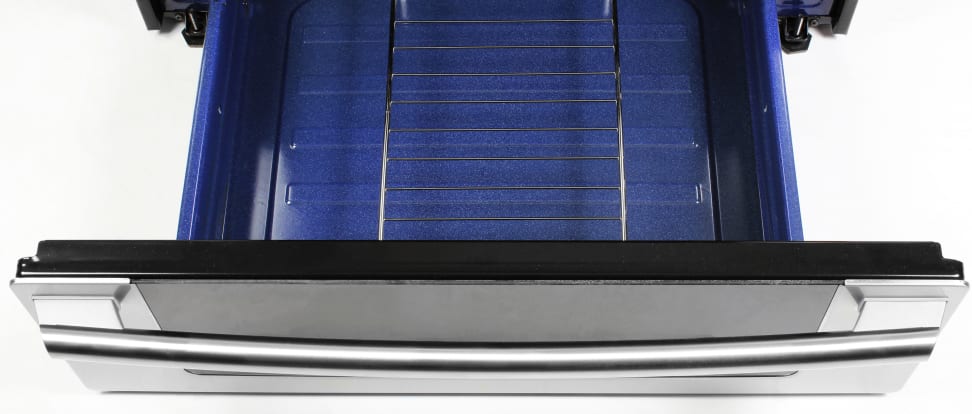 Credit:
From the Lab
We put our ranges through a series of rigorous tests to measure everything from how quickly they boil water to how evenly they bake cakes. The Electrolux EI30IF40LS was fantastic when it came to range-based tests, but did less well with our real world bake tests in the oven—until we turned on convection.
The Electrolux EI30IF40LS (MSRP $2,199) range offers induction cooking and convection baking, and retails for under $2,000 on sale.
As it features induction technology, the rangetop is as phenomenal as you'd expect, and adds plenty of useful settings and features. It's a nice step up from something more basic, like the Kenmore 95073, one of the least expensive induction ranges, which sells for around $1,300 on sale.
As long as you use convection, the oven is excellent. It's got a quick preheat and a great broil, plus luxury touches like glide-out racks and ramp-up lighting. We're also fans of Electrolux's Fresh Clean self cleaning option, which uses a unique catalyst to keep your kitchen smelling good.
Oven & Broiler Performance
The most important part of our oven testing comes when we roll up our sleeves to see how the oven handles real world baking. First, we bake sugar cookies and then measure the difference in browning between the tops and bottoms, as well as the difference in browning from one cookie to another. We then do the same with cakes, tracking the same factors and noting any variance in doneness within each individual cake.
At first, the EI30IF40LS did not shine here. Cookies had light tops and dark bottoms, and the darkness of the bottoms varied from cookie to cookie. This means that the oven cavity has issues with uneven heating, something which is difficult to address because different areas of the oven experience this issue more than others.
Cakes had darker bottoms and lighter tops as well, and we measured some darker and lighter spots throughout each individual cake. That said, each cake experienced the same issues more or less consistently.
Things got much better after we turned on convection. It heated evenly, and also sped up the preheat time significantly—the oven preheat took just over ten minutes to reach 350°F at regular oven settings, but just over seven minutes using convection. The broiler hit our target 608°F in a mere four and a half minutes.
Design & Usability
A lot to be happy about
The draw of an induction range is its uber-responsive, versatile, and safe cooktop—but a dose of clever design doesn't hurt. The EI30IF40LS pairs its smooth black induction top with a sleek blend of stainless steel and black trim, complete with a handy warming drawer. We've seen other ranges lean more heavily in the stainless direction, but the black trim here gives the unit a modern twist.
At 6 cubic feet, the oven cavity is large, bright blue, and comes with a rolling oven rack. You do get a few more standard racks, too, as well as a porcelain broiler pan with insert. The warmer drawer comes with a rack useful for organizing multiple items.
The rangetop has four induction cooking zones, all marked with large, thin crosses. Two of them can be combined into a bridge zone that accommodates an included griddle. There's also a radiant heat warming zone in the rear center of the rangetop to keep dinner ready while everyone slowly meanders to the table.
Rangetop controls are all-digital and located on the backsplash. We aren't normally fans of controls that require users to reach over a hot range in order to adjust them, but it's a little less problematic with induction since the surface remains relatively cool even when in use. Still, it's important to remember that the actual pots and pans will get hot.
The rangetop temperature can be adjusted by pressing "+" and "-" buttons, which correspond with heat settings indicated by both numbers and words like "Lo," "Hi," and "Powerboost." Powerboost is the hottest setting and will only remain active for ten minutes before switching to the regular high setting. It's ideal for tasks like boiling large amounts of water quickly.
Digital oven controls, which Electrolux calls IQ-Touch, are also located on the backsplash and are full of cool special settings. In addition to baking—both standard and convection—and broiling, you also have a Keep Warm setting, Convection Roast, Convection Broil, Fast Preheat, and Slow Cook. There is also an option to save favorite recipe settings and a Fresh Clean self-clean function with three different time options.
Rangetop Performance
There's nothing bad to say about the EI30IF40LS's superb rangetop. The front left cooking zone brought six cups of water to a boil in just under two minutes, while the front right and rear left burners took slightly over three minutes. That's so fast that waiting around ten minutes for the rear right burner to boil water will seem like a lifetime by comparison.
The hottest cooking zones on this rangetop were the two front ones, which hit a scorching 724°F and 719°F respectively. The remaining two burners were able to reach temperatures within 5°F of 630°F, so nary a burner failed to get truly hot.
When it came to low temperatures, the most impressive cooking zone was the rear right one, which dipped all the way to 93°F. With other burners achieving minimum temperatures at 104°F, 112°F, and 115°F, we were impressed every time.
Rangetop
Out of this world
This is an amazing rangetop, with test results illustrating why we adore induction.
Cooking zones boiled water at a rapid pace, with the right front burner bringing six cups to a boil in just under two minutes. Two other burners took just a minute longer, while the right rear burner lagged around the ten-minute mark. Unless you're trying to boil four pots of water at once, we doubt you'll ever need to wait that long.
We measured maximum temperatures from 626°F to 724°F, all of which are as hot as a person could want from a rangetop. The rangetop was also well-equipped to perform low-heat tasks like melting chocolate or simmering soup, with recorded temperatures as low as 95°F to 115°F. Induction's temperatures tend to stay more even over time than electric or gas, so you don't have to worry about scalding butter.
The bottom line? This rangetop is among the best of the best. First-time induction users may have to spend a little time adjusting to its speed, but we think it's well worth the effort.
Oven, Broiler, & Convection
Stick with convection
In keeping with the ultra-fast rangetop, the EI30IF40LS's oven is fast to preheat, hitting 350°F in just over ten minutes on regular oven settings and just over seven with convection. The broiler was also quite speedy, hitting 608°F in less than five minutes.
Our real-world baking tests yielded mixed results. Without convection turned on, cookies emerged with bottoms that were browned to different degrees depending on the cookie, and there were some differences in doneness across the tops and bottoms of individual cakes. That's indicative of heat variation throughout the oven, which is how meals end up cooked unevenly.
When we turned on convection, however, baking performance improved drastically. With a fan and an extra bake element helping out, heating and airflow proved to be fairly consistent from one baking venture to the next. No matter what, though, we still recommend you keep an eye on your food throughout the cooking process to avoid burning.
Why We Like It
This range will make you believe in induction
It's hard not to like the Electrolux EI30IF40LS. The induction rangetop is just so fast, and its temperature range is fantastic. Add short preheat times for impatient cooks, a slew of handy features, a sleek transitional design, and an MSRP around $2,000—a great deal for induction—and you've got a truly great package.
The oven struggles a bit unless you use convection, but you'll get excellent results if you do. All in all, the EI30IF40LS is worth keeping an eye on if you're thinking of getting an induction range.
Up next
Get Reviewed email alerts.
Sign up for our newsletter to get real advice from real experts.