Ovens
Electrolux EW30GC60IS 30-Inch Gas Cooktop Review
Impressive looks, but average results.

Credit:
Introduction
We love cooktops and wall ovens because they allow the consumer to select each part of the cooking system individually. If someone loves Thermador wall ovens, but prefers Electrolux gas burners, they can have it all. Unfortunately, it doesn't seem likely somebody would really want to choose the gas cooktop over the competition. Although its upscaledesign would probably look impressive sunken into your countertop, the ****'s performance didn't do it for us, especially at an $1,549 MSRP.
Design & Usability
For people who believe the commercial look should stay in restaurants.
Electrolux eschewed the restaurant aesthetic for something a bit more refined.
Electrolux makes beautiful cooktops. While we loved the sleek design of its induction offering, the gas EW30GC60IS is beautiful in a completely different way. As you might have noticed, gas burner design has been largely dominated by big industrial-looking burners with heavy grates. But for this cooktop, Electrolux eschewed the restaurant aesthetic for something a bit more refined. As cooktops are built to meld with countertops, this makes sense.
The cooktop's knobs are mounted right on the front for easy access, and as a special ease of use feature, the continuous grates are dishwasher safe for easy cleaning. 
Performance
Can't get no satisfaction.
Despite its sharp styling, the Electrolux EW30GC60IS turned out to be a disappointment in the lab. With five burners, it looks like a machine for a serious cook, but the test results just didn't impress.
The center "Min-2-Max®" burner performed well. If Electrolux had made them all this way, we'd have a markedly different opinion. It boiled six cups of water in just under five minutes and simmered down to a temperate 108°F, aided by a glass center. However, this burner failed to live up to the "max" side of its name, failing to get our test pan above 338°F.
Aside from the special center burner, the cooktop was unimpressive
Aside from the special center burner, the cooktop was unimpressive. The other two main burners boiled in nine and 13 minutes, and the rest proved to be only simmer burners. Unfortunately, only the center burner could simmer close to 200°F—including those dedicated simmer burners, which ranged from 260°F to 286°F. Narrowing the temperature range further, just one managed to crack 400°F. While it's not much of a consolation to poor boiling and temperature range, it is incredibly responsive as a gas cooktop.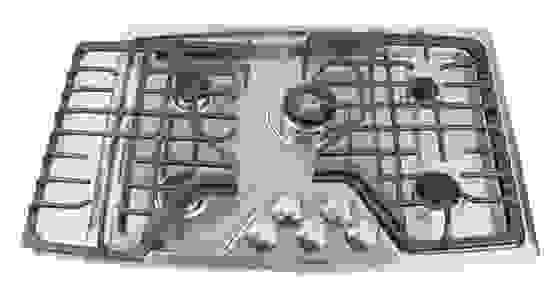 Conclusion
We expect more from a upscale cooktop.
We can't really recommend shelling out the full MSRP price of $1,549 for the . Even the sale price of $1,250 seems steep. Besides design considerations, the whole point of a cooktop/wall oven setup is the ability to choose the best of each, and this isn't close to the best. Cooktops have just one job to do, and we think you might be better off examining other options than the —unless you can find it at a big ol' discount.
Up next
Get Reviewed email alerts.
Sign up for our newsletter to get real advice from real experts.