Ovens
Frigidaire FGGS3065PF Slide-in Range Review
It feels the need, the need for speed.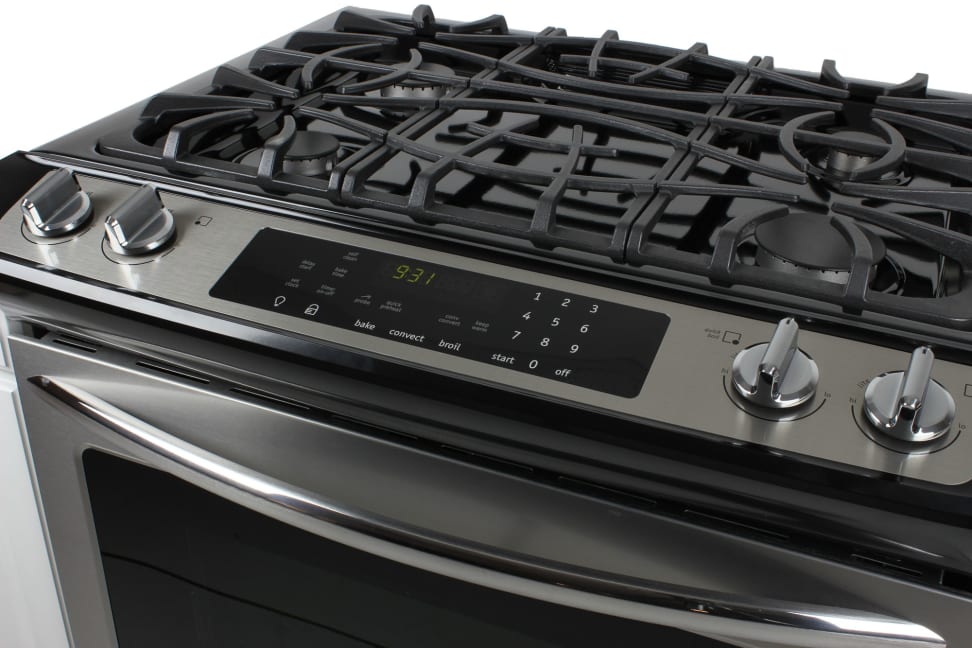 Credit:
The Frigidaire FGGS3065PF (MSRP $1,999.00) is a good looking range that offers performance slightly above the norm. Even better, it sells at a reasonable price for a slide-in. Along with a stainless exterior and good baking performance, the FGGS3065PF proved to be quite a speedy little fellow, with a fast preheat and some of the spiffiest boiling speeds we have ever seen on a gas rangetop. If you're an impatient chef, this is the range for you.
Design & Usability
A slide-in, through and through
-->
The FGGS3065PF doesn't deviate much from the established slide-in formula. It's 28 5/16" deep, so measure the depth of your counter to see what modifications you may need for it to fit. The range is transitional and shouldn't look out of place in most kitchens, although—in our opinion—it isn't nearly as sleek as the similarly-priced Samsung NE589710WS. The slide-in design does give it a built-in appearance.
As is always the case with slide-ins, both the oven and range controls are placed at the front of the appliance, and we appreciate Frigidaire's decision to angle them towards the user. This allows easy access to the controls no matter how tall you are.
The FGGS3065PF also includes continuous grates that make it easier to move heavy pots between burners, and a so-called Effortless oven rack that, true to its name, slides out with ease. The range is encased in smudge-proof stainless steel that we found to be more resistant to fingerprints. However, the surface is a bit darker than most other stainless exteriors, so keep that in mind if you're trying to match a kitchen suite.
Rangetop
Quick heat, but trouble at low temps
-->
The rangetop features four burners, one at each corner. The left and right portions of the rangetop are separated by a large central grate. One could argue that this is a waste of valuable real estate, but it does allow for removing pots and pans from heat with out needing a trivet. And your friends might think you bought a five-burner.
The obvious benefit of gas burners is responsive control. Electric burners take a while to respond when you change the temperature, but with gas the response time is instantaneous. As a trade-off, gas burners have a narrower range of temperatures than electric. The FGGS3065PF continues this trend with a temperature range of only 128°F. We recorded an average high of 414°F and an average low of 143°F. These aren't terrible results, but you may want to keep a watchful eye on any sauces, and you definitely won't be able to throw out that double boiler.
Fortunately, the range top excelled in other areas, specifically in terms of boiling speeds. The front right burner took an impressively fast four minutes to boil six cups of water. That's phenomenal.
Oven, Broiler, & Convection
Succeeds where it counts
Similar to the burners, the FGGS3065PF's oven offered an inconsistent mix of adequate and excellent performance. The preheat was impressively fast, taking only eight minutes to reach 350°F, while the broiler struggled to keep up. It took 11 minutes to reach 604°·F.
The FGGS3065PF performed pretty admirably in terms of oven performance, but nothing stood out as special. The Keep Warm setting ran about 30°F too hot for the duration of our test, and the 350°F and convection settings struggled to maintain a consistent temperature for any length of time. While poor accuracy and precision sounds bad, it doesn't necessarily indicate poor oven performance.
Our actual cook tests quelled most of our concerns in this regard. The 350ºF cookie bake test was particularly impressive, with very little noticeable difference between the individual cookies. That's an indicator of a well-insulated oven cavity, with few—if any—hot or cold spots. The cake test told a slightly different and less rosy story. Both cakes we baked had overdone bottoms, indicating poor circulation. That said, provided you keep an eye on your baking you shouldn't have any major issues with this oven.
Before You Buy
One fast Frigidaire
There is a lot to like about the FGGS3065PF. The range's cool, transitional, slide-in aesthetic is easy on the eyes and the oven itself proved pretty easy on our food as well.
While the rangetop lacks low temperature versatility and the broiler was a disappointment, this appliance excelled in one major area: Speed. If dinner time is usually a whirlwind, you'll appreciate a range that lets you spend more time cooking and less time waiting.
From the Lab
We subject the ovens and rangetops we review to a barrage of tests, scrutinizing everything from water boiling speeds to baking performance. While the FGGS3065PF proved itself in certain areas, it was let down by a sluggish broiler and the burners' narrow range of temperatures
Oven & Broiler Performance
We test our ovens for accuracy and precision. Accuracy is determined by how often the temperature in the cavity matches the setting—whether it be 170°F, 350°F, or 450°F. Precision, on the other hand, is determined by how far the temperature strays from the ideal. Despite some poor precision, the FGGS3065PF's oven performed fairly well in both areas.
The Keep Warm setting exhibited excellent precision, but terrible accuracy. It averaged around 30°F above the set temperature, but held it perfectly. Provided you adjust your cooking time or temperature accordingly, you should have no issues. Conversely, the 350°F and Convection settings only averaged 5°F above the set temperature.
Meanwhile, the broiler was sluggish at best. It took 11 minutes to reach 605°F.
Oven accuracy and precision is one thing, but we place more emphasis on actual cooking performance when testing our ovens. When looking at the cookies we baked in the oven, we noticed that they were all a similar color regardless of where they were placed. Even the tops and bottoms weren't burned or underdone, indicating a well insulated oven with no noticeable hot or cold spots.
Our cake tests indicated that the oven has a few issues with air circulation, as there was a large difference between the tops and bottoms of our test cakes. Stay away from dark pans, which tend to overdo bottoms of baked goods, and keep an eye on your temperatures.
Rangetop Performance
While gas rangetops lack the wide range of temperatures of their electric counterparts, they make up for it with responsiveness and visual feedback. The FGGS3065PF, predictably, suffers from a narrow range of temperatures. The front right burner reached a perfectly respectable 424°F, while the front left hot as high as 375°F. In the lower end of the spectrum is where the FGGS3065PF really suffered: we recorded a—not particularly—low temperature of 143°F from the right rear burner, while the left rear only got as low as 165°F
Water boiling performance is where the FGGS3065PF really surprised us. The front right burner achieved an amazing boil time of only 4 minutes for 6 cups of water. We expect speeds like that from induction rangetops. The front left kept up with a 7 minute boil time for the same amount of water.
Up next
Get Reviewed email alerts.
Sign up for our newsletter to get real advice from real experts.