Ovens
GE CGP650SETSS 36-Inch Gas Cooktop Review
This GE plays it cool.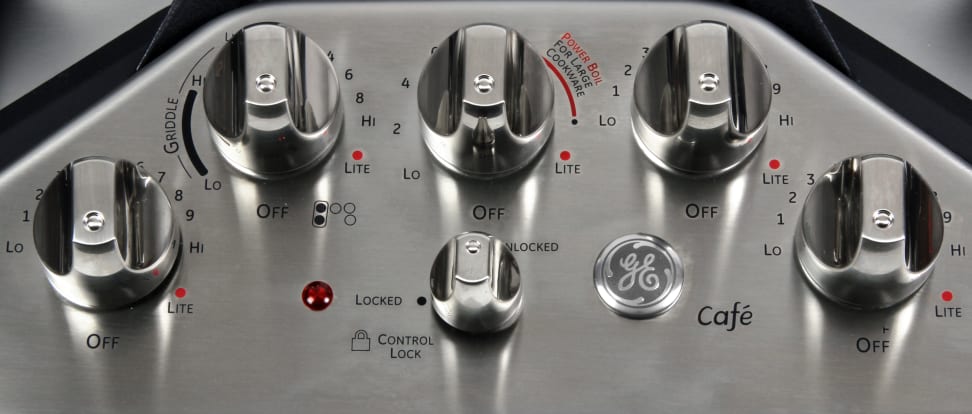 Credit:
The GE Café CGP650SETSS (MSRP $1,699) 36-inch gas cooktop is the larger version of the excellent, 30-inch CGP350SETSS.
As such, it brings some much-needed style to a sea of commercial-inspired cooking appliances. Alongside some seriously good looks, the CGP650SETSS offers phenomenally low temperatures and excellent boiling speeds. Maximum temperatures were on par with what you'd expect from gas. Overall, this Café is one of the best gas cooktops we've tested.
Design & Usability
A modern spin on the classics
As a part of the GE Cafe line, the CGP650SETSS is suitably upscale in terms of design and features. The cooktop has a look inspired by professional commercial gas ranges, but with a stylized and modern twist. Some may find it a bit overwrought, but we like the starburst-patterned continuous burner grates and triangular control configuration.
The GE CGP650SETSS has four standard burners, one at each corner. In the center is a tri-ring burner. There's a fair amount of space between the burners to allow for multiple pots and pans, and the grates form a continuously level surface.
The cast-iron grates are easily removable and dishwasher safe. Similarly, the control dials can be removed for easy cleaning. The CGP650SETSS also comes with a customized Lodge griddle that can be swapped out for the left grate—perfect for Sunday brunch or burgers.
Performance
Have no fear, it can simmer and sear!
We had high hopes for the GE CGP650SETSS, especially considering how well the CGP350SETSS fared in our tests. Fortunately, The apple didn't fall far from the tree. Water boiling speeds were excellent for a gas cooktop. The tri-ring burner managed to boil six cups of water in four minutes, while the front right burner took nine minutes.
As is so often the case with gas cooktops, the CGP650SETSS isn't capable of hitting outrageously high temperatures. We recorded an average maximum of 373°F. Fans of the Maillard reaction don't need to worry, though, since the center burner managed to reach a serviceable maximum temperature of 436°F, more than enough to sear a steak.
Another area where the CGP650SETSS really excelled was its ability to reach low temperatures. High heats are one thing, but of equal importance are temperatures that allow you to gently simmer sauces or melt butter. We recorded an average minimum temperature of 126°F.
Why We Love It
-->
If you need a 36-inch gas cooktop, this is the one to get.
There is a lot to love about the GE CGP650SETSS gas cooktop. It's easily one of the best-looking pro-inspired appliances we've seen, and it's capable of some excellent performance— especially when it comes to simmering and boiling.
On sale, we found this GE Café for as little as $1,599. Compared to other pro-style cooktops, which sell for thousands more, this one is an exceptionally good value.
Up next
Get Reviewed email alerts.
Sign up for our newsletter to get real advice from real experts.