Ovens
GE JB750SFSS Electric Range Review
Price and performance find a balance with this electric range.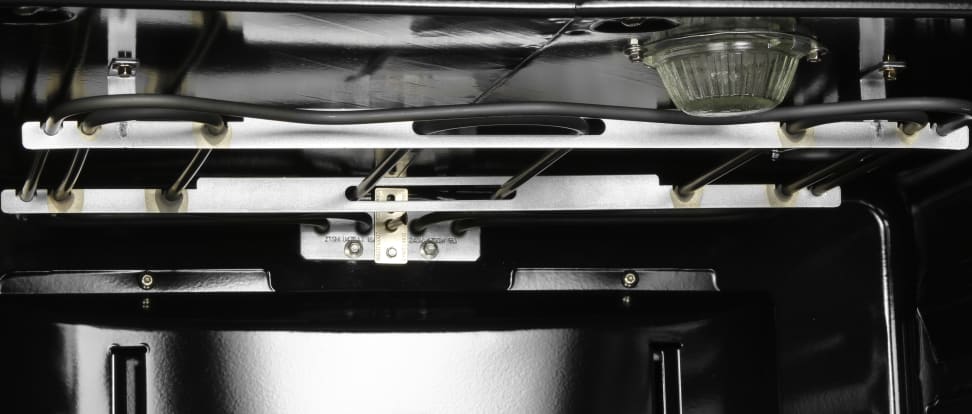 Credit:
From the Lab
We put our ranges through their paces to test everything from how quickly they boil water to how evenly they bake cookies. The JB750 gave an excellent showing in our rangetop tests, but the oven had some issues.
The GE JB750SFSS Electric Range (MSRP $1,119) is a pretty standard model. We loved the versatile, speedy rangetop, as well as the oven's fast preheat time. The oven wasn't perfect—but its issues weren't anything the intrepid home cook couldn't bypass with some experimentation.
A retail price under $1000—as low as $800 on sale!—is what seals the deal for us. The JB750 is a lot of bang for that buck, and we'd recommend it to home cooks trying to find a balance between price and performance.
Design & Usability
Basic looks with a few subtle extras
Stainless steel body? Check. Black and gray trim? Check. Ceramic glass rangetop? Check. We could go on, but you get the gist. The JB750 has all the typical transitional style specs we'd expect from an electric range at this price point. It's unlikely to wow guests with a fancy or industrial appearance, but it's attractive in a plain way, designed to look like many of today's popular ranges. At second glance, we also found a few subtle extras that might add to the appeal.
The rangetop features four burners and a rear central warming zone. It sounds basic enough, but the front right burner is of the triple-ring variety and can be used as a 6-inch, 9-inch, or 12-inch cooking zone. The front and rear cooking elements on the left side of the rangetop are bridge zones, designed to allow a long pan or skillet to be stretched across the two burners at once.
Rangetop controls are located on the backsplash, common on ranges at this price point, but not as user-friendly as front controls. The digital oven controls can be used to switch between regular and convection settings (we'll get to that), as well as broil, self clean, and steam clean cycles. A storage drawer is a nice touch, too.
Oven & Broiler Performance
The most vital part of our oven testing is when we roll up our sleeves and see how the oven handles baking real food. In our cookie tests, we bake sugar cookies in the oven and then measure the difference in browning between the cookie tops and bottoms, as well as the difference in browning from one cookie to another. In our cake tests, we take the same types of measurements as we do in our cookie tests, while also noting the degree to which different spots in the same cake vary in doneness. We also ensure that our cakes rise evenly.
The JB750 did not bake cakes or cookies evenly. Cookies emerged from the cavity with drastically darker tops than bottoms. Cakes had darker bottoms that stuck to the pan in places, and even the lighter tops were browned around the edges and in various spots throughout each cake. These inconsistencies indicate that the oven may have issues with too much radiant heat at the bottom of the cavity, as well as some issues with air circulation.
The good news is that the resulting unevenness was near-identical from one cake to the next and from one cookie to the other. It's a result we prefer over baked goods that vary all across the board, because it's much easier to address.
We'd recommend using parchment paper and/or placing the pans on higher oven racks to prevent too-dark bottoms. Variation in doneness throughout a single cake can be addressed by turning the pan partway through baking, and it's definitely important to check on any food maybe five minutes before the end of the bake time to ensure that it's not browning too much.
The broiler flunked our test, falling 46°F short of our 611°F target temperature after 16 minutes. Preheat times at least were right on point, with a regular oven setting reaching 350°F in 9:30.
Rangetop Performance
The JB750's rangetop is no slouch in any regard. Boil times were speedy, with the quickest burner (right front outer ring) boiling six cups of water in 2 minutes 39 seconds. Other burners weren't far behind, with all but the right front burner's inner ring and the left rear burner boiling water in under ten minutes. This means you can boil three pots of water all at the same time, and without much of a wait.
When it came to temperature testing, a maximum temperature range of 691°F to 797°F earned the JB750 high scores. That figure ignores the maximum temperature measured for the right front burner's 7-inch inner ring, which came in at 519°F. We can't see any situation where you'd use that small ring for high-heat cooking when the larger rings on the same element get so much hotter.
Minimum temperatures were also impressive, hitting balmy heat from 101°F to 197°F. We'd recommend doing your most sensitive low-heat tasks on one of the lefthand cooking elements, which were able to reach the lowest temperatures, but anything besides the right front burner's 12-inch outer ring should do the trick.
Rangetop
This rangetop is the tops
This electric rangetop is so good that we almost want to set our pans down on its glossy surface and never leave. Of course, that wouldn't be very safe.
It aced all our tests, starting with the boil test, which saw all but one of the four burners boiling six cups of water in less than nine minutes. We'd skip the slower right rear burner when boiling if possible, but beyond that, only the inner ring of the triple-ring right front burner had us waiting for long. The outer ring of the right front burner especially wowed us, getting six cups of water bubbling away at 2 minutes 39 seconds.
Our temperature testing found the rangetop capable of reaching high temps as hot as 797°F and low temps as gentle as 101°F. Whether you're wilting spinach, poaching eggs, melting butter, or searing a steak, the JB750 should be more than up to the task. Frequent dinner party hosts or weeknight family meal-makers, take notice!
Oven, Broiler, & Convection
This oven has potential—but you'll need to play with it
The JB750's oven is a bit fickle: The speedy preheat took under ten minutes, but the broiler failed to reach our target high temperature during 16 minutes of testing.
Likewise, the results of our real-world baking tests weren't perfect. However, we think this oven has potential for true greatness. When we baked cakes and cookies, we found dark bottoms and light tops. That's not unusual—especially since we used dark pans.
The good news, however, is that these problems held true for each cookie and cake we baked. In other words, the oven's results were consistent. That means bakers can use lighter-colored pans, place pans on higher racks, or turn items partway through the baking process.
The most important thing—as always—is to check on baking goods throughout the bake time to see if adjustments are necessary, at least until you're familiar with this oven's quirks.
One particularly unique feature of the JB750: It does offer convection, but its modes are designed only for roasting, or baking on multiple racks.
Why We Like It
-->
Good range, good price.
This isn't the greatest range known to man, but it is very good. With a retail price under $1000, we'd consider it an excellent value. A phenomenal rangetop will boil, sear, simmer, or sauté anything you throw at it, and adjustments like bridge burners and a triple-ring burner provide additional options.
The oven is less impressive, and its convection modes are a bit confusing, but it will cook your food, and some experimentation should allow you to unleash its inner Food Network Star. Plus, we love that lightning-fast preheat.
Up next
Get Reviewed email alerts.
Sign up for our newsletter to get real advice from real experts.