Ovens
GE JGB282SETSS Review
This $899 model actually gives you a decent return as far as performance per dollar.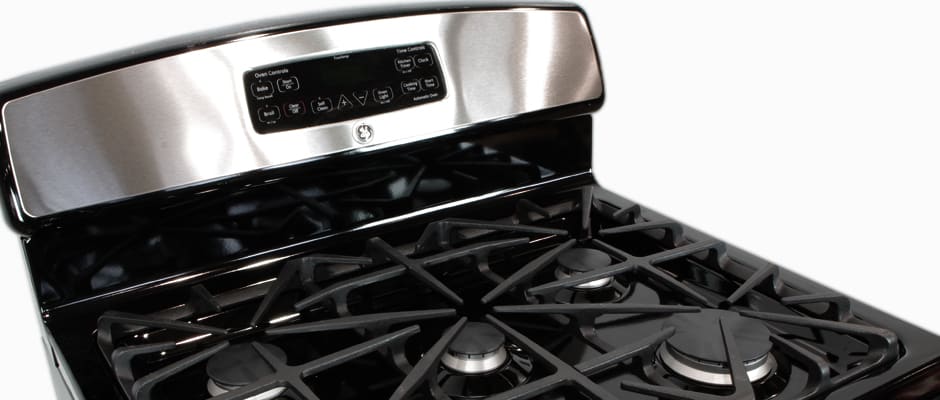 Credit:
Introduction
One of the cheapest ovens we've tested to date—and we mean that in the financial sense—is the GE JGB282SETSS. With five gas burners, straightforward design, and fairly reliable temperature control, this $899 model actually gives you a decent return as far as performance per dollar. Things get wobbly, though, when you get into unusual cooking techniques. High heats, low heats, broiler performance: all were shaky at best, and downright bad at worst. It's a great model for a young person looking to furnish his or her first studio apartment, where the majority of the cooking mainly involves frozen pizzas and the like.
Design & Usability
A straightforward and competent design is hampered only by a control screen that's just a little too small.
The advantage of the 's traditional design is that it's almost guaranteed to fit into many different kitchen aesthetics. Stainless steel is the dominant feature, with some black enamel trim to break up the visual monotony.
The small LCD panel is rather dim, especially in bright light.
As is the usual case with gas ranges, all five knobs—one for each burner—are located on the front, just above the oven door. The plastic knobs, which are somewhat smaller than what we usually see on models of this kind, are quite sturdy. Their resistance to turning is just enough that they're easy to use without running the risk of powering on accidentally.
The oven's controls, located in the center of the back panel, have a solid level of responsiveness, but are a bit difficult to read. Worse, the small LCD panel is rather dim, especially in bright light. The screen is small, and since it also tends to display large amounts of information, the text scrolls by rather too quickly.
Rangetop
Soup aficionados will love the low heat performance on this range, but others may feel disappointed.
The boasts an impressive five burners—more than what most models in this price range offer. That said, they're all the same size; there's no special extra-wide burner or any other common variation here. Also, despite the number of burners, the range cover is broken up into just two parts. It's a somewhat limiting factor for adapting to differently sized cookware, but if you're only planning to use the oven in a regular manner, it shouldn't hinder your time in the kitchen.
Only one of the five burners was able to boil six cups of water in less than 10 minutes...
As far as actual temperature output, the range is definitely a mixed bag. Only one of the five burners was able to boil six cups of water in less than 10 minutes—our cut-off point as to what constitutes a reasonable amount of time—and it was equally hard to maintain very high temperatures. Low temperature performance was great, however. If you're less about searing meat and more about making chicken soup and homemade pasta sauce, this oven will take very good care of you.
Oven Broiler & Convection
Don't purchase this GE if you plan on using the broiler frequently.
Generally speaking, this oven did a fine job keeping temperatures within an acceptable range of degrees. We found that the temperature remained fairly consistent during our tests, though it did suffer from a few not-insubstantial issues. Its "keep warm" setting was more like a "keep less hot," so if you're keeping a plate of food warm until your kid stops playing World of Warcraft, be careful that it doesn't continue to cook.
At peak temperatures, the mercury begins to fluctuate too far for our tastes. Too many dips can lead to uneven cooking, but most consumers shouldn't have any issues (unless they're baking a souffle). It's worth mentioning that this model lacks a convection mode, which uses a fan to blow warmed air around the oven for a more even temperature.
The gas broiler on the flat out stinks.
While we've been able to praise this oven's performance while making certain caveats, the gas broiler on the flat out stinks. After 16 minutes, the broiler didn't even hit 575 degrees. That's just poor performance, and you should definitely consider how often you plan on using a broiler before choosing this model. To add insult to injury, this oven doesn't even come with a boiler tray, though you can go out and buy one separately.
Conclusion
Good looking, but only OK performance
Let's face it: you're not going to get a restaurant quality oven for $899, and that happens to be the MSRP attached to the . For so little money, however, you are getting fairly reliable performance for basic cooking. Water takes a little longer to boil than we would like, and temperatures tend to shift a bit at the highest and lowest heats, too. However, simple tasks like cooking frozen pizza or baking chicken are easy and straightforward.
If you plan on opening the next incarnation of elBulli, keep shopping.
This is a range that will get the job done, but only at its most basic level. If you're looking for a gas oven on a budget—keep in mind that sale prices can get as low as $650, a fairly incomparable bargain—this may be a fine choice. If you plan on opening the next incarnation of elBulli, keep shopping.
Science Introduction
Generic cooks should be fairly pleased with the . If you like to get creative in the kitchen, though, the temperature shifts in the oven at its highest and lowest settings, as well as the range's inability to get really hot, may lead to more comparison shopping.
Oven Performance
Basic cooking is fine, but be warned if you try to push this oven to its limits.
The majority of the oven's temperature readings were relatively acceptable. A few dips and peaks in heat can certainly have an effect on the quality of your dinner, but it should only really be an issue for those who plan on crafting delicate meals. Where we had the biggest issue was actually at the oven's lowest setting, or the "keep warm" option. The ideal temperature here would be between 125°F and 140°F, but the average temperature in the was 173°F. That is definitely too warm; it means that the food that you thought was staying fresh for party guests or a spouse coming home from a late shift is actually drying out.
Range Performance
A watched pot never boils, but even ones that are ignored will take a while here.
The only burner on this range that boiled water quickly was the large front right boiler. It managed to heat up a large pan containing just over 13 fluid ounces of water in 25 minutes. The rest, however, took substantially longer; the rear right burner failed to boil even a small amount of water—2.5 fluid ounces—by the time the 35 minute test was completed.
...this range simply doesn't have the power to create very high temperatures.
It makes sense that a range which has trouble boiling water also has issues with high heats. When we cranked the burner controls up to maximum, we found that the temperatures rose to between 301ºF and 349ºF. That is acceptable, but those who like to stir fry or sear meats will be disappointed; this range simply doesn't have the power to create very high temperatures.
On the other hand, the burners on this range do provide steady low temperatures, perfect for simmering a stew or delicate sauce. With the burners running at their lowest settings, our test plate registered heats between 112ºF and 128ºF; and perhaps it's worth mentioning that the higher heats came about when using the front right burner, which proved to be a bit more powerful than the rest.
Energy Efficiency
Low gas use keeps this oven's energy ratings consistent and economical.
The range includes five burners, which is unusual for a range at this price point. These have fairly low output ratings, which we found were mostly accurate. The most powerful is the front right ring, which was rated at 15,000 BTU. We measured an output of 15,159 BTU—almost spot on. The other burners were also very close to their ratings.
Up next
Get Reviewed email alerts.
Sign up for our newsletter to get real advice from real experts.