Ovens
GE JGB600SETSS Review
This oven is a steal—especially when you consider its excellent performance.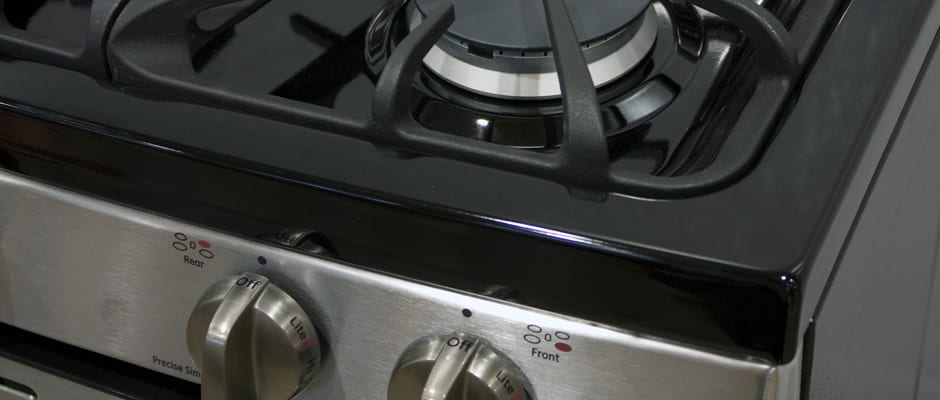 Credit:
Introduction
Coming in at the lower end of the price range for, uh, ranges, the stainless steel JGB600SETSS shows that excellent things can come in affordable packages. Though its boiling performance was weak and the burners' temperature range was narrow, a great oven stands ready down below.
Additionally, some of the commendable features we found—such as a center burner, continuous burner grates, and convection fan—aren't usually found on ranges that sell for under $900, and these perks combine to boost the value this 5.0 cubic foot, self-cleaning machine.
Design & Usability
This stainless steel unit isn't a pro range, but it's clean and elegant nonetheless.
GE's JGB600SETSS has a simple, straightforward design that favors function over form. At the end of the day, it gets the job done and is (mostly) easy to use.
Like most gas units, the range controls are located along the front edge, limiting the amount of risky hand travel above the burners. The JGB600SETSS has five gas burners on the range top: varying from the 5,000 BTU back-right burner to the much more powerful 17,000 BTU front-right burner.
The large burner in the center allows seafood aficionados to cook a fish whole.
The large burner in the center of the range—called a "fish burner," because the shape allows seafood aficionados to cook a fish whole—is rated at 6,000 BTU.
The single oven has a capacity of five cubic feet. That's on the smaller side for ovens, but it's still large enough for several dishes at once. It comes with three racks, and only allows for five total rack positions. That is fewer than average, so don't expect a ton of flexibility if you like to load up your oven.
Rangetop
This is a weaker rangetop, but it does offer the precision of gas heating.
The highest heat our test pan hit was just 389°F, which is less than ideal.
This GE is burdened by a myriad of cons, yet it still retains the advantage of gas-flame control. Specifically, the issue with this particular model is its temperature range. While we did see some decent simmering temperatures, the highest heat our test pan hit was just 389°F, which is less than ideal for high-temperature searing.
The boiling results weren't particularly great either, but we did find that the 17,000 BTU "PowerBoil" burner was quite satisfactory, and only took 4.5 minutes to reach 212°F.
Oven Broiler & Convection
This is an impressive oven at any price.
This oven demonstrated mostly impeccable results.
Taking under six minutes to preheat to 350°F, GE's stainless steel machine is sure to please bakers and roast lovers. Overall, this oven demonstrated mostly impeccable results.
In almost all of our tests, the oven did a magnificent job of hitting the proper temperature, and staying at that temperature, without large unplanned voyages away from the target. The conventional oven was even reliable enough to get a better score than the convection mode, although we were pleased with the latter's performance, as well.
What we weren't pleased with, however, was the broiler. We hit the on/off button and very little seemed to happen. In fact, it never reached the 600°F temperature we look for in our broiler preheat test.
Conclusion
Even with its below-average burners, this GE is a bargain.
Found on sale for well under $1,000, this range seems like a steal—especially when you consider the oven's excellent performance.
If you're partial to broiling, or require more than one powerful burner, keep browsing.
The GE JGB600SETSS is loaded with features, too, and it offers excellent heat control with its gas-burner range. However, if you're partial to broiling, or require more than one powerful burner, keep browsing. Otherwise, while the price is nice, the exterior isn't going to win any design awards.
Science Introduction
Here's the behind-the-scenes look at our process and our data. If you want to look deeper or perform your own analysis, you've come to the right place.
Oven Performance
This GE tested with above-average oven performance—convection fan or not.
Set to 350°F, the oven averaged a very satisfying 355°F, and stayed within a 30 degree window—better than many more expensive ovens we've tested. We saw similar results on the maximum setting, with the oven staying close to 552°F. The keep-warm test was reasonably satisfactory; 170°F is an optimal temperature, and the oven averaged 184°F, but did reach over 230°F for a moment in our test. Fortunately, we imagine this will be a very minor black mark against it.
With the convection fan on, the oven still did okay, albeit not quite at the level of the conventional mode, hitting 342°F (set to 350°F) and straying just beyond the 40°F window at 25°F below and 18°F above the target.
Rangetop Performance
These outcomes indicate middling performance overall, despite some excellent simmering results.
Besides the 17,000 BTU/hr "PowerBoil" burner that could throw six cups of water to 212°F in just 4.5 minutes, the rest of the burners tarried at 11 and 16 minutes. The rear right simmer burner did it in 40 minutes, in case you're curious. This is certainly acceptable if you want to boil a big pot quickly, but it might leave something to be desired if you're an active chef.
The simmering low-temp cooking was an area that actually impressed us.
The high-temperature searing results showed a similar lack of power, with the burners ranging from 302°F (the left rear) to 389°F for the front right position. We like to see something at least in the 500s for a good hiss and searing performance. Perhaps due to the general weakness of the rangetop, the simmering low-temp cooking was an area that actually impressed us, with minimum temperatures from 118°F (on the simmer burner) to 124°F (the "PowerBoil" front left burner).
Up next
Get Reviewed email alerts.
Sign up for our newsletter to get real advice from real experts.