Ovens
GE Profile PGS950SEFSS Slide-In Double Oven Gas Range Review
Lots of oven space, and it can cook too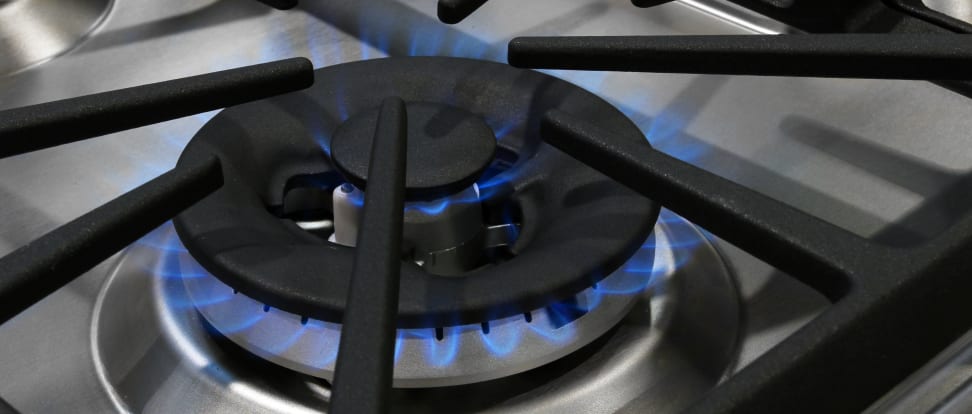 Credit: Reviewed.com
The GE Profile PGS950SEFSS (MSRP $3,200) is a mouthful. It's a slide-in, double-oven gas range. It's got two cavities to cook your food, and a whole lot of space.
While we weren't blown away with the smaller upper oven's ability to bake evenly, it should do in a pinch—and the larger lower oven proved pretty capable in the cooking department. Throw in a versatile rangetop and sleek stainless looks, and this could be the double oven of your dreams.
It isn't cheap—sale prices are still just below $2,900—but if you've got some cash to spend and want the flexibility of two capable ovens in one range, the PGS950SEFSS has you covered.
From the Lab
We run the rangetops we review through a rigorous series of tests, investigating rangetop boil times, how evenly the oven can bake cakes and cookies, and a slew of other vital range functions. The GE PGS950SEFSS made it through testing with flawed—but altogether positive—results. The rangetop was great, the primary oven solid, and the upper oven plagued with issues regarding temperature regulation.
Design & Usability
High-end design and simple features
To the casual observer, many of today's ranges resemble plain steel boxes. There's a little more to the design of the PGS950SEFSS—and not just because it has two ovens. The stainless slide-in is easy on the eyes, from its cast-iron continuous grate to the round GE logo beneath its lower oven.
If you're looking for sheer capacity, the PGS950SEFSS has it in spades. Total oven capacity is a whopping 6.8 cubic feet, with the 4.3 cubic-foot lower oven serving as a primary oven, complete with convection, and the 2.5 cubic-foot upper oven adding some extra space, as well as a broiler.
The gas rangetop boasts five burners, including a left front Tri-Ring burner, oval-shaped central burner, and left rear Precise Simmer burner. An included reversible cast iron griddle can fit over the center of the rangetop.
The rangetop's controls are knobs located on the front of the range, on either side of the digital oven control plate. Features include all the classics—Bake, Broil, Convection Bake, Convection Roast, Warm, and Self Clean—but not much more in the way of settings. Of course, let's not forget about that whole second oven—talk about an extra feature.
Oven & Broiler Performance
We test how long it takes the ovens and broiler to preheat, as well as how well the ovens can bake real food.
The larger lower oven has a quick preheat time, preheating the entire cavity to 350°F in 8 minutes 30 seconds. When you switch on convection, that time is reduced to just 7 minutes 40 seconds. However, the broiler, housed in the small upper oven, proved a disappointment. The area right beneath the broiler will reach a 604°F broiling temperature all right, but it'll take a little over 9 minutes to get there.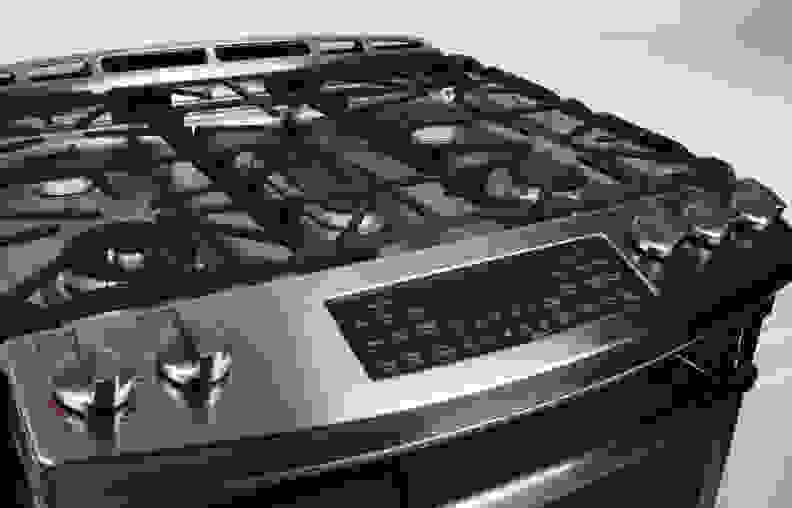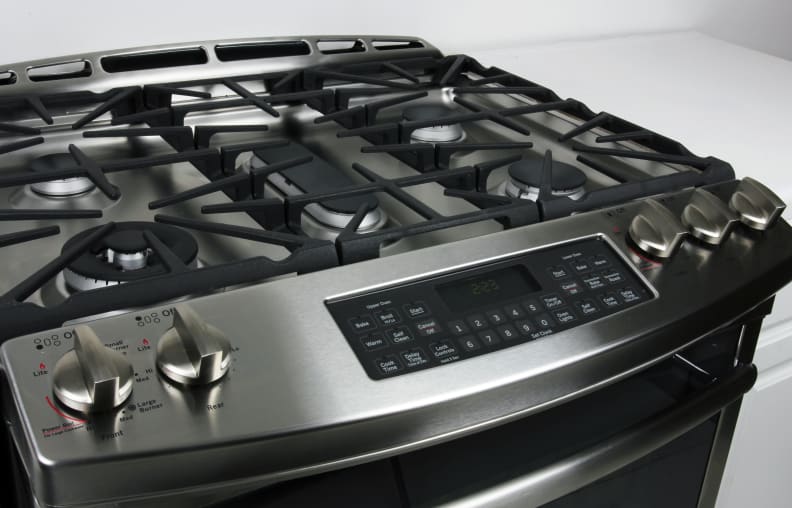 Cakes and cookies we baked in the larger lower cavity turned out even enough. Cookies didn't show a wild variation in browning between the tops and bottoms, but the degree to which each of the 12 cookies in our test batch browned didn't match the other cookies very closely. Cakes baked in this oven faced the opposite problem, with a fairly significant variation in browning observed across the surface of the cakes and between the tops and bottoms. However, each of the two cakes we baked shared this level of variation pretty uniformly. Overall, these results point to some hot and cold spots throughout the oven cavity, but if you're concerned, you can use convection mode to better circulate the hot air.
The small upper cavity proved pretty disastrous at baking. Will it cook your food? Sure—but it won't be evenly cooked. Both the cakes and cookies had issues with variation in browning both within each individual unit and between the separate cakes and cookies. This indicates there are quite a few hot and cold spots in the cavity and, unlike the lower oven, there's no convection option to save the day. Use this cavity only when the lower one is occupied and you really need the extra space. That said, its presence doesn't detract from the range's other good qualities.
Rangetop Performance
The rangetop fared well in our tests. Maximum temperature scores weren't particularly high, as is typical of gas rangetops, but they'll do everything you need. All burners but the left front, which failed to drop below 332°F, were able to reach low temperatures. The best scores were earned by the right rear burner, which dipped down to 127°F, and the right front, which came in as a close second with a 129°F low temp. All the other burners reached their lowest temperatures at 158°F or below.
Boiling times weren't the best we've seen, but they were above average. The fastest burner was the outer ring of the left front burner, which only took slightly longer than 4 minutes to boil 6 cups of water. The remaining burners boiled 6 cups at a little over 9 minutes (right front) and about 14 minutes (center and right rear). The left rear simmer burner did not boil water in a reasonable amount of time, as is often the case with burners specialized for low heat cooking.
Rangetop
Great low temperature capabilities, and above-average boiling
The PGS950SEFSS is most notable for its two ovens, but the rangetop is also worthy of attention. Like any gas rangetop, it's unable to get as hot as electric or induction, but it will still give your salmon a nice sear. Low temperature, however, is where this rangetop really shines. With the exception of the too-hot largest ring of the left front burner, rangetop temperatures hit their lowest temperatures between 127°F (from the right rear burner) and 158°F. The best ranges we've ever tested can dip below 100ºF, but this GE should do a fine job simmering sauces and soups.
When it comes to cooking pasta, you'll never have to wait too long for your water to boil. The largest ring of the left front burner boiled six cups of water in just over four minutes—one of the fastest times we've measured from a gas range.
Aside from the left rear simmer burner, which isn't designed to boil water, the remaining three burners took less than fifteen minutes each to boil six cups. Keep that in mind if you're planning on making a more elaborate dish.
Oven, Broiler, & Convection
The bottom oven comes out on top.
The larger lower oven is definitely where you'll want to do the majority of your baking. We found it quick to preheat, reaching 350°F in 8 minutes 30 seconds—and over a minute faster when using convection.
Cookies were evenly browned, although there was some variation from cookie to cookie throughout our test batch, which indicates some hot and cold spots throughout. Cakes had some dark and light spots throughout, as well as darker bottoms, but the variation was more-or-less average, and this was the case for each of the two cakes we baked.
Luckily, the lower oven has a convection fan meant to circulate the air for more even baking.
The smaller upper oven, on the other hand, should be relegated to reheating—which is unfortunate, since its convenient placement means it will likely get the most use.
Cookies varied greatly in doneness from one cookie to the next. Cakes faced similar issues with dark and light spots, overdone bottoms, and variation from one cake to the other. You can try to reduce your bake times to keep from burning bottoms, but the hot spots mean you'd be better off restricting the majority of your baking to the lower oven.
Even the upper oven's broiler was disappointing. It required about nine minutes to heat just the area beneath the broiler to 604°F. That's quite a long wait.
Why We Like It
Two ovens are roomier than one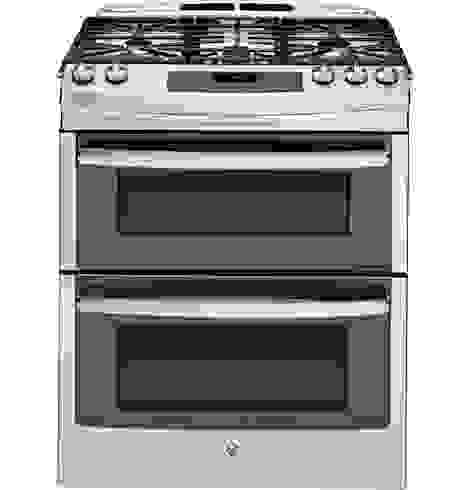 The GE PGS950SEFSS isn't perfect, but this attractive gas range should let you get dinner on the table without much fuss.
With an MSRP of $3,200 and a retail price not too far below $3,000, you'll have to shell out some real money for the privilege of ownership, but those funds will buy you quite a good rangetop and a lower oven that can handle all of your baking efforts.
The small upper oven doesn't interfere with the performance of the larger lower oven, but its addition only adds some extra cooking space for emergencies, not a second oven of the same caliber. If you've got some already-baked holiday pies and the lower oven is occupied, the upper oven is fine for warming. But if you're baking a cake, stick with the lower oven.
Up next
Get Reviewed email alerts.
Sign up for our newsletter to get real advice from real experts.