Ovens
GE Profile PS920SFSS Slide-In Electric Range Review
This GE sure looks sleek—and it can cook, too.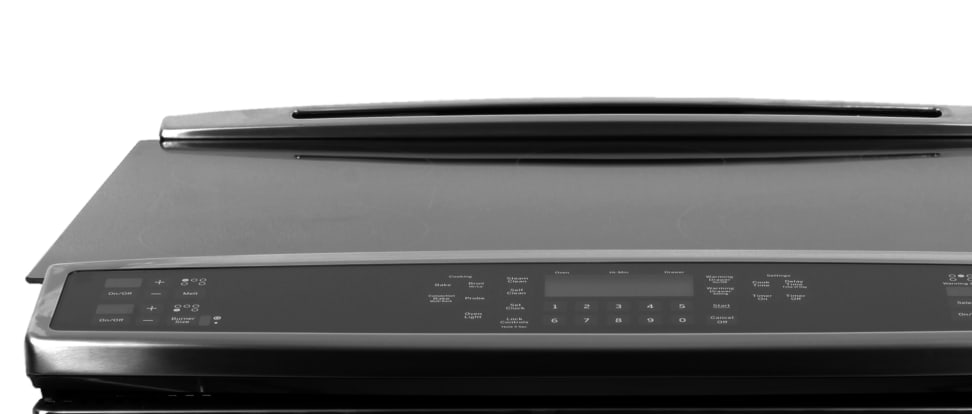 Credit:
This review was originally published on September 5, 2014. It has since been updated to reflect new test data.
The sleek GE Profile PS920SFSS 30-inch slide-in electric range (MSRP $2,500) has a lot going for it, including quick boiling speeds, great baking, and features that should appeal to both experienced and less-experienced cooks. Prices rarely drop significantly—but if you're looking for a high-end electric range, check this one out.
If its price is too high for you, you should also look at the Frigidaire FGES3065PF. It lacks some of the features of this GE, but sells for $1,530 on sale.
From the Lab
We put the ovens and rangetops we review through a series of tests, gathering data on everything from how quickly burners can boil water to whether the oven can produce an evenly-baked cake. The GE PS920SFSS handled rangetop tests without a hitch, and the oven also impressed.
Design & Usability
Simple design that could stainless steel your heart
Looking for a sleek stainless slide-in? If so, surely the PS920SFSS's should do. With its straight edges, smooth ceramic glass cooking surface, and seven burner sizes; the stove is seriously streamlined.
It's not exactly a conversation piece, but the stainless steel body with gray accents and a black cooking surface should look at home in most kitchens. If your ideal range has a transitional design that whispers rather than shouts, this one might appeal to you.
The rangetop has a few nice features, such as an expandable bridge zone, a rear central warming zone, and a dual and triple-ring burner. The electric rangetop controls are located at the front of the range. A melt feature might be helpful for such tasks as melting chocolate or butter.
The oven comes equipped with a temperature probe capable of eliminating unintentionally rare pork chops, as well as a warming drawer.
Oven & Broiler Performance
To learn more about how real food fared in the PS920SFSS's oven, we put it through its paces by baking cakes and cookies from a standard mix, following the recipe on the box and all instructions in the GE's owner's manual.
Cookies and cakes alike emerged from the oven with bottoms slightly darker than their tops. That may seem like a problem, but cookies were baked uniformly, and that's what matters. See, a cook can turn down the heat or switch to a light-colored cookie sheet—but an oven can't change its airflow.
Both cakes we baked fared similarly as far as burnt bottoms were concerned, but rose to equal heights. They also were baked to even consistencies across their tops. This is a sign that you—not your oven—will be in control of your baking.
Rangetop
Your pots and pans will feel at home on this range.
The rangetop on the PS920SFSS is one of the best that we tested. With the right front 12-inch ring burner boiling six cups of water in under four minutes and three burners completing the same task around the eight-minute mark, impatient cooks should be pleased.
Maximum burner temps averaged an impressive 774°F, and the bigger burners and burner rings achieved very high heat with ease. On the other end of the spectrum, the rangetop also received excellent scores for low-temp cooking. Burner temperatures as low as 85°F make the rangetop versatile enough to handle everything from simmering sauces to searing steaks.
Of course, if you want temperatures that remain exceptionally stable over time, check out the PS920's induction counterpart, the PHS920. It costs a little more, but offers all the benefits of induction.
Rangetop Performance
The rangetop made it through our tests with enough speed and heat to warrant a yelp of joy or two. We wouldn't be surprised to find a burner that can boil six cups of water in 3:55 on a speedy induction rangetop, which makes it especially delightful to find such a burner on this electric rangetop. The slowest boiling time was a painful 18:46 for a 7-inch front left burner, but since we measured several times closer to the eight-minute mark, there's no reason to ever wait long for boiling water. Overall, impressive.
Maximum temperatures averaged at a sweltering 774°F. All burners hit their highest temps near or above 700°F, with one notable exception: The 7-inch front left burner with the slow boiling time unsurprisingly failed to heat above 543°F. Thankfully, it was able to perform well in the low temp cooking test, along with every other burner. A range from 85°F - 97°F makes the cooking surface ideal for gentle simmering.
Oven, Broiler, & Convection
Exceptionally even baking
Cakes and cookies we baked in the oven emerged slightly burnt when we followed the recipes on the cookie and cake mix boxes, but that's nothing to worry about. We're mostly concerned with how items cook.
The PS920's oven baked every cookie and cake uniformly, with no hot or cool spots. That means you'll get similar results regardless of where or when you cook items. Keep an eye on what you're cooking, turn the temperature down a smidge, and don't use dark pans, and you should be fine.
True convection, good broiler scores, a temperature probe, and a self-clean cycle with a steam clean option are also nice touches.
As was the case on the PHS920 the 5.3 cubic-foot electric oven's preheat was abysmally slow. On conventional baking, it took 18 minutes to inch the temperature up to 350°F. However, turning on convection cut that time in half.
Conclusion
A great slide-in range.
-->
Here are the facts: The GE Profile PS920SFSS is a sleek, unassuming slide-in range with an excellent rangetop and a great oven. Some nifty features and smart design choices separate it from the high-end pack.
It's not the cheapest electric slide-in—sale prices rarely drop too far below MSRP—but it's definitely worthy of consideration if you want a high-end range with performance on par with its design.
Up next
Get Reviewed email alerts.
Sign up for our newsletter to get real advice from real experts.