Ovens
Jenn-Air JDRP536WP 36-Inch Dual-Fuel Range
How well does a $7,599 range need to perform to be worth it?

Credit:
From the Lab
A pro range isn't just a high pricetag and robust design. A pro range must also offer excellent performance all around, which is why we put this Jenn-Air through a battery of intense tests. It did well, but not $7,599-well.
Introduction
Editor's Note
Since originally testing the JDRP536WP in 2013, we have changed our test protocol significantly enough to merit retesting this range. Please read our updated take on the Jenn-Air JDRP536WP here. Updated May 21, 2015.
With its imposing exterior, 36-inch rangetop, and impressive spec sheet, the dual-fuel certainly qualifies as a pro-style range. But unlike its spartan competitors, many of which lack basics like timers and a self-cleaning option, this Jenn-Air adds a touch of tech.
But extras like an LCD screen, electric griddle, or temperature probe don't do anything for basic performance. In that regard, this Jenn-Air doesn't stand out. For instance, the gas rangetop was great at boiling water quickly, but its burners had trouble at the margins of simmering and searing. And while the electric oven's temperature accuracy was pretty good, there was plenty of room for improvement overall.
Considering this range's $7,599 MSRP, we were hoping for unimpeachable excellence. Our tests proved otherwise.
Design & Usability
A timer is nice, but we'd prefer timelessness.
The most prominent feature of the JDRP536WP is its LCD screen, used to control every aspect of the oven. While it allows for the inclusion of more advanced features, like a temperature probe, automatic convection conversion, and customizable presets, the shiny panel soils the traditional pro range aesthetic. It's also bound to look dated in a few years—a built-in expiration date on an otherwise classic appliance.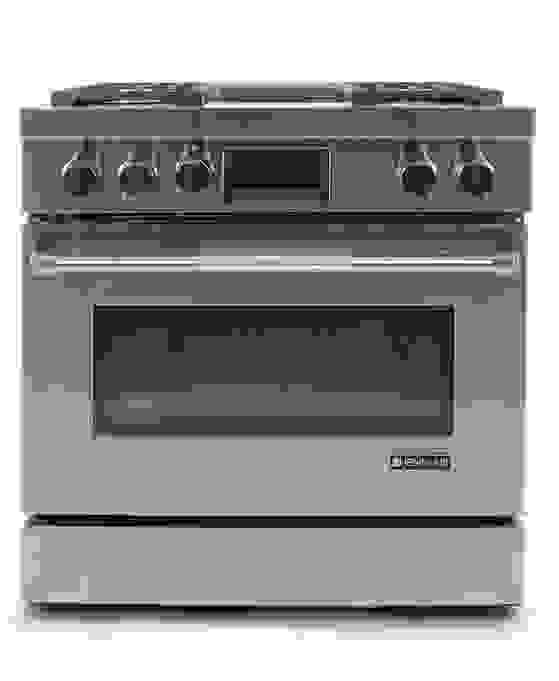 There's also a design issue here: Since that screen is set at a 90º angle, it's impossible to see or control without awkwardly bending over. And we're sure it'll collect greasy fingerprints.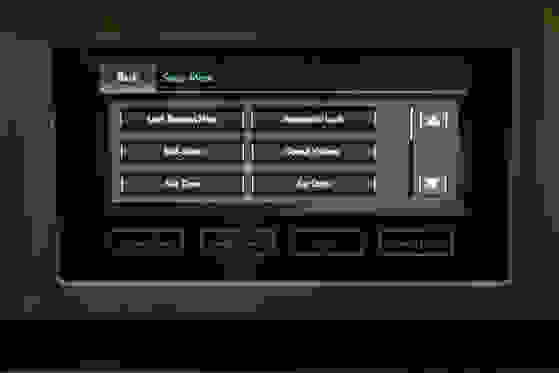 Oven Performance
With the exception of the keep-warm setting, which averaged 30°F higher than the 170°F it was supposed to, this oven hit the temperatures we set it to. Set to 350º, we measured 359°F. Set to 550ºF, it got to 548°F. And with convection on at 350ºF, our thermocouples measured 355°F.
Despite those excellent averages, we did find that the oven didn't always stay near those temperatures when set to 350°F. We like to see temperatures stay between 330ºF and 370ºF when an oven's set to 350ºF, but we measured variance of ±54°F on conventional heating, and 41°F when we set it to convection. The keep-warm and 550°F temperature settings pretty much aced our variance tests, though, hardly deviating from their average temperatures whatsoever.
The broiler blew us away with its power: It preheated to 610°F in just two minute and 40 seconds.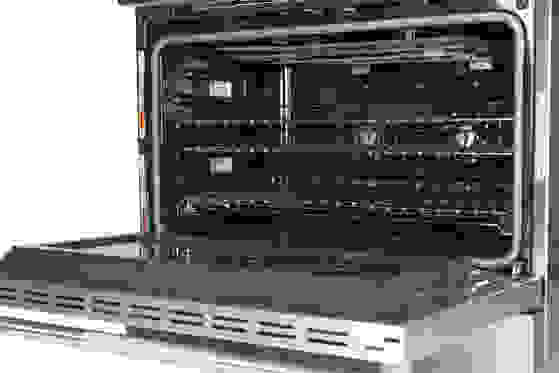 Rangetop Performance
While the three main burners managed to boil six cups of water in just five to six minutes a piece, the temperature ranges for searing and simmering were weaker than we like to see. The front left burner got our test pan down to an impressive 119°F, but the dedicated simmer burner barely broke 160°F, which is a little warm for a simmer burner (the other two were terrible—minimum temperatures were over 224°F).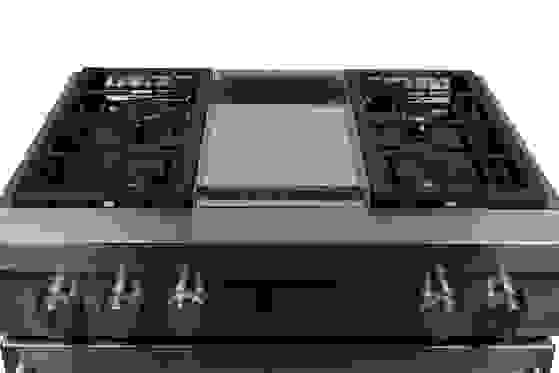 The high end of the spectrum didn't turn out to be very high, with only one burner—the simmer burner oddly—producing the hottest temperature of 429°F. The rest fell between 356°F and 393°F, which isn't nearly hot enough for people who need to get a good sear on.
Rangetop
It boils like a pro, but misses its mark at the margins.
One of the benefits of a dual-fuel range is the ability to mix and match rangetop burners. Though the four main burners use gas, there's also an electric griddle in the middle—a good use of the wide, 36-inch expanse. Every burner except the dedicated "simmer" burner took around six minutes to boil water, which is impressive.
The Jenn-Air's "double stacked" burners are supposed to allow for a low simmer and a high heat, but our tests registered a disappointingly narrow temperature range for searing and simmering. Even the dedicated simmer burner couldn't get as low as we like to see. The best simmering performance came from the front left burner. With it's "simmer" feature, it hit 119ºF. The highest temperatures came from the seven-inch right rear burner, which still only reached 429ºF.
Oven, Broiler, & Convection
We'd be impressed with this oven if it were on a cheaper range.
The 5.1 cubic foot self-cleaning oven has three racks, one of which rolls out for easy access. Performance was generally good: The oven hit temperature settings right on the money, with the exception of a too-hot "keep-warm" temperature.
It took about ten minutes to preheat to 350°F on both convection and conventional settings. Once it got there, the oven could have stayed closer to its target, falling just outside the ±20°F window we like to see. However, it exhibited impressive temperature control at both the 550°F high-temperature and 170º keep-warm temperature tests.
Conclusion
This range needs to spend some more time in the minors
With pro-style looks, high tech toys, and decent performance, the might seem like a good buy. But its $7,599 pricetag demands an oven that's better than "good," "decent," or even "solid." For the price of a decent used car, a range should offer excellence.
Up next
Get Reviewed email alerts.
Sign up for our newsletter to get real advice from real experts.