Ovens
Kenmore 72903 Stainless Steel Gas Range Review
Not the hottest oven we've reviewed.
Credit:
Introduction
The looks a bit like it's in disguise. With the classic shape of a white freestanding range, it's dressed in stainless steel trimmed with black. Unfortunately, it's "stainlessness" is only in its look, as this oven is doesn't perform anywhere close to how it looks. If ovens were cars, and stainless steel ovens were convertibles, this oven would be a car that had the roof cut off by Cousin Joey with a Sawzall, and slapped with a higher pricetag at an MSRP of $1,199 (on sale for $1,049).
This oven does have some nice qualities, such as a very consistent convection oven and just sprints to the target temperature, limiting preheat time. We also liked the oval burner that can accommodate long stoveware or a griddle. Besides the existence of this burner, the rangetop is underpowered and under-performs, even with similar BTU/hr specs as some of its competitors. The oven on conventional mode also showed more fluctuation than we like.
But if you're still interested, read on.
Design Overview
The Kenmore 72903, made for Sears by Frigidaire, is a mid-priced 30 inch freestanding range with a single oven and some higher-end accoutrements. It's definitely not a high-end unit, but it wears its upper-class features conspicuously -- like a Burberry scarf. Stainless trim abounds, and cooking grates look like they're off a commercial range. Underneath all that, though, it's just a small-town Frigidaire. Look at the rippling on the enamel backsplash and you'll be able to see its roots shining through.
Front
Range-top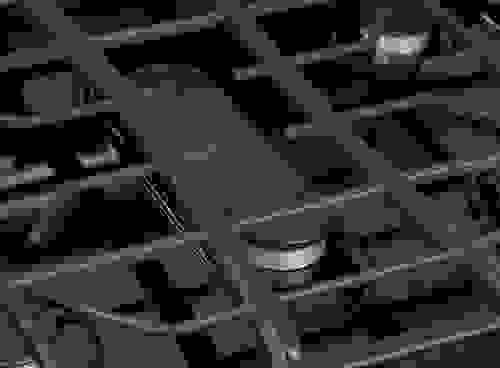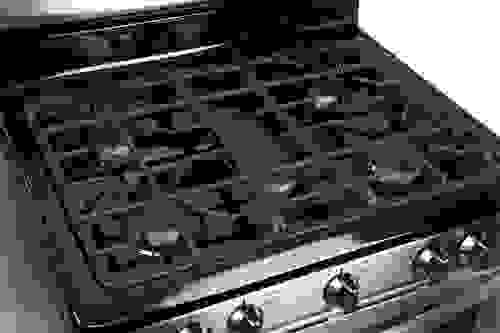 Upper Oven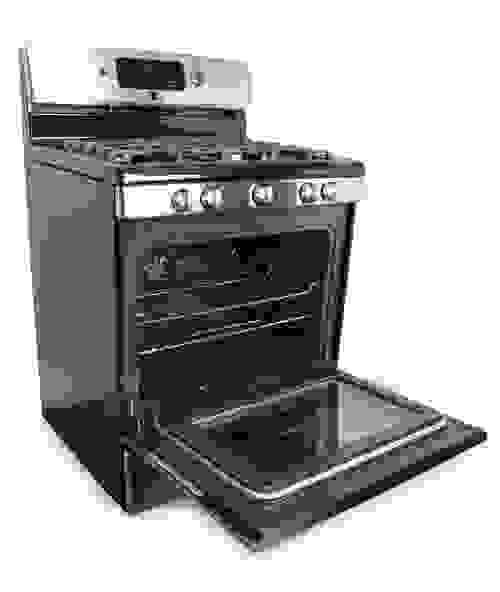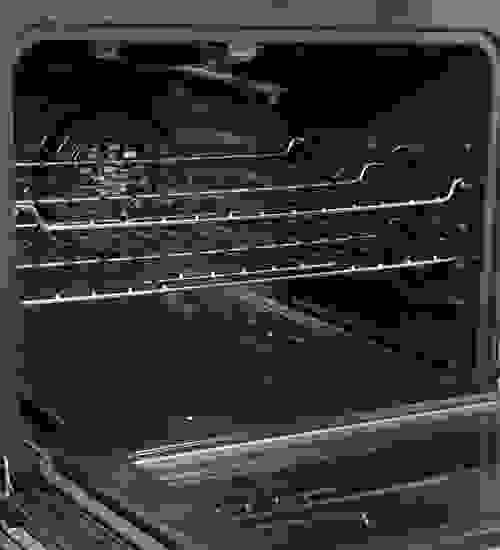 Broiler
Warming Drawer
Cooking Performance
Despite the option of stainless steel finish, the isn't trying to compete with the gas giants of Viking, Wolf, or even Jenn-Air. This freestanding range exhibits fair performance on its rangetop, possessing one quick boiler, and the oven decently regulates temperature. There is, however, one flashy bit of performance from this oven: the ridiculously fast preheat.
Range Performance Overall
Although the has the visual feedback and responsiveness that make people often prefer gas rangetops, it does not perform particularly well. It took its time in our water boiling tests, had marginal simmering abilities, and didn't get our pans as hot as we might have liked.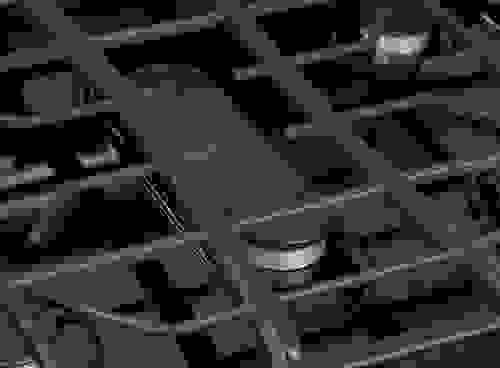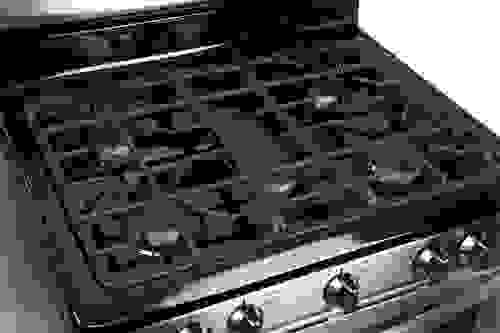 Water Boiling
We use the water boiling test to measure the burner's power. Unfortunately, our tests seemed to measure this rangetop's lack of power. The strongest boiler was decent, with the ability to boil six cups of water in just over four minutes. Unfortunately, the other two regular burners struggled, taking eleven and twelve minutes respectively. Interestingly, the faster of the two was located at the back. Of course, don't even try boiling on the simmer or oval burners, as you might as well put the water under a lightbulb. They're not meant for boiling.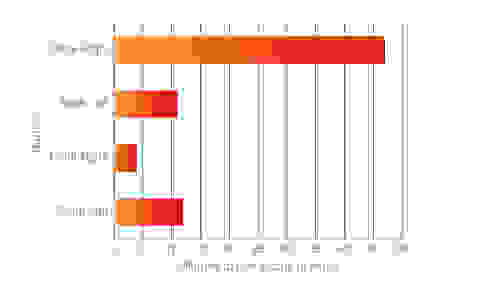 Low Temperature Cooking
After being less than impressed in the boiling arena, we hoped the could simmer down and give us some strong low-power simmering results. But unfortunately we saw middling results again. The simmer burner did indeed live up to its name, delivering temperatures as low as 111°F in our tests. The rest adequately made it down to around 133, with the exception of the front right power burner, which ran a fever of 149°F.
Range-top Temperature Range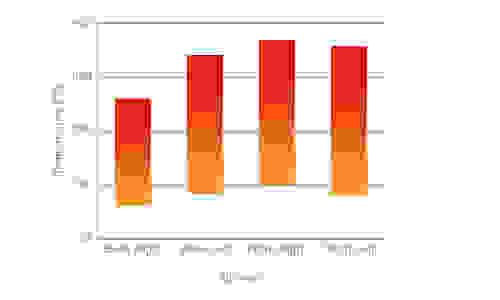 High Temperature Cooking
Despite its gas rangetop status, the 's blue flames aren't that hot. Two burners managed to break 400°F, one came close, but the other two were close to 300°F. Unfortunately, this means that the oven might not be the best choice for searing a steak other meats. On the bright side, you can feel comfortable when the burners are on high as temperatures should always be safe.
Overall Oven Performance
Upon start-up, we were shocked by how quickly the oven preheated: in less than seven minutes the oven reached 350°F, and five minutes later it broke 500°F. This is incredibly fast, beating ovens many times the price. While we had no beef with the temperature range, we weren't all that impressed by the consistency of the conventional oven, as it had a decent variance. It's important to many cooks to have an accurate and precise hotbox for even cooking. If you require this high performance, you still haven't found what you're looking for. Go listen to The Joshua Tree and continue your search.
Target Temperature Accuracy
The keep-warm setting did its job fine, running a little hot at first to 200°F. A minute later, it settled around 170°F, a temperature that kills E. coli and other bacteria. At the oven's upper limits, temperatures soared to the mid 500's. We appreciated that it didn't get much higher, as it's just not safe to have a 600°F metal box next to wood cabinetry.
Temperature Fluctuation
Oven temperature consistency is an important quality in an oven, as it is a simple way of seeing how the oven's performs its own quality control. It's not difficult to surge to high temperatures or preheat quickly, but it's difficult to maintain an even temperature. Unfortunately, the didn't impress us terribly with its ability to be even tempered. Set to 350°F, the oven's temperature climbed 30°F above and fell just 7°F below. As the oven runs warm, we recommend monitoring food until you get a feel for its temperament. However, at the keep-warm setting, as well as the convection oven setting, the oven did well, able to sustain a 350 relatively consistently. This is one of the many advantages of convection cooking, as well as the shorter cook times and energy savings.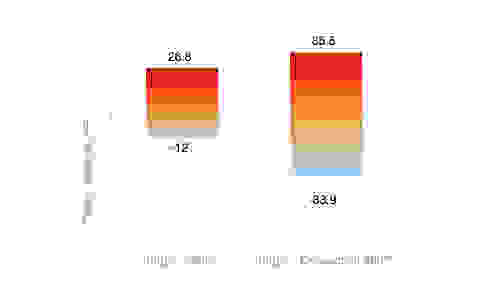 Broiler Performance
The broiler reached 600°F in 13 minutes. It's not as fast as many broilers we test, but it should get the job done fine, passing our test with normal colors. The use and care manual does recommend that preheating is only recommended for five minutes, so the wait should be shorter.
Broiler Features
The straightforward broiler does have one feature, the ability to choose between high and low settings. The manual states most foods should be broiled on high, but that low can be used to avoid excessive browning or drying.
Overall Efficiency
While we expected an oven with less-than-impressive performance to at least use less energy, this oven didn't offer lower efficiency for its lower performance. It's not that bad--of course all ovens use quite a lot of energy as they literally burn fuel--but we would have liked better results from its BTUs/hr.
Range Efficiency
The gas rangetop drew a combined total of 54672 BTU/hr, with the biggest burner drawing 17,722 BTUs/hr. The normal burners came in a bit lower at 9,495 and 12,152 BTUs. Peculiarly, the second strongest burner was located in the back. The oval burner burned 9,978 BTUs/hr and the simmer burner burner burned 5,325 BTUs/hr. Unfortunately, this was decently above the stated 5,000 BTU/hr usage, which raises our eyebrows for quality control. Fortunately, the rangetop will probably be more efficient in practice, as it's unlikely you'll be using five burners at once.
Oven Efficiency
The gas oven performed efficiently, something which pleasantly surprised us after seeing that lightning preheat. While the oven's power performance was never in question, we did think it would guzzle gas more voraciously.
Features
Besides the four traditional burners, a fifth, oval burner makes it easy to use a griddle or other larger attachment on the rangetop, or as simply another burner. This extra burner also gives more coverage under the continuous grate, allowing the user to place anything anywhere.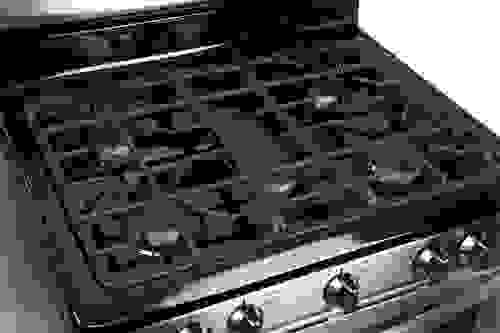 The oven's main and only real feature is the convection fan, which blows air around the oven cavity allowing for more even temperatures, better heat transfer to food, and faster cooking time. It is especially good on this oven and especially useful, as the conventional oven exhibited quite a bit of temperature fluctuation.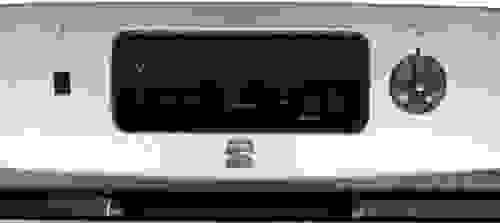 The timer is easy to set. Just press the corresponding icon and set the timer using the plus and minus keys. There are also options for a delayed start and a time bake, which will automatically turn off the oven.
Controls
Range controls are on the front. They have a bit more play than we'd like for precise flame control, and some of the knobs are slightly less precise than others. They certainly look fancy, but one touch and you'll know they're no better than the controls on an average range.

The oven is controlled by a touch panel, with a knob and switch thrown in for good measure. Press "Bake" and select the temperature using plus and minus keys. If you want convection, press the cheap-looking switch to the left of the control panel.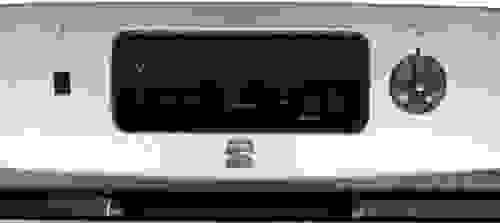 The broiler has two settings, labeled "Lo" and "HI." Apparently, the oven is so excited about the higher temperature, it's shouting.
Cleaning
Traditional pyrolitic self cleaning and porcelain enamel coating make this range about as easy to clean as most others in its price range.
Conclusion
Like a model from Zoolander, the didn't end up impressing us a whole lot despite its elegant stainless steel finish with black trim. With an MSRP of $1,199--we found it for $1,049 on sale--we think you might get better performance for your dollar with different oven.
The really impressed us with how fast it preheated to 350°F, surging to its target in less than seven minutes. We also approved of the oven's convection setting with its minimal fluctuation compared to the conventional mode, also looking solid next to its competitors. The added fifth oval burner will be a useful addition for many griddle enthusiasts, and we like how all the burners were recessed under the continuous grating.
But none of this really makes up for the ovens lackluster performance. When Kenmore put those extra BTUs into the center oval burner, they must have taken them away from the other four, as the rangetop proved underpowered. While the front right burner boiled six cups of water in under five minutes, the second most powerful burner (a backburner?!) took over twice as long. People looking for high temperature cooking performance won't be happy either, as the burners didn't get our our sensors hot enough for the kind of searing and browning capabilities we look for. The non-convection mode on the oven didn't impress us either, as it exhibited just a bit too much fluctuation.
All in all, the doesn't seem like a great value, as other ovens have tested way better in its price range. Don't get us wrong though, if you're a casual chef and this matches your kitchen, it'll work.
Up next
Get Reviewed email alerts.
Sign up for our newsletter to get real advice from real experts.