Ovens
Kenmore 94243 Electric Freestanding Range Review
True convection and truly great results from this Kenmore range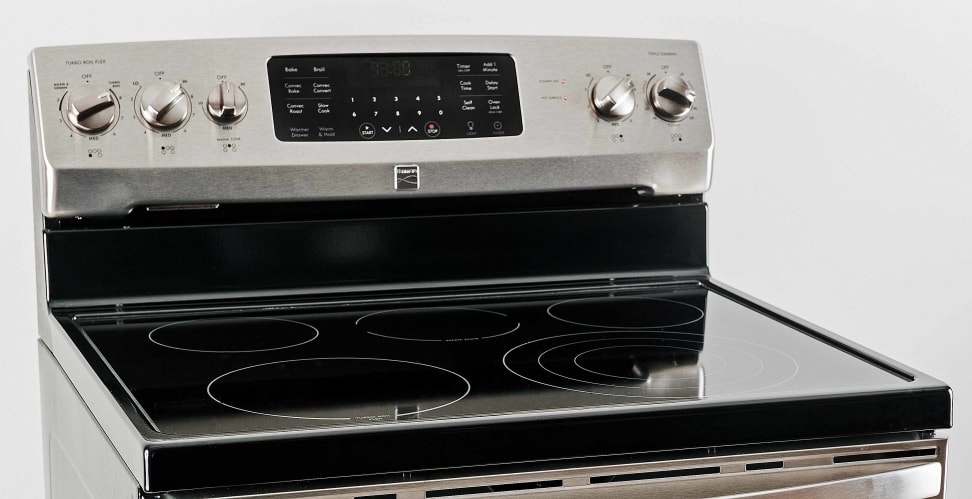 Credit: Reviewed.com / Libby Schiau
The Kenmore 9424 electric range is a good entry-level option for anyone who wants true convection capabilities.
After spending some time with the stainless steel 94243, we came away impressed: It's tricky to find any true convection oven at a reasonable price, let alone one that cooks well. Fortunately, this 5.8-cu.-ft. range not only had a good oven, but its burners didn't disappoint, either.
For a sale price of around $730, it's also surprisingly well-specced: Each range comes equipped with a warming drawer, an adjustable broiler, variable self-cleaning times, and a triple-ring element.
While there are both cheaper and better ranges out there, very few can compete with this Kenmore's combination of unexpected features, above-average performance, and affordable price.
How It Looks
Regardless of your color preference, the range has a simple and effective design and doesn't cut corners when it comes to overall build quality. We prefer it in stainless—though it's also available in black or white.
To complement that clean aesthetic, the range has a robust set of features which add to its overall appeal. The warming drawer, for instance, may not have adjustable heat settings, but it's still an improvement over a storage drawer. The 9424 also has a variable temperature broiler and the option for two- and four-hour self-cleaning cycles.
Up top, there's a burner for almost every cooking task. Two 6-inch, 1200W elements occupy the rear left and right spots, while a 100W warming zone can be found in the middle. Up front, on the left is a 9-inch Turbo Boil Flex 3200W element, while a 12/9/6-inch triple ring element sits on the right.
How It Cooks
While we were generally satisfied with how well this Kenmore baked, broiled, roasted, boiled, and simmered, it did have a few issues.
First, the good news: On the rangetop, we recorded fast boiling speeds and a wide range of temperatures. The triple-ring burner brought six cups of water to boil in only four minutes, and across all the elements we measured a maximum temperature of 742°F and a minimum of 79°F.
Down below, things got less impressive. Sure, the standard bake setting offered fairly even baking results in our food tests, but we noticed that food placed around the edges tended to get overdone, compared with food placed in the center. Similarly, multi-rack convection resulted in evenly baked cookies on the lower rack, but some burnt and underdone cookies on the upper rack.
Fortunately, both broiler coverage and time-to-preheat were exceptional. Even on its highest temperature setting, the variable-temperature broiler browned food evenly from edge to edge, and the oven preheated to 350ºF in only seven minutes.
Should You Buy It?
-->
The Kenmore 94243 comes with a full one-year warranty and is only available from Sears and Kmart.
Thanks to a combination of pleasant design, helpful features, and overall cooking chops, we have no compunctions about heartily recommending the Kenmore 94243, 94242, and 94249 ranges. In fact, we would put them all forward as an excellent example of affordable cooking appliances that don't force you to compromise on quality or versatility.
If true convection is at the top of your wish list, the Kenmore 94243 is well worth a look. In fact, considering that it's often on sale for as low as $730, you would be hard-pressed to find a better value.
Up next
Get Reviewed email alerts.
Sign up for our newsletter to get real advice from real experts.