Ovens
Kenmore 97613 Double Oven Electric Range Review
Two ovens for one low price.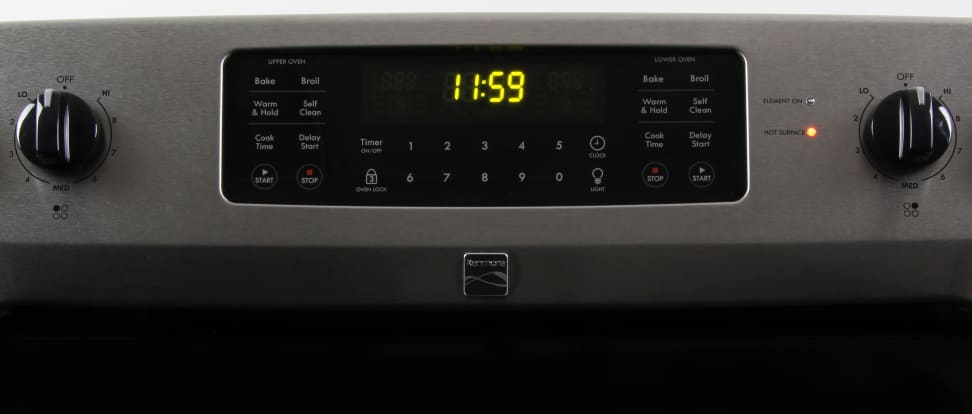 Credit: Reviewed.com
From the Lab
We gave the Kenmore 97613 double oven electric range a real workout in our labs, testing everything from how fast the rangetop can boil water to how evenly the ovens can bake cakes. Our results were mixed, with generally positive results from the rangetop, and more disappointing results from the oven.
Want to cook two things at once, but don't want to pay extra for a slew of extra features? If so, you may be interested in the Kenmore 97613 (MSRP $1,399.99) double oven electric range, which offers two identical 3.6 cu.-ft. ovens, a plain but capable rangetop, and a sale price of just $999.
The tradeoff, of course, is that neither of the two ovens stand out when it comes to temperature regulation, but the combined 7.2 cu. ft. of space will sure come in handy when you're preparing food for a large crowd of dinner guests.
The Frigidaire-built 97613 also doesn't break any new ground when it comes to looks. It's a nice enough design, but nothing special. The rangetop has only a dual-ring burner as an extra feature, and—crucially—the ovens lack convection or any other goodies. This is a basic, decent range, that just happens to have two ovens.
Design & Usability
Nothing special
The most notable aspects of the 97613 are its two 3.6-cu.-ft. ovens. Other than that, it's all about function: The black glass rangetop has four radiant elements, including a front right dual-ring burner. The backsplash and front of the range are both bright with stainless steel, along with the wide, flat transitional-style handles. Windows stand front and center on each oven, allowing you to peer inside the cavities. There's no warming drawer.
Oven controls are digital and located on the backsplash, with black rangetop control knobs on either side. Cooking options are as uninspired as the design, offering only Bake, Broil, Warm & Hold, and a Self Clean cycle.
This is a basic, decent range that just happens to have two ovens.
This is not to say that it's an unattractive range; rather, it's just a bit boring. The transitional design will look at home in most kitchens—it just won't be a focal point. Depending on how you want your kitchen to look, that could be a plus.
Oven & Broiler Performance
When we baked a batch of cookies in the top oven, the cookies emerged with pale tops and dark bottoms, which varied from a deep golden brown color towards the back and left sides of the cookie sheet, to lightened in color toward the front. When we baked two cakes side by side, the two cakes varied in doneness when we compared them to one another. However, browning was more even within each individual cake.
The bottom oven didn't fare much better. The batch of cookies we baked inside the cavity had dark bottoms and light tops. And, like the upper oven, the bottoms were darker in the rows that were closer to the rear of the oven. Each individual cake showed a lot of variation in browning depending on where we took a photospectrometer reading within the cake, but doneness was similar when we compared one cake to the other.
We roasted a pork loin in the upper oven and found it a tad dry (it lost 0.78 lbs. of moisture during roasting, which is just 0.1 lbs. above average) but fairly even when it came to browning. The pork cooked through in a speedy 35.8 min/lb. The less successful pork loin we roasted in the lower oven was quicker to cook through, taking only 34 min/lb. However, it lost 0.82 lbs. of water during roasting, making the resulting roast very dry, and browning very uneven.
Oven preheats were slow—12 minutes 5 seconds for the top oven and 13 minutes 1 second for the bottom—but broilers preheated in just 5 minutes 10 seconds for the top oven and 5 minutes 7 seconds for the bottom.
Rangetop Performance
The 97613 has a well-rounded rangetop. Maximum temperatures were as high as you could ever want, with the right front outer ring reaching a scorching 725°F and the right rear burner following closely behind with a max temp of 714°F. The left rear performed similarly, hitting 710°F, and the left front burner reached a still-hot 688°F. The inner ring of the right front burner was the least hot at 617°F, but it barely matters, since the outer ring gets so much hotter.
The left front burner had the lowest minimum temperature at 91°F, which makes it good for delicately melting butter or chocolate. However, with the left rear burner dipping down to 115°F and the right front burner's inner ring hitting 117°F, you have plenty of gentle simmer options to choose from as well. The right rear burner's 126°F minimum is no slouch, either.
When we tested boiling speed, the front burners led the pack. The left front burner will boil 6 cups of water in 6 minutes 56 seconds, while the right front burner's outer ring can do it in 7 minutes 5 seconds. You'll likely want to stick to the front of the rangetop for boiling, as the right rear burner took 11 minutes 6 seconds and the left rear took a lengthy 13 minutes 7 seconds. The right front burner's inner ring took a long time as well, but there's no reason to boil on the inner ring when the outer ring is so much faster.
Rangetop
The standout performer
The 97613's double ovens aren't the only places you'll be seeing double. The rangetop has just four burners, but one happens to be of the dual-ring variety. Luckily, all the burners happen to have a pretty wide temperature range, although not all are quick to boil water.
You'll have no trouble getting this rangetop hot enough for searing and stir-frying. The right front dual-ring burner's outer ring is the hottest, with a maximum temperature of 725°F. The same burner's inner ring got as high as 617°F, the rangetop's lowest maximum temperature. Other maximum temperatures clustered more closely around 700°F.
Low temperature cooking also worked out nicely on the 97613. The left front burner can cool down to a positively balmy 91°F if you need it, but most low-heat tasks like simmering will be better left to the right front burner's inner ring or the rear burners, which climb to warmer minimum temperatures between 115°F and 126°F. The right front burner's outer ring has a minimum temperature close to 200°F, so you may want to avoid it when looking for a lower heat.
On the bright side, the right front burner's outer ring and the left front burner are the rangetop's fastest when it comes to boiling water. The left front burner can boil six cups in just under 7 minutes, while the right front burner's outer ring takes just over 7. The other burners are slower, taking more than 11 minutes each to get a pot bubbling, but it's not much of an issue when you have two quick burners to work with.
Oven & Broiler
More isn't always better
Two ovens can be useful, but we're inclined to think they'd be even more useful if Kenmore had included a convection fan or two in this range. Neither oven earned particularly high scores during testing. Each took a sluggish 12+ minutes to preheat to 350°F, then failed to deliver on this lengthy wait with evenly browned baked goods.
The top oven turned out cookies with pale tops and darker bottoms, which varied from a dark golden brown towards the back and left sides of the cookie sheet, to light in color toward the front. This is an indication of poor airflow throughout the cavity. Cakes varied a great deal in doneness from side to side, but at least the individual cakes browned more evenly across their tops and bottoms.
Indeed, both ovens proved equal in our tests, and the bottom oven had similar issues with baking and roasting. On the other hand, when it came to roasting, the upper cavity came out on top. Both ovens turned out roasts that were slightly dry, a bit unevenly browned, and faster than average to cook through.
The best we can say about these ovens is that the broilers are quite speedy to heat up the area directly below the broiling elements. Each took just over 5 minutes to reach a scorching heat.
Warranty
This Kenmore range has a one-year limited warranty, which covers parts and labor should the range prove to be defective in material or workmanship. If you break it yourself, you're out of luck.
Before You Buy
Two ovens aren't always twice as nice
-->
There are things we like about the Kenmore 97613. It has a rangetop with great temperature range and decent boiling speed. It has lots of oven space from two identical cavities. The broilers heat quickly, and the exterior will add a nice flash of stainless to your kitchen setup.
However, when it came to actually baking food, both ovens were too inconsistent to earn our wholehearted approval. Though the lack of convection isn't surprising for a range that costs under $1000, it still isn't a selling point.
Overall, it's great to have a lot of oven space at hand, especially when those hands are wearing oven mitts. If you're willing to accept the lack of consistency in browning, both ovens will certainly get hot and cook your food. However, if you want higher quality results, the pricier Whirlpool WGE755C0BS double oven electric range earned higher scores for baking.
Up next
Get Reviewed email alerts.
Sign up for our newsletter to get real advice from real experts.