Ovens
Kenmore Elite 95062 Freestanding Electric Range Review
A great range, but don't pay full price for it.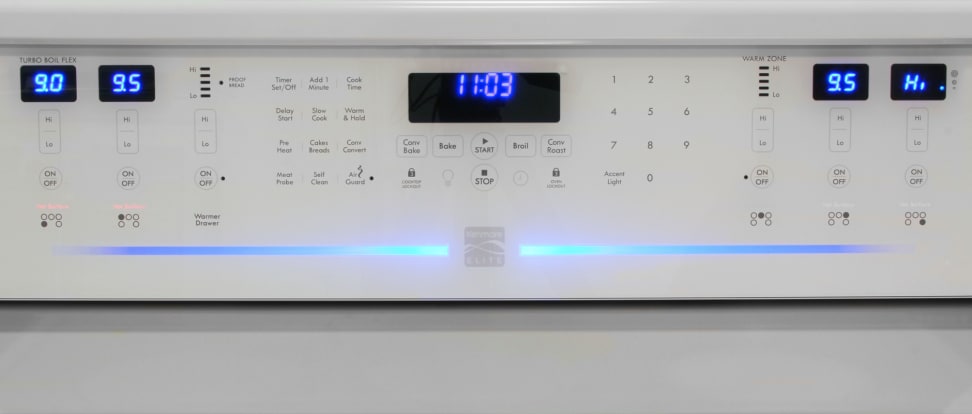 Credit:
The Kenmore Elite 95062 (MSRP $2,199.99) electric range is a well-performing—albeit expensive—freestanding oven from the Sears-exclusive brand. While we were impressed with the rangetop's overall performance, a polarizing exterior design and a few minor shortcomings down in the oven left us wondering why this Kenmore has such a high price tag.
With similarly-priced ranges from LG, KitchenAid, and Frigidaire offering equivalent performance for a lot less, we think you should shop around. If you've fallen in love with the 95062's features—like a humidity-controlled warming drawer that keeps food from drying out—at least wait for a major price drop before you buy.
Design & Usability
Expect more color from a Stormtrooper
When not in use, the 95062 keeps things simple with its all white exterior. Turn it on, and things liven up considerably. The control panel has a cool blue gradient strip while the burners take on a pleasing orange glow. All this combines to turn the range into something resembling a DJ deck, minus the phat beats of course.
Regarding that control panel, Kenmore elected to go with digital burner controls over the more traditional physical dials. For the most part, the controls are fine and allow for a fair amount of fine tuning. With that said, they don't seem to offer any significant advantage over physical knobs. They are also located on the backsplash, and require the user to reach over potentially hot burners to adjust the temperature. Most ranges that cost this much at least put the controls on the front.
Even the stainless version—the 95063, with an MSRP of $2,299—lacks the panache of its high-end competitors. Sure, there's some shiny trim on the front of the range, but the majority of it is black metal and glass.
One cool trick: The oven features a warming drawer with a humidity control. While it doesn't add water—like some high-end ovens from Miele—it does give cooks the option to warm food without drying it out.
Rangetop
Is it hot in here, or is it just this Kenmore?
The 95062 proved its mettle in our burner tests, with some stellar boiling speeds and a wide range of temperatures. The ceramic surface houses four standard elements, as well as one triple-ring burner that can change things up to accommodate 6, 9, and 12-inch cookware.
With all three elements heated up, the triple-ring burner managed to boil six cups of water in four minutes, while the front right burner achieved a similarly impressive five minute boil time for the same amount of water. That's a great result, especially if you're boiling two things at once.
The 95062 also offers users a wide range of versatility as far as heat levels are concerned. We recorded a minimum temperature of 78°F from the simmer burner, while the triple element burner achieved a maximum of 795°F. Watch those fingers!
Oven, Broiler, & Convection
Speed ain't everything
While we were impressed with its rangetop, the 95062's oven was a bit of a disappointment by comparison. Yes, the broiler was insanely fast, with a staggering four minute preheat time. And it's true that the oven took only nine minutes to heat up to 350ºF.
Unfortunately, the oven's speed was hampered by some mediocre cooking performance. The oven was precise, but offered substandard accuracy—indicated by both our temperature measurements and our cook tests. For instance, we baked a sheet of cookies and found that some were underdone and others were overdone depending on where they were placed in the oven. That's indicative of hot and cold spots in the oven cavity.
Fortunately, many of those problems went away when we turned on the 95062's convection mode, which improved air circulation with a true convection fan.
A Tough Call
You couldn't ask for more… or could you?
-->
We're a little torn by the Kenmore 95062. As long as you stick with convection, you get great performance and plenty of features—including a cool humidity control on its warming drawer. And, to be honest, we kind of like its modern aesthetic.
On the other hand, $2,199 is way too much to pay for this range. Even though sale prices drop as low as $1,484.99, you can already find better performing ranges for less money.
If you are a Sears devotee and appreciate this Kenmore's design, this range will do the trick. Just be sure to wait for a major sale, and know that your friends and neighbors probably paid less for their ranges.
From the Lab
Design and MSRP aside, the Kenmore Elite 95062 performed well in our tests. The rangetop was exemplary and the oven managed to keep up—for the most part.
Oven & Broiler Performance
We test our ovens for accuracy and precision. Accuracy is determined by how often the temperature in the cavity matches the setting—whether it be 170°F, 350°F, or 450°F. Precision, on the other hand, is determined by how far the temperature strays from the ideal. The 95062 was woefully inaccurate, but exhibited excellent precision in the Keep Warm and convection settings.
The Keep Warm setting exhibited good precision but terrible accuracy . It averaged around 201°F, 30°F above the target temperature of 170°F. Precision dropped in the 350°F setting, while the convention setting mirrored the Keep Warm setting results. The 350°F averaged 338°F while the Convection setting averaged 337°F.
Based on these tests alone it would be tempting to write off the 95062 as lacking. But numbers don't tell the whole story of how an oven's heat interacts with food. That's why we perform real-world cooking tests using cakes and cookies. The 95062 perfumed fairly well in this area. Cakes we cooked emerged from the oven perfectly uniform and consistent. There was little noticeable difference in doneness between each cake, and the same was true for the difference between the bottoms and tops. This result indicates excellent air circulation and good temperature consistency in the centre of the oven cavity.
Unfortunately the cookie tests where less impressive. Some were burnt, while others were underdone. That indicates a number of hot and cold spots in the corners of the oven cavity.
The 95062 performed well in our preheat tests. The broiler took only 3 minutes to reach 602°F, while the oven took just under 10 minutes to reach 350°F.
Rangetop Performance
While electric rangetops lack the responsiveness of their gas counterparts, they make up for it with fast boil speeds and a wider range of temperatures. The 95062 offers an extremely wide range of temperatures. The triple-ring burner reached 795°F, while the front left burner reached 695°F°. The 95062 also excelled in the lower end of the spectrum: We recorded an impressive low temperature of 78°F from the left rear burner, while the remaining burners all sat comfortably in the mid to lower 80's. That means it'll be easy to simmer soups and sauces.
The 95062's front right burner was extremely fast, and boiled six cups of water in only 4 minutes. The front left was close behind with a 5 minute boil time for the same amount of water.
Up next
Get Reviewed email alerts.
Sign up for our newsletter to get real advice from real experts.