Ovens
KitchenAid Architect Series II KGRS303BSS Gas Range Review
It has that commercial look, but does it have the power?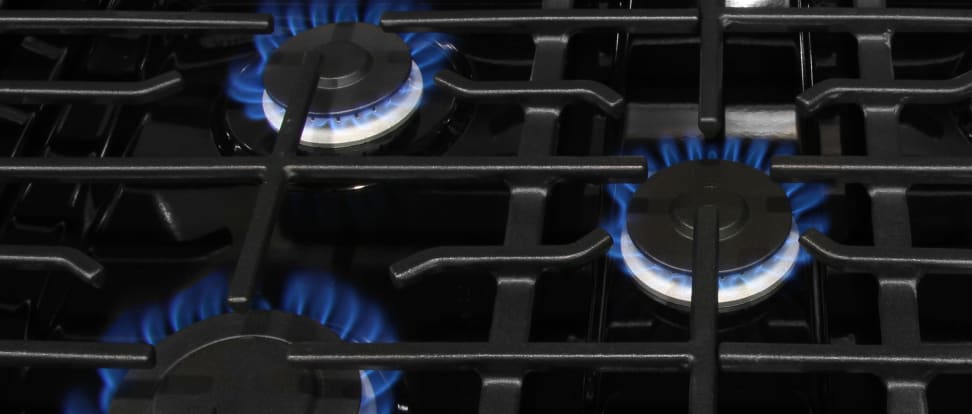 Credit:
From the Lab
We ran the KitchenAid KGRS303BSS through an extensive scientific testing process. It excelled in some areas, but in others, it didn't make the cut.
In a sea of stainless steel ranges, sometimes it feels like unique offerings are few and far between. However, we'd argue each range has a few quirks, and the differences just tend to be on the subtle side. The KitchenAid Architect Series II KGR303BSS gas range (MSRP $1,449) is a good example of this.
Serious cooks will love the almost-commercial look, as well as the continuous grate and simplified feature set. In some ranges, a lack of special settings might indicate cheapness, but given the professional appearance of the KGR303BSS, the message seems to be that this range is for those who want to cook their Thanksgiving turkey without a computer helping out.
Unfortunately, performance wasn't quite as appealing as the range's looks. We found some problems during both rangetop and oven tests. That being said, so long as you take the time to get to know its quirks, the KGR303BSS could serve you well.
Design & Usability
Pared down to what you need.
The KGRS303BSS combines the functional appearance of a pro-style range with the size and convenience of the range you grew up with.
The stainless steel body provides a sleek, classic look and is topped by a continuous black grate. The gas rangetop also features a nonstick griddle that should come in handy whenever you're hit with an emergency bacon craving.
Rangetop controls come in the form of knobs on the front of the range, while oven controls on the backsplash are digital. Features are kept fairly basic so your cooking can do the talking: There's broil, keep warm, self clean, and bread proof, but the rest is up to you.
The rangetop boasts four standard gas burners and one simmer burner. The moderately sized 5.8 cubic-foot oven will fit that Thanksgiving bird without issue, and a lower storage drawer should have enough space for pots and pans.
Oven & Broiler Performance
The most important part of our oven testing is the real world baking tests that we perform to see how the ovens handle actual food. In our cookie tests, we bake sugar cookies in the oven and then measure the difference in browning between the cookie tops and bottoms, as well as the difference in browning from one cookie to another. In our cake tests, we take similar measurements as we do in our cookie tests, while also noting the degree to which different spots in the same cake vary in doneness.
The cookies we baked in the oven's convection setting emerged nearly perfect, with tops and bottoms that barely varied from one another when it came to doneness. Cakes, on the other hand, were disappointing. The browning varied from one part of a cake to another, as well as from one cake to another.
This points to a major flaw: that the oven can perhaps only keep up a specific temperature for short periods of time before beginning to fluctuate. This would explain the amazing cookie results and horrible cake results, as the cookies do not need to baked for as long as the cakes.
There's no easy or straightforward fix for this kind of issue. We'd recommend turning your pan partway through the baking process, as well as keeping an eye on when your cake is done.
Rangetop
Quick to boil, but sticks to middle temperatures
If you boil water frequently, you'll be pleased to know that the most impressive aspect of this rangetop is how quickly it can boil that ol' H2O. The front burners were the fastest, both boiled six cups of water in less than six minutes. The remaining burners took some additional time, but only the simmer burner kept us waiting unacceptably long. Of course we don't expect specialized simmer burners to perform well in our boiling tests, and with four solid boilers, it seems unlikely you'd ever be in need of a fifth.
The range's ability to hit high and low temperatures was not quite where we would have liked it to be. Only the left rear and center burners were able to raise the heat above 400°F, while the remaining three burners reached their peaks in the upper 300°F's. This doesn't exactly come as a surprise given that gas rangetops just don't get as hot as electric or induction. We don't think you should have much of an issue heating the oil in your wok to stir-fry temps, but we'd recommend you stick to the left rear and center burners when you need that kind of heat.
Burners hit their lowest temperatures in a range of 137°F to 274°F, with only the rear burners dipping below 200°F. Simmer and melt on the rear burners for the best results.
Rangetop Performance
The KGRS303BSS's rangetop earned mixed scores during testing. Boiling speed was its top performance, with three burners boiling six cups of water in less than ten minutes. The two quickest burners were at the front of the stove, boiling six cups in 4:19 (front left) and 5:38 (front right). The only burner we'd recommend you don't use to boil water is the right rear simmer burner, which took more than 18 minutes to reach the sweet spot (since it was never designed to boil). That leaves four quick burners for corn, lobster, mussels, you name it.
The rangetop was not adept at reaching very high or very low heat. The highest temperatures its burners were able to reach ranged from 368°F to 464°F, with only two managing to peak above 400°F. For low temperature cooking, the range was from 137°F to 274°F. We don't expect gas rangetops to get as hot as electric or induction, because they just typically don't, but this finding wasn't up to par.
Oven, Broiler, & Convection
Cookie-bakers, this one's for you.
If we judged an oven by the broiler alone, this one would earn a spot on our do-not-buy list. Luckily, the broiler's inability to reach a high enough heat during our 16-minute test was not indicative of the rest of the oven's scores.
Cakes we baked in the oven scored poorly due to uneven browning, but the cookies hit it out of the park, emerging from the cavity evenly baked all across the board. The high cookie scores and low cake scores point to a possible problem with air flow in the cavity. It seems that the oven may do better maintaining a solid temperature during shorter bake times, such as the time required to bake cookies.
Oven preheat times were pretty good—only 8 minutes 50 seconds for the regular oven settings and 11 minutes 40 seconds for convection.
Why We Liked It
Iffy, but charming.
The KGR303BSS isn't the best gas range we've tested, but it has enough charm to appeal to us anyway. An attractive, practical design makes it a joy to look at, and a few thoughtful features (such as a nonstick griddle) give a home cook more space to work than a slew of fancy settings ever would.
Performance-wise, the range does some things better than others. Boiling water quickly and baking cookies evenly seem to be its strong suits, but it struggled a bit baking cakes and reaching very high and very low temperatures.
With a retail price around $1,300, it may not be the best deal on the market, but what you're paying for is that subtly unique package and some sleek good looks.
Up next
Get Reviewed email alerts.
Sign up for our newsletter to get real advice from real experts.