Ovens
KitchenAid KERS208XSS Review
With an MSRP of $1,439, this electric range is on the lower end of the KitchenAid spectrum.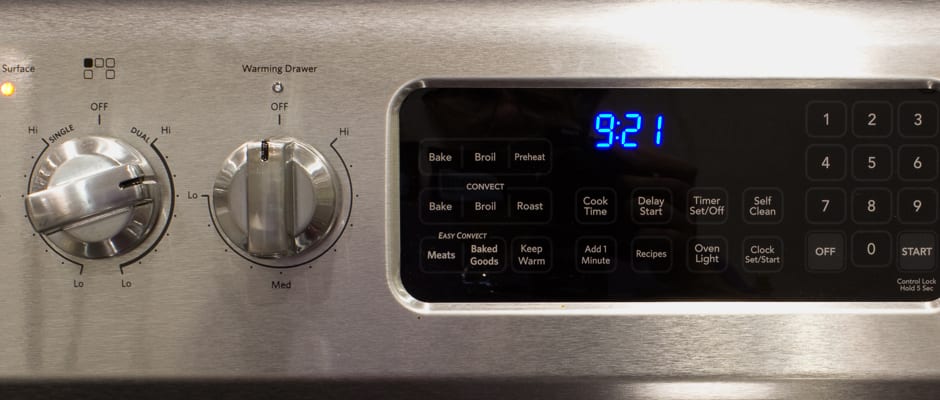 Credit:
Introduction
At around $1,400, the electric range is on the lower end of the KitchenAid spectrum, with more prosaic looks than some of the more expensive machines. Stock of the KERS208 may be limited but the KERS206 seems identical, except for the absence of the warming ability in the drawer. It can currently be found for around $1,040—off an MSRP of $1,459.
Despite its low price, the produced satisfactory-to-excellent performance in rangetop, conventional oven, and broiler tests. In addition, it came with a few potentially helpful features, such as split-oven racks, a keep-warm drawer, and a keep-warm burner.
The only real negative is the convection mode, which failed to average the proper temperature and varied more than we'd like. If you don't need superior convection performance but want great all-around cooking, this may be the oven for you.
Design & Usability
Not the fanciest design, but not a bare-bones range, either
We appreciate that the controls are knobs, and not a touchscreen or button-driven.
One of KitchenAid's most inexpensive models, the does look a bit more utilitarian than some of the fancier KitchenAids we've seen. But then again, that may be simply because electric ranges don't look quite as professional. (Few commercial kitchens outside of trains and cruise ships use electric rangetops.)
While this unit's rangetop controls are located at the back—meaning you have to reach over the stove to adjust them—we do appreciate that they're knobs and not a touchscreen or button-driven. In our opinion, manual controls on a rangetop provide simpler control—and more of it—than the +/- buttons we've been seeing so much of lately.
Using a familiar layout, the five-burner rangetop is divided into two standard elements, two dual-element burners that can accommodate different stoveware sizes, and a keep-warm 100W element in the center. In the 6.3-cubic-foot self-cleaning oven, one of the three racks has an interesting split design that lets you get creative with the space. Even more tropical real estate is available: a keep-warm drawer lurks below the oven.
Rangetop
We can't praise this electric rangetop highly enough.
The performance numbers showed no weaknesses.
We found the 's range performance quite satisfactory. The electric advantage over gas is the ability for a broader temperature range, something a user will probably have to weigh against the superior control that gas provides. The performance numbers showed no weaknesses: very impressively quick boiling results, acceptable—though not stellar—simmering, and excellent searing temperatures for that satisfying hiss and delectable browning action.
Oven Broiler & Convection
Acceptable oven and broiler performance, with the exception of the convection fan
Beginning with a decently quick 10-minute preheat to 350°F, the showed good, but not great, oven performance. Our sensors found some deviations from the target temperatures, but nothing too severe. On every temperature setting, the oven maintained a relatively even temperature, something frequent oven users will certainly appreciate. With the convection fan activated, the oven missed its temperature mark significantly but stayed even. In short: An oven thermometer is an essential companion for the .
KitchenAid gave the broiler, often the most neglected aspect of a range, the attention it deserves. Heating up to any temperature between 400°F to 550°F spectacularly quickly, this is an easy alternative to the gas grill or the George Foreman.
Conclusion
All in all, this KitchenAid is a lower-mid-range oven that gets the job done.
For around $1,400, the does exactly what it should do.
We recorded solid all-around performance in the rangetop, oven, and broiler—a trifecta we don't often see.
With the prestige of this higher-end Whirlpool brand, the has good enough looks for most kitchens, even if this stainless steel model looks a bit like it was simply painted with a shiny coat.
We recorded solid all-around performance in the rangetop, oven, and broiler—a trifecta we don't often see. In the pro column, we feel silly naming almost all aspects of the range's performance, but we'll do it anyway: boiling, searing, simmering, broiling, oven precision at all temperatures, efficiency, and preheating time. In addition to those great performances, this range boasts a fifth keep-warm burner, a warming drawer, and special split racks.
The only things we didn't love were the keep-warm setting's tendency to run hot, and the oven's convection mode. In this mode, the oven missed its target temperature by almost 25°F. It also varied a bit more than we would have liked.
If you aren't concerned with the sketchy convection capabilities, we heartily recommend the .
Science Introduction
For the users who really want to talk specifics: this is the place to be. Our intense testing procedures yield a solid data dump, and we have more information at your disposal regarding the performance details.
Oven Performance
Satisfactory performance in most areas mark this oven as perfectly fine for most uses
The convection oven did very poorly in our tests.
's ability to average the target temperature was just okay. Set to 350°F, the oven's average temperature was 340°F, ten degrees off. This isn't terrible, but the oven ran cool at 350°F. The keep-warm setting missed its target of 170° by 33°F, running just a bit of a fever. Despite these two misses, the oven struck the maximum setting of 550°F quite well, at 556°F, only one percentage point off.
The convection oven—often a beacon of progress in temperature control—did very poorly here, averaging a temperature of 328°F. Sometimes, ovens automatically subtract the typical 25°F to compensate for the convection mode's superior heat transfer, but that wasn't the case as it was set to 350°F without the "EasyConvect" feature.
Set to 350°F, the oven did a fine job of suppressing variance, skating between a low of 328°F and a high of 359°F, a difference of just 31°F. Despite the poor accuracy of the keep-warm setting, we found strong temperature control and very evenly delivered heat. The maximum setting had a bit of variance, but that's less important at such high temperatures and should be forgiven by users.
On convection mode, the oven showed some solid variance control, staying in the 36°F window between 312°F and 348°F after overshooting the preheat into the 370s. So even though the average was lower than it should have been, the temperature was fairly smooth.
Rangetop Performance
Superb boiling and searing, but a slightly weaker simmer than we expected
Water-boiling performance was impressive: All four burners came in under 11 minutes, including the simmering burner. With the front right hitting 4.5 minutes to boil six cups of water and the rest coming in between nine and 11 minutes for the same task, this rangetop will prove especially useful to chefs who use more than a single burner to boil pasta.
The exhibited strong simmering abilities. Though not as impressive as we've seen from other electric rangetops, the front burners managed 114°F and 76°F (left to right) and the rear 111°F and 124°F. We generally like to see things under 130°F, so this should definitely satisfy users. These low temperatures enable simmering of very small quantities of liquids as well as melting chocolate without a double boiler.
The higher portion of the elements' temperature range was fantastic. At 567°F to 783°F, these temperatures are certainly hot enough to sizzle and sear. Just make sure you remember to turn off the rangetop when finished. It's not difficult to leave a flameless element on.
Up next
Get Reviewed email alerts.
Sign up for our newsletter to get real advice from real experts.